From a Pennsauken Independent Press Release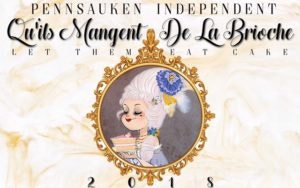 Pennsauken Independent is thrilled to reveal their 2018 production of "Qu'ils Mangent De La Brioche," translating as "Let Them Eat Cake."
Perform to a unique and original soundtrack by the talented Michael McIntosh, Pennsauken will take a modern-day twist to the classic French Baroque era.
Starting a party before the party? We bring fierce fashion, fun, and fabulous cakes to life, all while getting ready for an extravagant grand ball.
Pennsauken's instructional staff includes Woody Kleintz, Kimberly Ely Jones, Tanner Jones, Amber Fabrizio, Gordon Butler Jr., and Donna Fuhrman.
Pennsauken will be competing in our local TIA and MAIN circuits as well as WGI events in Philadelphia, South Brunswick, East Power Regional, and WGI World Championships.
For more information about our organization, please contact us at pennsaukenguard@yahoo.com or come see our journey throughout the season on Facebook, Instagram, or Snapchat!