From a Park Vista Open Press Release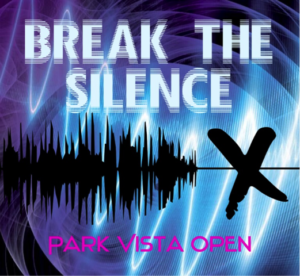 Park Vista Open explores the topic of speaking out and having the courage to say something. This is relevant to all at many different levels and effects each person differently. Very often we are afraid to say something with the fear of retribution or even something small because of the lack of confidence. This production illustrates this poignant topic of saying something no matter how simple or how serious it may be, the courage to speak up and break the silence only makes you a stronger individual. Often actions can speak louder than words and words can do harm, reminds us of what is most important in this world.
Park Vista Open is under the direction of Adam Sage and Paul Sauberer. Design and Instructional team includes Adam Sage, Alex Perez, Paul Sauberer, Michael James, Angela Brickhouse, Darby Ramirez, Michael Rosales, Hilary Duncan, Pauleen Paygane, and Sean Ergina. Costume design by Tommy Keenum, Sound design by Jon Vanderkolff, and Floor design by Sara Solomonson. The band director is Patrick Duncan.
The ensemble will be performing at the WGI Tampa Regional and WGI Southeast Power Regional, as well as the WGI World Championships in Dayton, Ohio.
Park Vista Open proudly presents their 2018 program Break the Silence.