By Michael Reed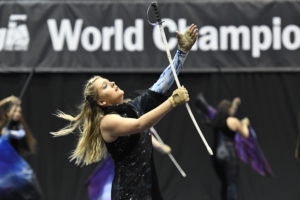 Starting with tape-covered mouths, Park Vista HS (Fla.) (Gold Medal- 97.65) quickly found their voices after removing the tape in "Break the Silence," inspired by the poem Somewhere in America. The line "the greatest lessons you will ever teach us you will not even remember" allowed the kids to highlight contradictions between what schools are supposed to teach and unspoken lessons actually learned, illustrating the absurdities of censorship in the process. The program defiantly concluded with members shouting "Never Again," in support of the #NeverAgain movement ignited by the Stoneman Douglas HS shootings.
Plymouth-Canton Educational Park (Mich.) (Silver Medal- 95.45) delved into the creative mind in "The Artist is Present." Performed on a beige floor, a rectangular table with chairs on each end was the visual focus. A voice-over of a performance artist's thoughts was interjected, stating "What you're doing is not important. What's really important is the state of mind with which you do it in." With the guard wearing brown, except for the artist in a red dress, the group drew our eyes where they wanted us to look. The show ended with the guard applauding the artist.
Moving up from their Semi-Finals placement, El Dorado HS (Calif.) (Bronze Medal- 94.60) was an abstract painting come to life with "Bluish." Set on a floor resembling a work one might see in a museum with a watercolor in shades of blue, the guard masterfully moved around every inch of the floor to a piano and string soundtrack rippling with energy while spinning and tossing flags spanning the every shade of the color blue. Superbly choreographed, the group gave a virtual clinic on moving people in creative ways. Simply put, they were greatish!
McNeil HS (Texas) (4th- 93.75) presented "By What We Give" to Winston Churchill's Boy by Benjamin Clementine. Set on a black and white hardwood floor tarp with white benches and a single red chair, the kids demonstrated phenomenal equipment skills all the way through the show. A male performer opened the show sitting on the red chair, and throughout had a different flag than the others, giving a sense of isolation even while in a group. At the conclusion, another member moved over to him, providing companionship.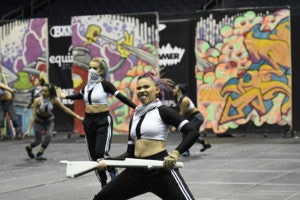 Eastlake HS (Texas) (5th- 93.60) spray painted their way into our hearts with "Graffiti," utilizing ten-foot tall graffiti covered walls along the back. A graffiti artist described his craft and how this form of expression is one of the fast growing art forms. Tall stepladders painted with neon colors were brought out and members tossed sabres over them while racing through to make the catch. The crowd roared during an amazing feature on graffiti flags as the silks covered the floor with color, giving a well-deserved standing ovation.
Bringing their version of high-flying acrobatics to the arena, Marvin Ridge HS (N.C.) (6th- 92.55) presented "The Trapeze Artist." Costumed as circus aerialists and set on a watercolor floor in shades of beige, pink, and maroon with a silhouette of a trapeze performer, the guard tossed (and caught) equipment over and around four large trapeze swings in the four corners of the floor. When the show reached its climax, green and white silks flawlessly spun in an extended unison section to the delight of the spectators.
Chairs have been used in shows before, but Ben Davis HS (Ind.) (7th- 90.65) took their usage to a whole new level. "Once Upon a Chair" featured lots and lots of wooden chairs painted in a cream color upon a digitized teal and purple floor. Performers sat, stood, and did choreography on them as they were moved and manipulated every way imaginable, even stacked like a work of modern art. Adding to the visual flair was their stellar equipment work, culminating with an eye-catching feature on red silks near the ending.
A beautiful sunset with pink and purple clouds on the horizon greeted our eyes for Oviedo HS (Fla.) (8th- 90.40) in "Gone Too Soon." A tender choral opening soundtrack provided a sense of reverence. Clad in magenta, the members drew the audience in with sunset silks and tasteful weapon work while spinning to Michael Jackson's Gone Too Soon. The pink and purple silks matching the tarp were a gorgeous touch. The ending brought tears to our eyes as the floor pulled back to reveal a starry sky and the backdrops lit with stars.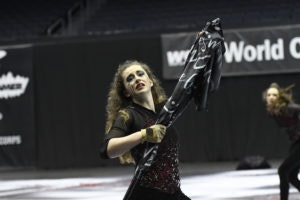 The angst of teenage romance was the subject for West Shore School District (Pa.) (9th- 89.70) in 'Not.' A color photo of a teenage boy's face on a backdrop was matched by blurry black and white images of the same face on the tarp. The young women began gathered around the photo tossing rose petals as we heard "he loves me, he loves me not," as the petals covered the floor. His picture was taken down when the women concluded "he loves me not," climaxing with a crowd-pleasing feature on red rose petal silks.
South Brunswick HS (N.J.) (10th- 88.30) depicted "Life in the Fishbowl." Set on a blue and teal oval floor with seaweed and coral backdrops plus a little footbridge and treasure chest like one would see in an aquarium, members fluidly glided across the floor wearing roller shoes. The designers left no detail to chance, with bubble globes tossed among the props, and silks in every conceivable shade of blue and green as the group was like a school of tropical fish swimming in their manmade aquatic environment.
Lowndes HS (Ga.) (11th- 88.10) provided an illuminating performance with "Dancing Light." Glowing pink orbs, flag poles with LED lights on the tips, and sheer gold fabric backdrops of differing heights with lights inside provided an extra shine to the program, especially when the spinning flags created a flashlight effect on the floor. The laid back jazz orchestra sounds of Tanzendes Licht by Markus Stockhausen was a perfect match to the visuals, culminating with a flurry of blue and purple silks.
Milford HS (Ohio) (12th- 86.70) tugged on our heartstrings with 'Unknown Lover," set on a tarp in red and pink with heart shapes to the song Sorry by Halsey. A large black chair in the center of the floor represented a now-absent partner. Hearts were a common motif in flag design, first on grey silks, then in shades of pink as the tension built. The emotion reached its height when the guard spun the silks around the empty chair, then picked up picture frames at the end as they were romantically unattached.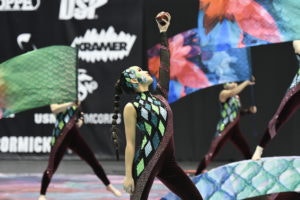 Scholastic Open Fan Favorite Dartmouth HS (Mass.) (13th- 86.00) were a troupe of tempters in 'Lilith of Eden.' Set on a floor with three curved ramps leading to a snake's head (the ramps were part of the snake's body), the group spun red apple flags, reminding us of humanity's original sin. While the green and red colors and matching scales on costumes were inviting, danger was lurking. After a disembodied female voice repeated "go ahead, take a bite," the apple on one flag had a bite taken out of it. You know the rest of the story.
Meteors shooting from one end of the arena to the other captured our attention for Bentonville HS (Ark.) (14th- 85.65). In "Sub Astra," the shooting stars were constantly flying over and sometimes through the guard. With performers clad in white and spun to a serene soundtrack on a starlight floor of blue and purple, the production provided glimpses of the beauty of the heavens. White silks brought a sense of peace as if being outside on a clear evening, looking up with a feeling of awe and excitement.
Rock-solid equipment work propelled Fishers HS (Ind.) (15th- 85.60) in "Everything Everywhere Matters To Everything." Boulder-sized stones were carefully set on round cream-colored tarps, providing the viewer with a sense of being in a sacred place. When bright pink, yellow, and blue dreamcatcher silks opened, there was an aura of being on a spiritual quest, perhaps in a Native American rite. The largest stones were delicately placed on each other at the end, providing a sense of grace and balance.
In "Do You Hear What I Hear," Timber Creek HS (Fla.) (16th- 84.95) dealt with self-imposed walls we sometimes erect. With black flats behind, and black screens in front of the guard about halfway back on the floor, the unit performed in a tightly confined area, heightening the impact. A man's voice described feeling trapped in his internal torment, before discovering a way out of his mental prison through love, exclaiming "I've found hope that even the darkest night will end. Even these walls cannot contain me!"
Cleveland HS (N.C.) (17th- 84.20) paid homage to a leader and warrior who inspired a nation with "Joan." Wearing silver mail-inspired armor costumes, and set on a floor featuring the French national colors with a sword, fleur de lis, and flame, the group encapsulated the braveness of Joan of Arc and depicted her trial, conviction, and martyrdom. As sounds of a blazing fire raged and a raging inferno of red and orange flags soared, a tower turned to reveal the heroine standing amid the flames.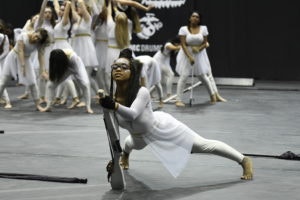 Defending Scholastic A Champions Klein Oak HS (Texas) (18th- 82.80) intervened to help a friend in need with "Sonya." Performed to Sonya Alone by Brittain Ashford, the guard showed love to a young lady on the verge of suicide by helping her cope with intense sadness. With teen suicide prevalent in our society, the kids modeled positive action by not sitting idly by while one more person succumbs to despair. Solid weapons work demonstrated why this ensemble won their class last year.
Members of William R Boone HS (Fla.) (19th- 82.70) moved to extended sections of silence with only the audible sounds of exhales in "The Last Breath." The audience was focused one could hear a pin drop. A long white eight foot wide strip of tarp was slowly unrolled during the balance of the program to an ethereal choral score. The palate was indeed stark, with members wearing black as the only other color was the white tarp and flags. The overall effect was mesmerizing and poignant.
Hamilton Southeastern HS (Ind.) (20th- 82.45) portrayed the sense of purpose felt by participants in the Women's March on Washington in "One Twentyone Two Thousand Seventeen." The tarp was a black and white photo of a large crowd with the date stamp in the front corner. Lady Gaga's Million Reasons was the soundtrack as all the flags had female gender symbols in the design. Carrying placards like the marchers, the guard emphatically shouted "We Choose Love!" at the ending.
---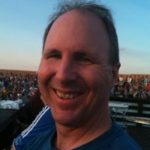 About the Author: Michael Reed provides online and print media content for WGI, Bands of America, and Drum Corps International. 2017 marks his sixteenth year of writing for WGI. He is an active music arranger, composer, and all-around avid pageantry fan. Michael was a member of the Cavaliers Drum and Bugle Corps and holds a bachelor's degree in music composition and music education from Ball State University. He currently works in the health care field and resides in Fishers, Indiana.