By Michael Boo
Lauryn Jacquemin was a high school junior and a third-year member of Modulation Z in 2015, a drum line combining members from three schools in the Fort Zumwalt (Missouri) School District. She's played vibes and bass drum in the line and has also been an active member of her school's jump rope team for six years, the Mt. Hope Show-Me Jumpers. An active jumper for eight years, she was introduced to the sport by her sisters. The non-competitive clubs are split evenly into two teams of about 20 members each, with members as young as 3rd grade and as old as high school seniors.
A typical jump rope production involves intense training of four to five weeks, and upon learning the new show, each team goes on one overnight trip in Missouri and seven local trips to elementary schools, performing demonstrations at assemblies of routines such as Double Dutch (two long ropes spun simultaneously). The jump rope clubs also perform at assemblies sponsored by the American Heart Association where everyone's invited to jump to raise money for the AHA.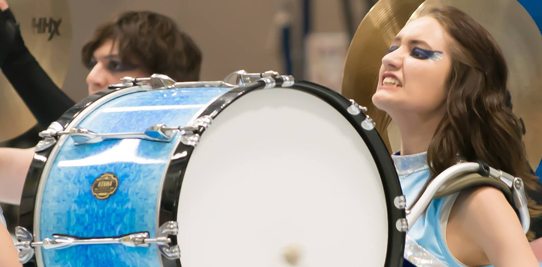 The younger members like to get together and make up their own routines, while the older members perform more difficult maneuvers and teach routines. The younger membersundergo more weeks of conditioning, joined by the older members around November. The jump rope season is over in April and has never conflicted with the drum line, as rehearsals don't overlap.
It takes about ten to fifteen minutes to warm up for a practice session or performance, and though the jumpers stretch prior to practicing or performing, Lauryn states that the stretching undertaken by the drum line is more intense and thorough, even though a jump rope performance can last up to 50 minutes.
As for similarities between the two activities, Lauryn says, "Concentration is vital to great drum line and jump rope performances, and so is making sure you have fun. Jump rope gives me endurance and strength and works out my heart, giving me the strength I need to get through a jump rope practice or performance, as well as a drum line practice or performance.
"You really have to get your head in the game in both activities, and most importantly, you don't want to strain yourself. Sometimes you just need to take a break."
Lauryn says that when her fellow drum line found out she was on the jump rope team, some were curious and others thought she was lying. Only some of her fellow jump rope team members—and her coaches—know about her being in the drum line, and they're supportive of her other love.
As for maintaining fitness, she states, "At a young age, you want to be healthy so you can be involved in more things that require physical activity. You want to go out and have fun…you don't want to say, 'I can't do that.' You want to say, 'I can do that, and I will.'" Staying fit has allowed for members with heart problems to be on the jump rope team. Lauryn declares, "They were jumping for people like themselves."