By Michael Boo
Casey Follen has a schedule that stops for nothing, even though she's a specialist in stop motion animation. After playing four years with Walled Lake HS Percussion, she marched three seasons with NorthCoast Academy Percussion and aged out this past season with Redline Percussion. Earlier, she also played marimba for three seasons with the Glassmen Drum & Bugle Corps and was also a video production intern for DCI, animating the video boards at DCI events across the country and helped manage DCI's YouTube channel.
Casey also had the good fortune of interning in Los Angeles for an NBC Christmas special, "Elf: Buddy's Musical Christmas," and for Chiodo Bros. Productions, where she crafted and fabricated costume designs for a promotion. She most recently interned at Hornet Inc. in New York City as a fabricator and digital compositor. Her own animated projects have been shown at film festivals around the world, including Animfest in Athens, Greece this past March.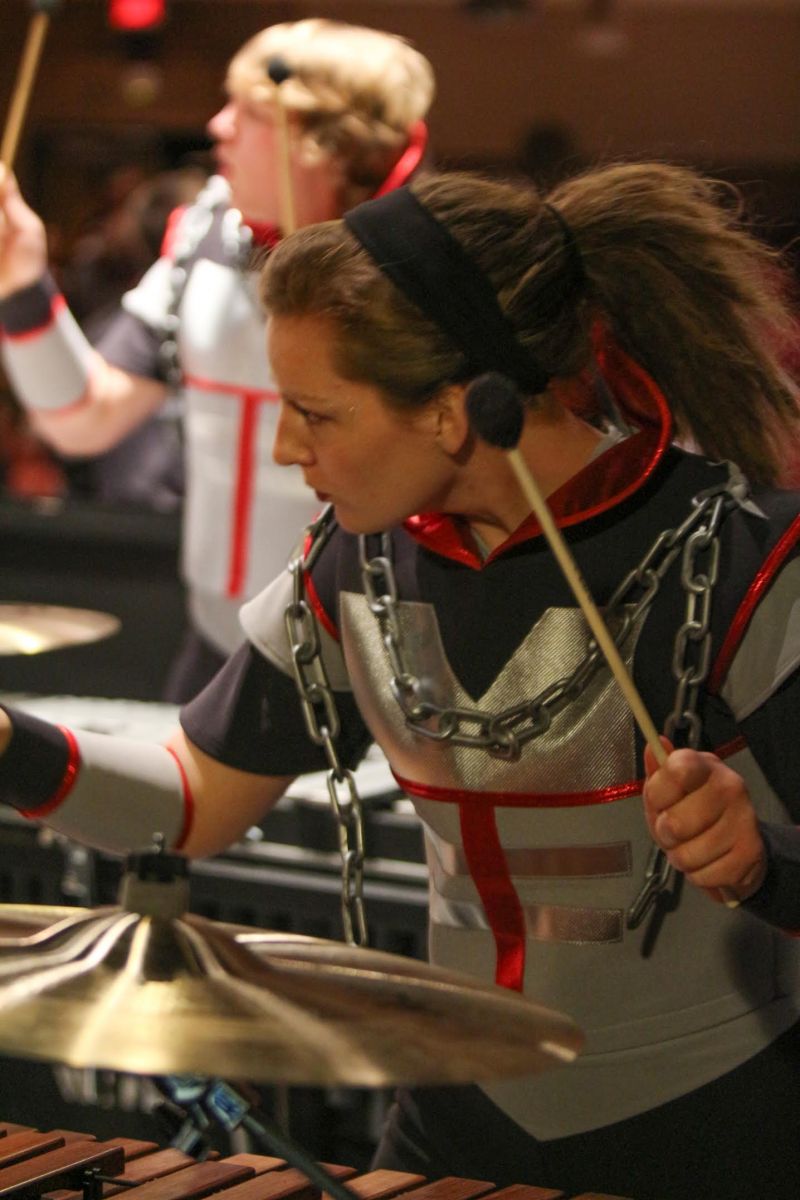 Currently, she's studying animation and film making at College for Creative Studies in Detroit, and previously studied in Ireland at the Burren College of Art. Nick Pourcho, Redline's arranger, is scoring her thesis film with a marimba solo that Casey will perform and record. For the premiere of the film this upcoming December, she's planning on performing the music live as the visual is running concurrently.
So, what is stop motion animation? The art utilizes physical sets and puppetry, with the puppets adjusted and photographed for each frame of animation. It's an extremely labor-intensive and time-consuming job. The in-progress thesis film is entitled "Pangaea." It's a short film with an experimental narrative, meaning the story is not character-driven, but is driven by the aesthetics of the abstracted story. In the film, an all-powerful goddess cracks the earth's surface and plunges into the ocean where she encounters interesting landscapes and creatures as she tries to uncover the mysterious depths of the ocean. Casey is animating the project utilizing a wide variety of techniques in addition to stop motion.
Her music performances with various WGI ensembles have greatly influenced her approach to the visual arts. She says, "Ideas of rhythm and timing directly translate to story telling in animation and video editing." So, all those years performing in WGI drum lines has paid off in her chosen studies. She adds that she "considers both filmmaking and music performance related iterations of my artistic practice—each making the other stronger with their influence."
Casey states that she is grateful for the years she committed to WGI and DCI for the life lessons music performance has taught her. As many her fellow performers can relate, the activity has taught her drive, focus, time management, leadership, and communication skills. Casey believes that, "Above all, the activity has brought me friendships that will last a lifetime."
She not only plans on continuing her collaboration with composers on her films and other artistic projects, she would also like to consult with visual designers on future WGI shows. So, even though she's aged out, WGI may not have seen the last of Casey. We may possibly have only seen the beginning of what may be a stellar career in animation and its related fields.