Our Virtual Ensemble and WGI Sport of the Arts announce a partnership agreement to help groups prepare their eShowcase entry into the 2021 WGI Virtual Season. Groups will have the option to use Our Virtual Ensemble's platform to collect individual performer submissions; OVE will then piece individual submissions together for each full eShowcase performance.
"The music educators don't need to reinvent virtual processes for performance and production, practice and self-evaluation or technology standards and outcomes," says Steve Martin, DMA, (ASCAP) GPG Music owner and OVE co-founder. "Instead, they can focus on teaching."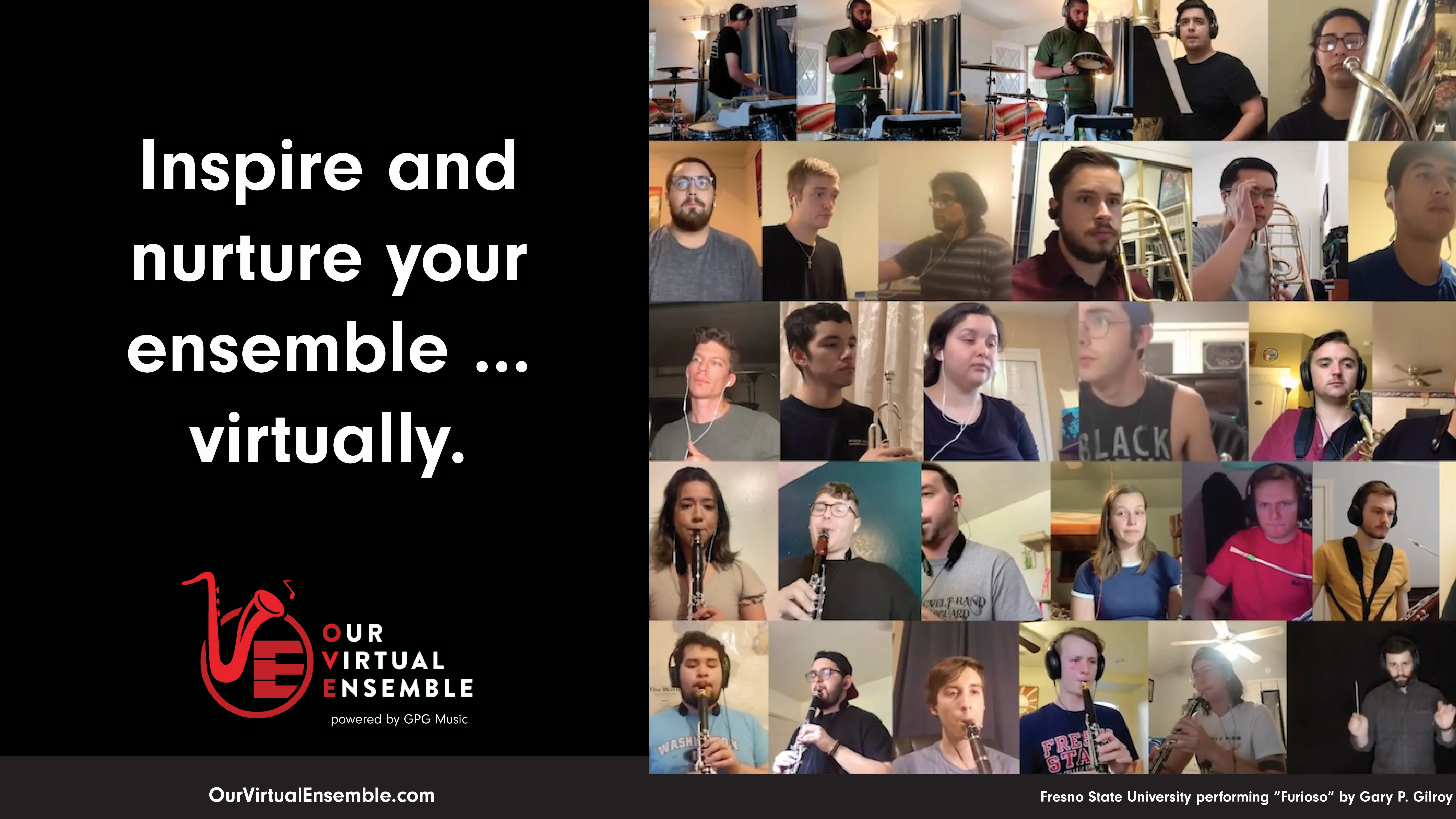 Our Virtual Ensemble will set up a Virtual Classroom specific to each participant, walking them through the process of learning and practicing their music—with places for instructional videos made by their educator—and helping them record and submit their videos for adjudication. From there, the OVE team edits the package together to share with audiences. Music licensing is included for music from GPG Music for Concert Band, Concert Percussion, Marching Band, Indoor Percussion, Drumline, Color Guard/Dance, and Orchestra.
"GPG Music and Our Virtual Ensemble's dedication to student education and making performance arts inspiring and enduring strongly aligns with our mission," says Bart Woodley, WGI Director of Operations. "Our Virtual Ensemble offers an exciting, user-friendly service to groups participating in the WGI eShowcase that may help streamline their submission and production process."
About OVE: Follow a collaboration with Elisa Janson Jones, OVE is the brainchild of Steve Martin, DMA, (ASCAP), owner/CEO of GPG Music. Martin has written commissions and arrangements for nationally acclaimed and award-winning bands for over 25 years. He is a member of the College Band Directors National Association, Music Educators National Conference, Kappa Kappa Psi, and Phi Mu Alpha Sinfonia and the American Bandmasters Association. Aaron Hines (ASCAP) is the executive project manager for GPG/OVE, coordinates percussion programs for Reed High School and consults for the University of Nevada, Reno. He serves as Vice-President for the Percussive Arts Society (PAS) Nevada Chapter, is the founder and coordinator for both the Northern Nevada Indoor Association (NNIA) and Sierra Nevada Band Series (SNBS). Hines has taught, arranged, and designed for numerous schools, earning circuit and state titles and awards. Rounding out the team production manager Spencer Hannibal-Smith and production technician Kyle Smith.
About WGI: WGI Sport of the Arts is the world's premier organization producing and governing indoor color guard, percussion and winds competitions across the globe—where young people bring music to life and achieve the extraordinary through performance and competition. As a non-profit youth organization focused on growth and learning, WGI provides leadership through several education opportunities (such as the I AM WGI: Future Leaders Program or eSolo Competition) to constantly improve the quality of performers and ensembles. Founded in 1977, the sport continues to evolve. Learn more at www.wgi.org.