By Kathryn Hardison
Every ensemble needs a good-luck charm. From the anxieties of performing to the monotony of rehearsing, performers need that one keepsake to remind them of the reason they're a dedicated team: for the Sport of the Arts.
Members from North Gwinnett HS held on tight to their new good-luck charm, Citrus the Bear, during their first trip to Dayton, Ohio, for the 2017 WGI Percussion World Championships. After a change in leadership, North Gwinnett's music program transformed for their first experience competing in WGI – as a drumline and a concert ensemble.
In 2016, North Gwinnett created their first indoor percussion ensemble, and were competing at state and local competitions in Scholastic A class. A year later, the group competed at the 2017 WGI World Championships in Scholastic Open class with their show, "A House Without a Dream," for the first time. On top of that, 14 of the drumline members also performed in Scholastic Concert Open class with their show, "Where ART Thou?" The concert ensemble placed with a score of 87.25.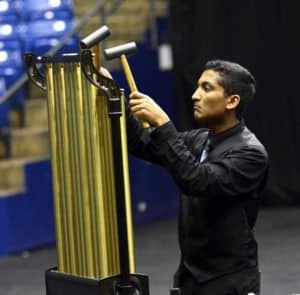 Cole Fender, a recently graduated snare player, explained the adversity the group faced to bring them to the 2017 WGI World Championships. He said the drumline struggled as a team and had not realized their full potential.
"The amount of growth we've seen in the last year has been insane. Before, we felt held back. Now, we've seen so much progress. We can't believe we're the same group," Fender said.
North Gwinnett's Instructor, Mark Kapral, also acknowledged the change in the ensembles. Kapral previously taught at Milton HS in Milton, Georgia, where he was the Percussion Director for the Scholastic World indoor percussion ensemble. In 2013, he left Milton, and has started to share the WGI experience with students at North Gwinnett.
"The drumline used to be student run, so they didn't have an instructor to enforce any kind of discipline or anything like that. Last year was a struggle making that change – having structure to what they do. This year was a big stepping stone for us," Kapral said.
Nichols Alfred, a current senior snare player at North Gwinnett, performed with the 2017 indoor percussion and concert ensembles. Alfred also recognized the group's change in leadership as a big impact for the students.
"Prior to Kapral's arrival at (North Gwinnett HS), there was a culture of mediocrity. It wasn't because we didn't have the resources to be great or the ability to be great; we allowed ourselves to settle," said Alfred. "I think if I had to pick something concrete that lead to our success, it would be Kapral's exposure to what his vision of a good drumline is supposed to be and our 'diamond in the rough' leadership."
Fender also credits the ensemble's advancement to the new camaraderie they embraced during the last year.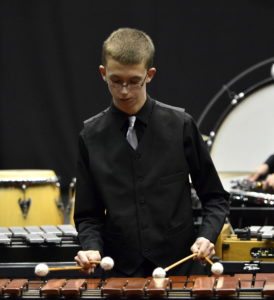 "As we've gotten better, we've become better friends. Part of the reason we're better now is because of our bond – we can connect with each other and I love it," Fender said.
As Kapral introduced his students to the world of WGI, Fender realized that every group had a good luck charm, expect for them. After performing at a regional in Georgia, the group found a teddy bear outside of the arena. In need of a bath and a home, the ensemble decided to add the bear to their family as a good-luck charm. Not only has Citrus proved to be lucky, but his presence reminds the group of how far they have come, according to Fender.
"Citrus has been at every rehearsal, every competition, everywhere. We don't leave him anywhere," Fender said.
While Fender has graduated and moved on from the program, Alfred is excited for his senior year, and wants to see the ensembles continue to build on their new foundation – especially as the indoor percussion ensemble moves to Scholastic World class for the 2018 season.
"In my opinion, consistency is one of, if not, the most important characteristic that a drumline should have. Without consistency, progression becomes regression," said Alfred. "We definitely do not have time to take one step forward and two steps back."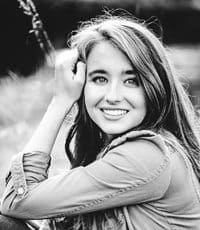 About the Author: Kathryn Hardison is a journalism student at the University of Missouri, majoring in news reporting and minoring in political science. Prior to college, Kathryn went to Kickapoo High School in Springfield, Missouri, where she marched the flute in the fall and played the cymbals for the Kickapoo Indoor Drumline. During her four years in marching band, Kathryn competed with the Kickapoo Golden Arrow Marching Band, of which she later became the flute soloist and junior and senior flute section leader. Kathryn's career in the Kickapoo Indoor Drumline included placing 8th in PSA World Championship finals in 2015 and a promotion to PSO. After college, Kathryn plans to write for a newspaper.