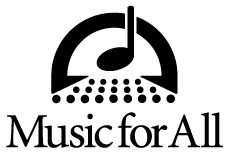 Music for All has been providing positively life-changing experiences at its summer camp for over 40 years. It's America's Camp: the national summer learning experience for band and orchestra students, and teachers. Music for All brings together the best faculty, exciting concerts and events, and students from band and orchestra programs from coast-to-coast who share a love of music-making, performance, and student leadership. The Music for All Summer Symposium is for high school band and orchestra students, with outstanding learning experiences for students of all levels of experience, in a wide range of areas of interest.
Student Divisions at America's Camp
Color Guard
The curriculum provides time with leading instructors and immerses students in hands-on, experiential learning opportunities.
Concert Band
Designed specifically for the high school concert band student, you will have the opportunity to grow as both a musician and individual.
Drum Majors
For four decades, student leaders and band directors have looked to Bands of America for the latest in marching band performance and leadership training.
Jazz
The curriculum allows students to participate in an immersive big band experience while taking masterclasses/lessons with world-renowned jazz artists.
Leadership Weekend Experience
Interact with student leaders from across the country at one of the premier two-day leadership programs created specifically for music students.
Marching Band
Learn skills that are applicable to all band programs and we encourage them to take these skills back to their own bands to grow in a positive direction.
Middle School Concert Band
The Middle School Concert Band Camp offers a week-long, fun, immersive camp experience. Designed from the ground up with the middle school student in mind, students will grow as both musicians and individuals.
Music Production Boot Camp
We've added a Music Production Boot Camp to the Music for All Summer Symposium! Chuck Ainlay, award-winning music producer and Yamaha Artist will be the recording engineer-in-residence.
Orchestra
Develop skills and musicianship working in diverse styles, from classical and jazz to pop and world music.
Peer Teaching Program
While leadership training is essential to the growth of our band programs, most times this training focuses on WHAT leadership is. This new division has been designed to train students to BE real leaders in their programs.
Percussion
Hone your craft, by working with some of the current "rock stars" of the Marching, Concert Percussion, and Drum Set World!
For more information, visit camp.musicforall.org.