By Michael Reed
What are equal parts scary and exhilarating? Being reclassified during the season from one class to the next. Reclassifications have been a part of the percussion activity for years. Because the various classes are skill-based, it is imperative that groups are competing against other lines presenting similar skill sets.
Directors and members of several groups reclassified to Percussion Scholastic World class during the past five seasons shared feelings about the honor of competing at that level, and also the responsibility to live up to that honor.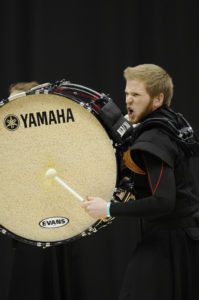 Eden Prairie HS from Minnesota was reclassified in 2013 in their second season of indoor competition. Director Scott Palmer reminisced on their meteoric rise. "We came out in Open, and had a good first year in 2012. The next year, we got more kids interested, and it was a totally different ballgame. The kids wanted it, and the staff went to work to try to figure out how to set them up for success, and we had some really awesome student leaders that led the way."
He continued, "We got the word after the Minneapolis Regional that we got reclassified. It was really exciting at first, and then shocking and scary, but it was an awesome experience. That year was a '10' for the kids, and then we were able to get in Finals. It was a really incredible year."
Sustaining a World Class level can take more work than getting there. Palmer described how his line maintains that excellence. "Inventing and trying to be creative as a team, and doing lots of self-reflection of what worked, what didn't, how can we become better teachers, who can we go observe and what are they doing that we can implement. Keeping that motivation is definitely a challenge but that's what makes it fun."
Franklin Central HS from Indiana was practically unbeatable in the Concert World Class, winning six Gold Medals between 1998-2004. They began competing in the Movement classes in 2005, and were Finalists in Percussion Scholastic Open every year for the next decade, except in 2009 when they were Percussion Scholastic A Bronze Medalists, and 2014 when they missed Finals for the only time in the past twenty seasons.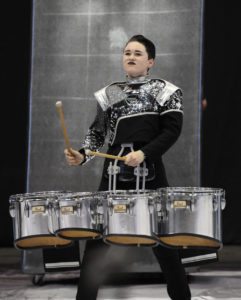 Late in the 2016 season, Director Chris Hodgson got the call telling them they were being reclassified. "We were in Open class until the second to last show in our state circuit. Early in the week, we were emailed saying that we were under review, and it was in the same week on that Thursday that we got another email saying 'Congratulations. You guys will be representing the World Class at World Finals.'"
What was a pretty good season became magical! "At first it was stressful, because we weren't sure exactly how that was going to go, but I will say one of my favorite shows of all time was that first show that we were in World Class. The kids came out and rose to the occasion. It was one of the most fun shows that I've ever had as a teacher! To be able to see that all the way through and to make Finals, it was a very proud moment as a Director!"
One question many people have about lines that get reclassified is do they change the show for the next class? In Hodgson's case, the answer is no. "We didn't change necessarily anything with the book or the show. We just tried to strive to get the World Class excellence into the show that we already had."
Etiwanda HS from California was reclassified just before the San Bernardino Power Regional in March. Bryan Nungaray, Percussion Director since 2010, reflected on the line's progress since his first year when they finished in last place at their local Championships in Open class. "We graduated a lot of talented students so we started over in A class. The first two years we won, and then we went to Open Class did really well. We were 9th, then 4th, and then first, and this year we started again in Open class."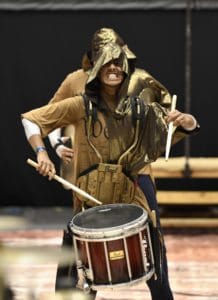 Their recent success in Open class set the stage for their fantastic 2017 season which culminated with a 6th place Championships finish. He continued, "We only had one graduate in each section last year, and being a circuit champion in our state division caused more interest in the program, so we grew bigger. What you see in front of you is the culmination of the past three years of many students."
The students were honored to have been recognized for having World Class skills. Etiwanda Battery Captain Andrew Calonge reflected on his experience. "When I started, I never would have thought we would have gotten to the point of World Class. It's inspiring to me to want to rise to the occasion." Franklin Central tenor player Preston Seiter had similar thoughts. "Once you hear 'World', you're being compared to the best of the best, and that just makes you want to try harder. It gets you pumped and energized!"
Both Nungaray and Hodgson felt energized about their reclassification experience. Nungaray stated, "I felt a hunger for the program that I haven't felt in many years as an instructor and designer." Hodgson reflected on how it felt to stand on the UD Arena floor on Saturday night. "Usually I'm sitting a few rows into the crowd watching the show, and it was pretty surreal to think 'wow! They're all cheering for me!' It was a pretty neat feeling."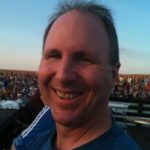 About the Author: Michael Reed provides online and print media content for WGI, Bands of America, and Drum Corps International. 2017 marks his sixteenth year of writing for WGI. He is an active music arranger, composer, and all-around avid pageantry fan. Michael was a member of the Cavaliers Drum and Bugle Corps and holds a bachelor's degree in music composition and music education from Ball State University. He currently works in the health care field and resides in Fishers, Indiana.