By Emily Ward
The 2022 WGI World Championships will go down in history for multiple reasons – but for Moe & Gene Johnson High School, this past season was extra special for them. As a program only in its third season, the Buda, Texas team attended their first-ever WGI World Championships and placed sixth in the competitive Scholastic Open class division.
In an interview with Band Director David Duffy, he spoke about the school and color guard's history saying, "The school opened in the fall of 2019. That year we…had roughly twenty [members] in the guard. We had three members from the previous high school that were sophomores and had one year of training. The rest were all brand new."
During their first year as a program, the team competed in the TCGC circuit, performing a show about the foundations needed to truly begin something, precisely as they were doing with their new guard. "It fit the first year well, then life stopped. We went virtual, and the color guard was devastated. It wasn't easy to keep the kids motivated during this time. It was just tough because we…were just starting to bond as a program," said Duffy.
"The second year started late, and with no recruiting…we were up to around twenty-six [members] or so in the fall color guard," Duffy stated. The team only had one of their three original members that had some training prior to the new school's opening. "The rest were members that [just] started [or] only had seven months before COVID shut us down."
The 2020 fall team was mainly taught virtually, with only a few members sporadically showing up for in-person classes. The team did video assignments to keep everyone practicing and improving. That winter season, the athletes split into a JV team for all first-years and a varsity team for the more experienced members. Competing in WGI virtual competitions, their varsity team ended up being 2021 semi-finalists in A-class, and their JV team were finalists in Regional A-class. This helped them to have a team of forty-four for their next in-person fall season.
"The virtual experience was great for my kids. It allowed our program to grow at our own pace, and it was fun to see these new performers fall in love with WGI." Duffy said the team enjoyed competing virtually because "there were no live nerves to get past. They were filming in their own gym, so [there was] lots of comfort there." The team only wished that they had been able to perform in front of a crowd so that the members could see what it was like to perform in front of people they didn't know, not just their cameraman and coaches.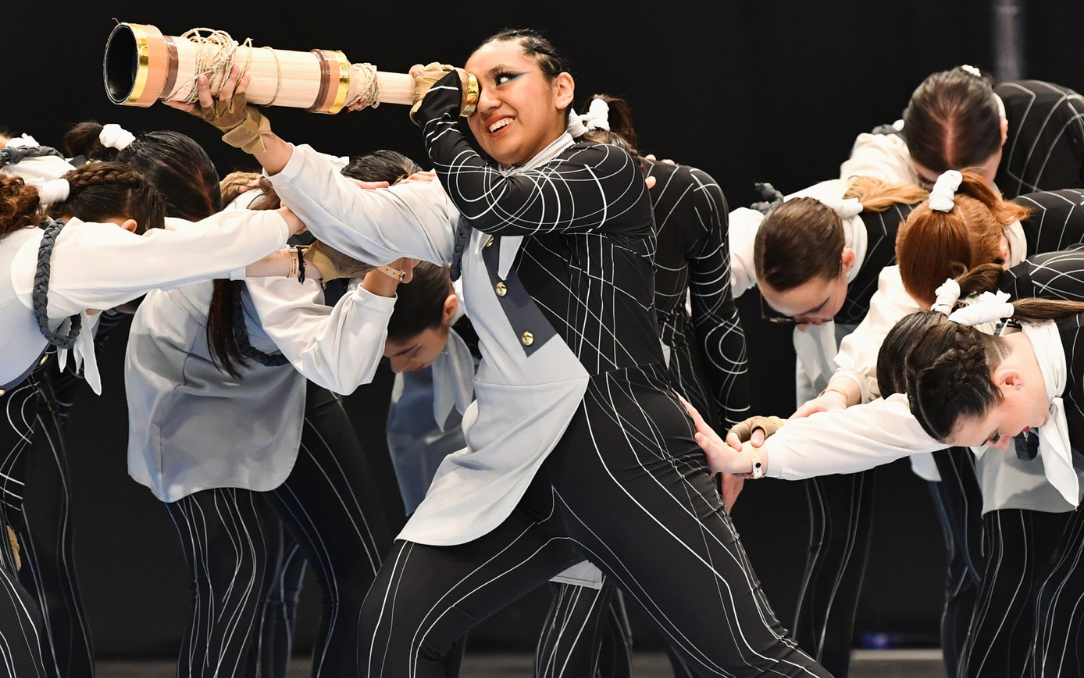 In preparation for the 2022 winter season, the staff decided to put their varsity team in Scholastic Open class. "Myself, Herbert Washington, Jennifer Hinshaw, Michael Rosales, and Derek Vereen worked very hard to get these kids ready for the very first Regional of the year in San Antonio, Texas. Our show entitled 'A NEW World to Explore' uses the music 'King of the World,' By Jason Robert Brown and performed by Mykail Kilgore. It was an homage to the very first group I took to WGI thirty years ago from Powhatan HS from Virginia," said Duffy. That team placed ninth in A-class at the World Championships, making them the first Scholastic team from Virginia to make finals.
At the San Antonio Regional, the team won. "We were the proud Champions in Scholastic Open. It was a boost for these kids who were freaking out because they weren't used to performing for [that many] people in person," Duffy stated. After that big win, other color guards started telling the staff that they were very surprised that the team wasn't planning to attend the World Championships in April.
Upon further discussion and the help of their band booster president, Ida Musgrove, a week later, the Open class team was entered to compete at the World Championships, a dream the staff didn't think would be realized after COVID. The next Regional the team competed in, in Austin, Texas, they won another title. "It was exciting to see the kids start to believe in themselves," Duffy said.
Since the team didn't plan to be competing for as long as they were, they had to go on a pre-planned, whole band program trip to Hawaii. Each member made sure to practice whenever and wherever they could find the space, and members that couldn't make the trip submitted videos of themselves practicing. The staff made sure to do zoom team-bondings to avoid losing the atmosphere they had created before leaving for Hawaii.
The team's last competition before heading to Dayton, Ohio, was the TCGC State Championships. It was the first time the performers had ever done a show in an arena, so the staff saw this as an excellent opportunity to see how the athletes would handle performing in the vast arenas for the World Championships. The team ended up taking home yet another title in Scholastic Open class.
"We used the next two weeks to prepare for WGI. From run-throughs at weird times to walk-throughs, [acting] like we were at different arenas, and all along we invited everyone to come and watch rehearsals, trying to get the kids to perform at all times." This was the first time the program ever had open rehearsals.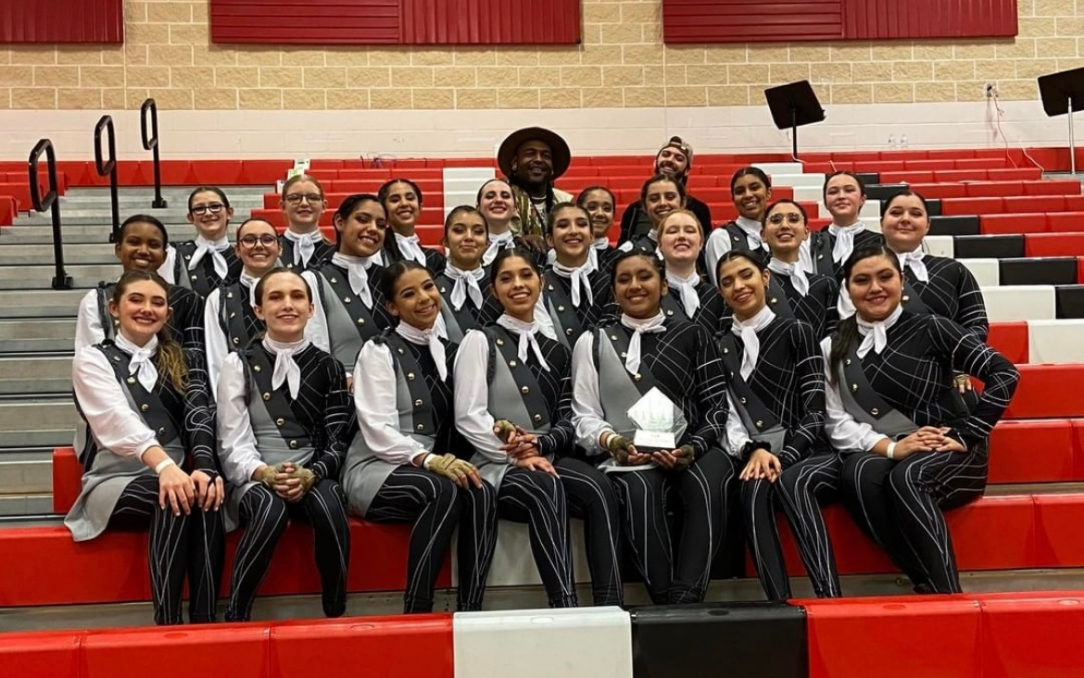 The staff cleaned every small detail of their routine, assuring that they praised their athletes for the things they did right, from smiling while performing to eye contact with the audience to getting a toss right. Coaches mostly worked toward "getting [their athletes] to believe in what they were doing [and reaching] outside of their comfort zones."
Once the World Championships happened, the team made it all the way to finals, showing the world exactly what their young program could accomplish in only three short years. The staff was beyond proud of each of their athletes.
Currently, the team has fifty-five athletes on their 2022 fall season roster. Duffy says the members "just want to share what they do with everyone around them; WGI makes kids do that. The atmosphere there is like no other, and it is infectious. I am excited to see what these kids will do [in the future]."
The program was just approved to have a full-time color guard teaching position, meaning they can start setting up a middle school guard program. "The students work hard and know where they want to be. I hope they realize that for them, the sky's the limit. Maybe even someday, very soon, the World [too]."
About the Author: Emily Ward is a junior at the University of South Florida in Tampa, Florida, and is studying to receive her bachelor's degree in mass communications with a concentration in broadcast news. She is also a psychology minor. She began colorguard her junior year of high school and was a captain of Sunlake High School's Scholastic Open Class winterguard team. Since then, she has spun for the University of South Florida.