Meminesse: to keep in mind, to recall, to remember.
It is a word that most high school seniors might find on a Latin test. For Amanda Rawls, a senior at Eureka High School, meminesse is more than a study point on a flash card. It is a state of mind and being that has become and immense part of her life. Meminesse: to keep in mind those we have lost, to remember what once was and will never be again. This state of remembrance is the cornerstone of Eureka High School's 2018 program, aptly titled with the Latin word. Amanda does not have to imagine what it is like to lose a loved one as she performs; she is living that reality every day.
Amanda Rawls is a senior and captain of the Eureka High School Color Guard. She is in her final semester of high school and fiercely dedicated to color guard. She enjoys nature, whether she is experiencing it through camping or simply walking. She loves to draw and sew. She gets her crafty side from her mom, she says. Amanda is working on her Gold Award for Girl Scouts, an honor she has long worked towards. She does not do much in high school outside of band and color guard because it takes up most of her hours beyond class. "But it's ok I love it," Amanda is quick to add. Though Amanda's life seems normal on the surface, it is one that has been rocked by tragedy and heartbreak beyond her years. Last year, Amanda's life was forever changed when her father, Doug Rawls, passed away after a painful battle with cancer, leaving a void in her life and the entire Eureka Marching Band family.
This year has tested her strength, and she admits that sometimes it is hard to simply get out of bed in the morning. "When I wake up, I realize that all of this wasn't a dream, and that it is real," she says.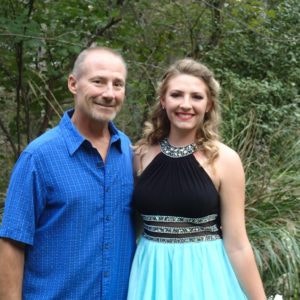 "My dad was the strongest most driven person that I've ever known. He didn't take no for an answer and he never gave up when things got hard. I looked up to him my entire life." Amanda remembers of her father, "He was everyone's dad as in everyone could go to him for anything and he cared for everyone and treated them as one of his own."
Doug was a familiar face to all involved with the Eureka High School Marching program. He was kind and an avid volunteer to the activity that his two children loved so much–Amanda's older brother, Zach, was a member of the pit. His love for his family shone through in the work he did with the program and he was well-liked by all. "His loss was felt by every director, every student, and every parent," Director Jason Bergman says of Doug.
"The hardest day I have ever had as a coach was the day Amanda came to practice and told the guard her father had passed away," Jason says. Less than 24 hours after her father's passing, Amanda put on a brave face and went to rehearse with her peers. For fifteen minutes the girls hugged her as she cried. From that day forward she says, the guard has looked out for her.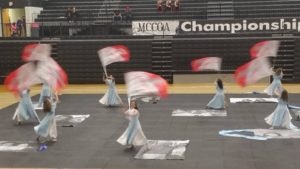 Through this incredible loss, one felt in waves by the entire Eureka HS marching program, the idea for "Meminesse" was born. Jason was inspired to design a program that would in some way honor Doug's memory. The idea came to fruition with the permission of Amanda and her mother, Stacey Rawls. The show is poignant and sweeping. It is set to the towering song, "The Wind Beneath My Wings," covered by Ryan Dan. The performers are dressed in flowing, light blue and silver dresses and spin beautiful watercolor silks. The floor is a stark black, with hidden flaps that pull back to reveal black and white photos. Director Jason Bergman explains: "There are pictures on the floor, chosen by each student, which are people they have lost or that inspire them." The effect of unveiling the photos, paired with a gorgeous flag reveal, is emotionally hard-hitting. The performers' movement is emotional and intentional: it is clear their hearts are invested in the story they tell.
Amanda's connection to this show is incredibly strong. Though it is an exploration of loss and pain, she enjoys the emotional connectivity she has discovered this season. This being said, the experience is a challenge, as she is tapping into very real, raw emotion. Amanda says of performing, "I cry every time we perform this show. My tears are as real as they can be."
She is comforted by the fact that though she is hurting terribly, she is also full of joy as she revels in doing what she loves. "I know my dad wouldn't want it any other way," she says.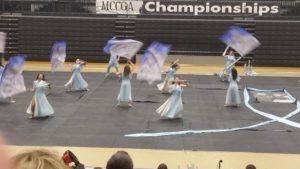 Of this incredible loss, Jason Bergman says, "I wouldn't wish it on any other director. It is an incredibly difficult situation." In experiencing this loss together, Jason has watched, in awe, as his students have banded together to lift up their peer. "They were there for her when she needed them. They have let her talk when she needed to talk. They were there when she needed to cry. They were there when she needed to laugh. They were there for her whenever and for whatever she needed." he says. This past year has been clarifying for Jason, who says that it has made him realize that the numbers on the sheets do not matter compared to the bonds between his students and the experiences they share. This resonates clearly with Amanda, for whom her teammates have been an incredible support system. "My guard hugs me most everyday; that hug is the best thing that they can do, and it makes the biggest impact on me." she says.
In remembrance, there is healing. As she remembers and celebrates Doug Rawls along with her teammates, Amanda has started to move forward. As the sun sets on her high school career, she is growing, making plans, and exploring a new life. She will be starting college next fall at Missouri State and dreaming about what the future might hold. She may pursue a career in education, but she still has plenty of time to decide. "It feels like I'm making him proud by moving forward and doing amazing things," Amanda says. In these final weeks of the season, Amanda and her teammates will continue to remember and share their stories with the world. Surely, as each moves forward on their own path, they will take their special, shared experience of "Meminesse" with them.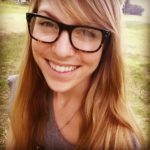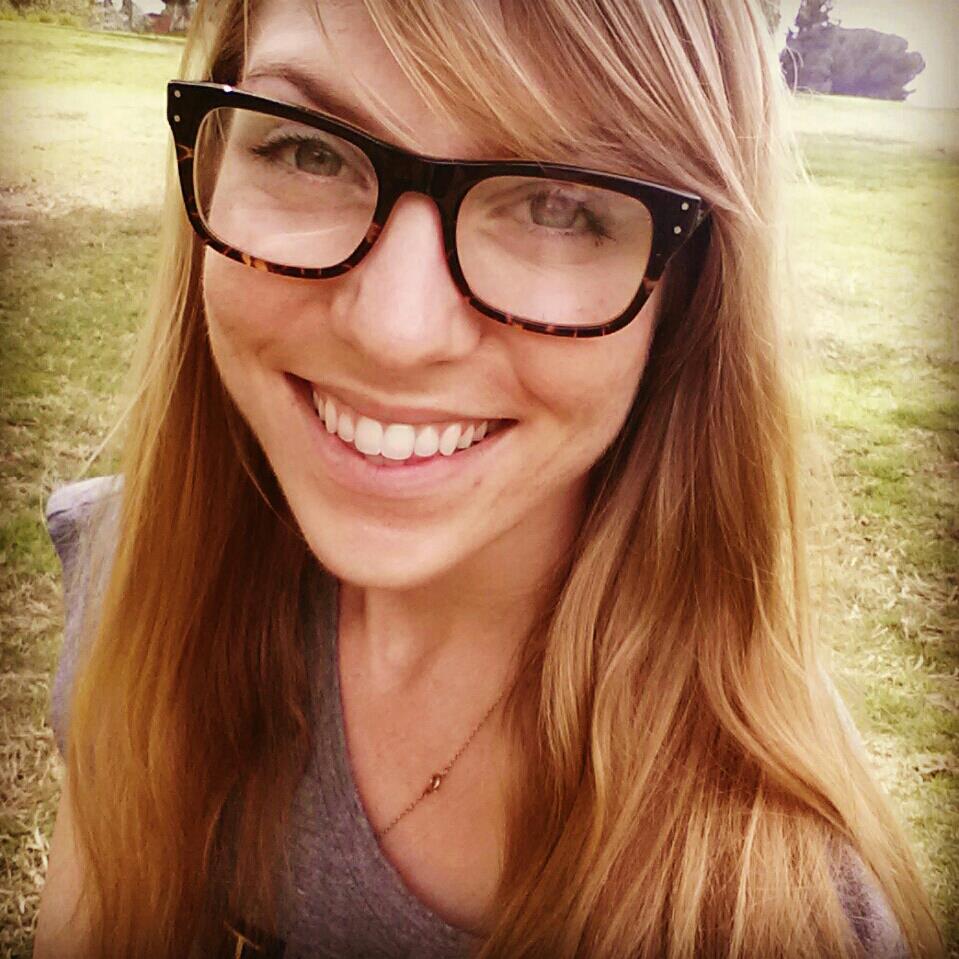 About the Author: Jenny Lyons is a freelance writer and graduate of the Literary Journalism program at the University of California, Irvine. She is particularly enamored with nonfiction writing, archival research and reporting, as well as editing. She is an alumna of WGI, having performed with the Santa Clara Vanguard Winter Guard from 2013 to 2015. Jenny has also marched with several drum corps including Pacific Crest, The Academy, and the Santa Clara Vanguard. When she is not writing, Jenny can be found continuing her passion for color guard through teaching.