James J. Dwyer has been involved in the Marching Arts for over thirty years, and is currently the Visual Caption Head for WGI Percussion. Accomplishments include serving on the WGI Steering Committee, being a founding board member of the Mid-Atlantic Percussion Society, and judging extensively throughout the United States as well as Japan and Europe. Jim was a snare drummer for the Crossmen Drum & Bugle Corps from 1980 through 1983. He served as the Director of Percussion for North Penn High School from 1981 through 1987. You may recognize him as the host of the WGI "Visual Buzz" educational DVD.
We recently caught up with Jim to learn more about his experience with indoor percussion and WGI.
What were some of your first experiences being involved in percussion?
I can remember "tapping" on everything when I was just a young buck. It drove my mom crazy. One day she saw an ad in our hometown newspaper, that the local Drum, Bell, and Bugle corps was looking for members. It was $1 a week, and they rehearsed Friday nights from 7-9pm. I'm sure my mom couldn't believe that anyone would take me off her hands for 2 hours for just a dollar! She took me to my first practice that next Friday, they handed me a pair of drumsticks and told me to practice "RLRR LRLL" over and over. I was smitten at first tap, and loved it immediately. My mom still says it was the best investment she ever made! I can tell you that she got her monies worth. She always dropped me off early and always picked me up a little late. She knew how to stretch that dollar!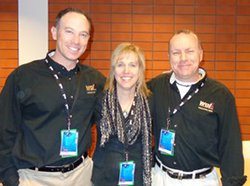 When was the first WGI World Championships you saw?
My first WGI championships were 1998 in Dayton. My very good friend, Mark Thurston had called me to ask if I'd be interested in judging for WGI. Mark and I had marched together in DCI for 4 years and remained close friends. He explained that the percussion side of WGI was looking to adapt the "Ensemble Analysis" to better suit drummers. I had studied architectural engineering in college and was no stranger to carrying a drum, so Mark thought it might be a good fit. So I drove to Dayton to "cut some tapes" and check it out. Of course I was blown away with what I saw that weekend and went home hoping to be involved in WGI. The indoor activity, even back then, was so far ahead of anything I had seen on the field in the outdoor activity. Groups like Northglenn High School were bringing an aspect of "theater" to the percussion world. It was my favorite weekend of that year, and championships have continued to be my favorite weekend of every year.

What inspires you to stay involved in WGI?
Wow, what a great question. I guess first and foremost it's the opportunity to be involved in such an amazing activity at such a high level with so many outstanding people. I'm a firm believer that WGI is the pinnacle of marching percussion worldwide. I get to see, judge and collaborate with some of the most talented instructors anywhere. Even more important to me is the honor and privilege to judge with the very best colleagues. Scott Johnson, Dennis Delucia, Ralph Hardimon, just to name a few. Gentlemen I grew up idolizing.
Who in the activity inspires you?
The students inspire me. I think about what it was like when I marched in drum corps and how it is today. There is no comparison! Today's performers play year round and don't just play. They act, run, dance, jump, fly, and all while playing an incredible amount of notes at unbelievable tempos. Today's performers are athletes. We were drummers, and that was on a good day!
What life skills are learned through winter marching arts activities?
There are some many life skills that are learned from this activity. Teamwork, first and foremost. Dedication, discipline, commitment, aren't far behind. All of these are important life skills that every one of our participants will use every day in their lives. I know I do, and in fact I often speak about just that in my professional speaking career.
Where do you see the activity going in the next couple of years, or further in the future?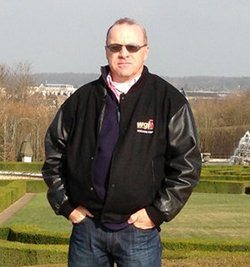 The sky's the limit! I'm not sure any of us knows for sure, but I can't wait for each new season to start so I can see what the state of the art is. Every year there are groups who do things that end up advancing the activity. It is extremely rewarding to watch the process each and every year.
What are some of your favorites shows?
That is such a hard question to answer. For me I would have to say it's the shows that stand the test of time. There have been so many over the past 14 years. Some that come to mind are Mission Viejo's "From Time to Time" and "Twelve", Music City Mystique's "7 Deadly Sins", Rhythm X's "Inspired", Canyon Hills "1000 Cranes", Northglenn's " Life after Life", RCC's "Sounds of Silence", man where do you stop? I could name so many more.