Beverly Brahan was raised in Birmingham, AL. She attended Hoover HS and the University of Alabama who she still cheers for "ROLL TIDE ROLL!." While at Alabama she played in the Wind Ensemble, danced with the university's modern dance company and marched in the color guard of the Million Dollar Band. She graduated from the U of A in 1990, with a Bachelor's Degree in Education and moved to Mississippi to teach middle school English and color guard. She taught color guard at a variety of high schools in Mississippi and was the drill team sponsor for eight years at the inner city middle school where she taught English.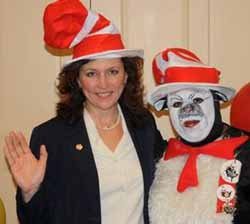 In 2001, after 10 years of teaching, Beverly was elected President of the Mississippi Association of Educators (MAE), MS's affiliate of the National Education Association and moved from the classroom. Currently, she is the Associate Executive Director of MAE, and supervises MAE's field offices across the state and work in partnership with lawmakers, educators and parents to create strong education policy to support student and educator success. Our mission is to ensure a quality public school for every student in Mississippi. She believes that investing resources in our students and schools is the best economic development decision a local, state and national community can make. Beverly completed a Master's Degree in Education in 2005 and has lived in the Jackson, MS area since moving to Mississippi. She was also inducted into the Gulf Coast Color Guard and Percussion Circuit's Hall of Fame in 2011.
WGI recently caught up with Beverly to learn more about her experiences in the marching arts.
What were some of your first experiences being involved in color guard?
I was in the color guard at Hoover HS and the University of Alabama. My junior year in college, I received an invitation to participate in a winter guard located 60 miles away in Columbus, MS, Final Analysis. At the audition, I fell in love with this new type of dance combined with color guard. Every Saturday I commuted for rehearsals with Final Analysis' in "The Color Purple" show. Here I met Tommy Keenum, Nola Jones, Tim Pierce and Keith Hall and my life was forever changed. Final Analysis competed in a regional competition as well as WGI World Class Finals where we placed 12th. It was an extraordinary experience!
When was the first WGI World Championships you saw?
My first WGI World Championships was 1988 when I was a performing member of Final Analysis. We were barefoot, in big skirts and head wraps and we were spinning trees! I was in awe at what other performing units were doing- I had no idea! Through WGI, I found a perfect combination of things I loved: music, dance, color guard!
Indoor guard has changed tremendously in the development of props, use of theatrics and in the complexity of choreography asked of performers at all levels. WGI Championships is an amazing display of artistic expression and individual talent. The skills and abilities young people exhibit today are astounding.
What interested you in becoming a WGI judge?
In 1990 I began road tripping to Gulf Coast Colorguard Circuit shows with judges Nola Jones and Tim Pierce. That's where I met Fred Feeney who mentored me as a movement judge for the local circuit and introduced me to WGI judging. In 1993, I adjudicated one class at my first WGI World Championships.
Over my past 25 of years of winter guard involvement, one thing remains the same. My favorite captions are movement and equipment. As a judge of movement/equipment, you have the ability to speak directly to performers about what they are doing well and how to improve their skills. Performers generate tremendous excitement through equipment, movement and staging!
What inspires you to stay involved in WGI?
My involvement with WGI has been life changing. The education, training and exposure helped me to grow personally and professionally. In 1997 when I became a leader in the movement caption I was called to work with movement judges all over the nation. The level of education and leadership training I received through WGI in order to fulfill this position was top-notch! WGI leadership took a chance on a young person and provided a foundation for me to grow upon. I believe in the mission of Winter Guard International and want to support this organization in any way possible.
Who in the activity inspires you, and in what way?
Stanley Knab remains an inspiration for taking me under his wing as an inexperienced movement judge and challenging me to think more openly about movement, motion and dance. Stanley inspired me to dig deeper, think outside of the box and have the courage to question.
Fred Feeney continues to possess an untiring passion for growing and supporting local judging circuits while continuously recruiting and educating the best and brightest into our judging ranks at the local and national levels. Through his various roles within WGI, Fred's dedication to instructors, judges and performers is inspirational.
Michael Gaines continuously inspires performers, instructors and judges with his natural delivery of standard setting performances with groups from all over the world. Michael is an extraordinary educator who brings many people experiences in life never thought possible.
Shirlee Whitcomb is a pioneer in WGI judging philosophy, criteria and education. Shirlee taught me vital educational components in creating judge systems and delivering effective training. These skills were used in work with students in my classroom and in my work with teachers in Mississippi today.
What life skills are learned through winter marching arts activities?
Winter marching activities provide students with much more than spinning and moving, winning or losing. Through talented and creative instructors performers learn leadership skills, commitment, collaboration, teamwork, selflessness, dedication and perseverance. These qualities are important life skills for successful adults. Instructors are vital to the development of phenomenal people as well as phenomenal performers.
Where do you see the activity going in the future?
The future for winter color guard holds limitless potential for students and instructors across this nation and throughout the world. I love the new ideas and standards that are produced each season which challenge our thinking and skills as a judge. It is exciting to see color guard featured in public venues such as television shows, motion pictures and commercials!! Mainstream America is amazed at the talent and skills of the youth engaged in our winter marching activities!
What are some of your favorites shows?
Oh wow! There are so many favorite shows!!! A few of my favorites are:
Blessed Sacrament 1989 – "If You Could Read My Mind"
Escapade 1993 – "REM"
Northwest Passage 1997 – Independent Open (no soundtrack)
Kennesaw Mountain 2005 – "Air"
Aimachi (every year)