Ray Rhodes grew up in Wauchula, Florida – a very small town in the Heartland of Florida, and is the youngest of four children. He studied business and moved to New York to begin his career in Human Resources in 1989, and has lived there since! His partner, Joe Esteves, and he live in Port Chester New York, and he is the proud father of a daughter, Samantha, who just entered her freshman year at the State University of New York in Albany.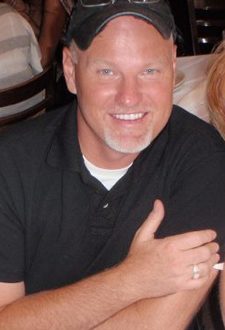 Rhodes worked for many years in a couple of large firms as a Director and Vice President of Human Resources. He currently works from home as a Human Resources Consultant and has the privilege of working with a longtime friend, Carman Dragone, servicing his family's automobile businesses. He became the Color Guard Director at Trumbull High School in Trumbull, Connecticut, in 1994, and has been there since! His partner is a general manager in the corporate food services world, and is a pastry chef, trained at the CIA. Ray comments, "Avoiding overindulging is another full-time job!"
WGI was able to catch up with Ray to learn more about his history in the activity and why it's been such an important role in his life.

What were some of your first experiences being involved in color guard?
I remember my parents taking me to a homecoming parade in Lake Placid, Florida, when I was only three or four years old, and I fell head-over-heels in love with all things marching band – including the "auxiliaries". My eldest sister played clarinet and was in the color guard, and two of my cousins were majorettes, so the marching arts was part of our family culture. I had an interest in music from a very early age, so I participated in all of the music and arts programs that my schools offered. I was a student instructor from the seventh grade through my senior year in high school; I played clarinet, saxophone and mellophone and was the drum major in my high school marching band at Hardee Senior High School.
During my senior year, we had no color guard instructor, so I asked my Band Director, Bob Shayman, if I could teach the team. He was kind enough to give me the opportunity, having never marched in the color guard, and only having videos of my favorite DCI color guards (Suncoast Sound, Spirit of Atlanta, Garfield Cadets) to educate and inspire me. I went along with my students to various color guard camps and learned the basics along with them, and it remains my passion to this day. My heroes from early on in my color guard career were the brilliant creative and technical staff and performers of the above mentioned color guards, and it is surreal to be working alongside many of them today!
When was the first WGI World Championships you saw?
I remember being in high school and watching a video of the 1984 "WGI Olympics", and marveling at sight of Blessed Sacrament and Center Grove High School. "Rock with Sac" was just so much fun to watch, and at the time, wasn't just another color guard show! And then there was Center Grove…. I could not believe these young ladies were high school students! Their interpretation and mastery of the classical piece they performed was simply amazing. I remember watching them and wanting my students to be that well-trained someday.
The first "live" WGI World Championships I attended was in 1998. It was the first year that I brought the Trumbull Team out to compete in the Scholastic Open class. I just remember watching World Class finals, and having an "out-of-body" experience! The shows were so creative and exciting to watch live – including some of my all-time favorites: Pride's First Circle, Miamisburg's Firebird, Logan's Te Amo, Center Grove's Rhapsody Inside-Out, St. Anns' Janis Joplin, Lassiter's Water Show and Bishop Kearney's Animal Farm…. Show after show brought me to tears and I left the arena that evening more emotionally drained and inspired than ever! I wanted to push myself, my staff and my students to continue to grow and know the excitement and accomplishment that all of these wonderful performers were experiencing.

How are you currently involved in WGI?
I have represented Trumbull High School on the Color Guard Advisory Board for past four years, and this past May, I was elected to the Board of Directors. I consider it a great honor and privilege to be able to serve on the Board, and I am looking forward to being a part of the growth and further development of our organization!

What inspires you to stay involved in WGI?
WGI is the lifeline of our sport…. Its reach to everyone involved in our activity is critical, without a doubt. It is a community of the finest, most dedicated educators and performers in our activity who come from every walk of life, every background. We all speak the same language on that performance floor. It's like a huge family reunion whenever we all converge on Dayton each year! We learn from each other, we laugh, we cry and we celebrate our successes together. A number of my former students have gone on to perform with various independent color guards, including Alter Ego, Blessed Sacrament, Emerald Marquis, Northern Lights, Onyx and St. Ann's. Others, including John Lemire, Megan Rexroat and Tom Dargon, have become key educators with the Trumbull Team. We are a big family, and WGI is part of who we are.

What life skills have you learned through winter marching arts activities?
I have learned many lessons from my involvement in winter guard; but perhaps the most important lesson I have learned is the value of quality training. Nothing great is accomplished without a strong foundation of training and education. Many of us have grand ideas – both inside and outside of our sport – and would love to be able to wave a magic wand to make them come to fruition. But only through rolling up your sleeves, working hard, and devoting time to mastering "the basics" can you reach your full potential.

Where do you see the organization going in the future?
There are SO MANY color guards that have not had the privilege of competing in the national arena. I remember taking my team to Dayton for the first time, and it was an experience that changed their lives, their value of hard work, and their approach to rehearsal, in general! They walked away with higher goals and a greater appreciation for our community. There simply is nothing that compares.
It is critical for us (WGI) to reach those color guards who want to grow, and who want to get the most out of their experience performing and educating our young people. WGI leadership is devoted to working with local adjudication circuits to create an even larger color guard community; one that shares information, invests in educating staff and students and provides units with the tools they need to reach their potential. I would love for us, as an organization, to strive to make attending regional and national events accessible to as many units as possible over the coming years. Most teams spend such a great amount of time developing their skills and programming dynamic shows, and my hope is that each and every one of those teams are able to experience at least one of our events and have the perspective-changing experience I had whenever I first attended one of our events!
What are some of your favorite shows?
I have a long list, but here are the ones that made the ticket/DVD price worth every penny:
• Northmont HS – 1997 (Staff and students with nerves of steel!)
• Center Grove HS – 1997
• Pride of Cincinnati – 1998 (My favorite show, to this day.)
• Miamisburg HS – 1998
• Chimeras – 1999
• Lassiter HS – 1999 (Yes, I stood on my seat to cheer when those kites began flying across the arena!)
• Emerald Marquis – 1999
• Blessed Sacrament – 2001
• Onyx – 2003
• Fantasia – 2004
• Trumbull HS – 2006
• Fantasia – 2008
• Santa Clara – 2009
• Corona – 2009 (Fearless performers!)
• Aimachi – 2012