By Caroline Meister
WGI has come a long way since beginning in 1977. Now, in 2018, WGI has expanded not only across the United States, but across the world. With this rapid expansion, it stands to reason that certain states have a higher concentration of WGI affiliated groups than others. How do states with only one or a small number of WGI affiliated groups work? How did they get their start? How do they travel? How do they manage the pros and cons of their isolation? The list of questions goes on and on. The answers to all these questions (and more) with perspectives from each division are below.
New Hampshire. It is a commonly forgotten state in the northeast. Josh Peatfield, Salem HS Percussion music caption head and  arranger, explained that at many out of state shows people ask where in Massachusetts is New Hampshire.
Salem HS Percussion was started in 2002. The driving force behind it? The students. Students at Salem High School noticed that many indoor percussion groups were popping up all over the United States and they wanted to be part of the action. The students were the ones that pushed the administration to create the group and the students continue to be the driving force behind the group.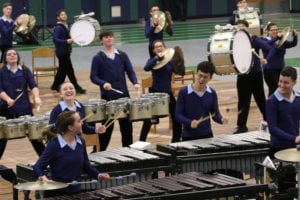 Although the only WGI percussion group in New Hampshire, Salem has a decent sized fan club comprised of both band parents and the local community. Parents help the group prepare for the long trip to Dayton, provide constructive feedback after every performance, and always remain steadfast in their support and loyalty of the group.
Salem travels to Dayton every year for World Championships. The journey there and back, Peatfield admits, isn't the most fun, but it's bearable. They take buses and complete the drive in one day, driving all throughout the day and night. In all their years traveling, there's only been one disaster – the bus arrived in Dayton, and the kids had to roll right off the bus into rehearsal.
Located on the complete opposite side of the United States is Sherwood Winter Winds, located in Oregon. To get there from Dayton, we would have to travel across the Rocky Mountains, the Great Plains, and then finally arrive in Oregon. Because of this distance, the group doesn't travel to World Championships. Maximillian Logan, visual caption head and drill writer, explained this and many more intricacies of Sherwood Winter Winds.
WGI Winds is a mere four years old. In many ways, age was the catalyst for the creation of Sherwood Winter Winds. Logan wanted to create a group that would be ahead of the curve instead of chasing after it. The fact that WGI Winds is constantly evolving and provides a lot of flexibility was just the cherry on top. Additionally, he wanted to create an ensemble that would provide a training ground for those in the marching band and lower bands at Sherwood High School.
Logan considers social media one of the groups biggest allies in the fight against their isolated location. Because of social media, any group can watch, learn, and read about any marching art event in any part of the world. The group can watch other Winds groups who are located miles away from them and become inspired, improved, and invested all within seconds. The world is their oyster.

Sherwood doesn't travel to World Championships and due to cost and logistics, the group doesn't travel outside of the state – yet. Logan explained that when you're a small group, in an isolated location, you find resources you didn't even know you had. A mom can sew, a dad can construct props, the principal's willing to let the group borrow a van, etc.
Mililani High School Winter Guard is located in Hawaii. Hawaii, like New Hampshire, is often forgotten. To many, Hawaii seems like this foreign, international land, even though it is part of the United States.
When Mililani was formed in 1998, no competitive circuit for color guard existed and the marching arts scene in Hawaii was non-existent. Susan Segawa, Mililani HS' director, quickly identified a deficit between the lack of resources and a surplus of students eager to learn and excel. From then on, she made it her mission to create a group that would expose young Hawaiian musicians and performers to things they wouldn't be able to see organically in Hawaii.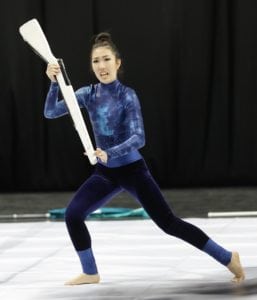 Flash forward to 2018. The marching arts community in Hawaii is growing, especially the color guard circuit. Interest in WGI has begun to peak and now there are four other consistent high school winter guards in the state, a great improvement from the once desolate marching arts landscape.
One of the biggest obstacles the group has struggled with consistently is the lack of support from the community. Although steadily improving, the marching arts culture in Hawaii just simply isn't there yet. Due to this, most of Mililani's performances are in front of audience members only, not audience members and judges. Often times, the first time the group receives feedback from a panel of judges is at World Championships!
As one can expect, travel is difficult for Mililani, especially to travel to World Championships in Dayton. Mililani has the highest travel costs of any WGI group in the United States. In fact, it's so expensive and logistically difficult that the group only makes the voyage every other year in an attempt to save costs. Members spend all their free weekends working to raise money for the trip.
Although located on three different sides of the country, Salem HS Percussion Ensemble, Sherwood Winter Winds, and Mililani HS Color Guard all struggle with the challenges that come with isolation. Although finances and travel can be a stressor, there are positives to being the only group in the state. The community supports you, the world is at your fingertips, and you can have a huge impact in the development of the marching arts in your state. If you have a passion for what you do, anything is possible, no matter where you're located.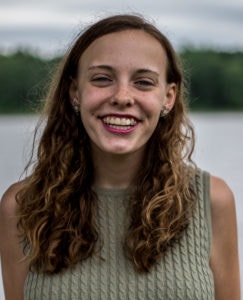 About the Author: Caroline Meister is a sophomore studying Telecommunications, Spanish, and Creative Writing at Ball State University in Muncie, Indiana. Prior to college, Caroline graduated from Zeeland East High School in Zeeland, Michigan. In high school, Caroline was heavily involved with the marching band, wind ensemble, and pit orchestra where she played flute, an instrument she's been playing for almost ten years. Currently, Caroline is in the Pride of Mid-America Marching Band where she marches piccolo.