WGI seeks to make every performer and director the best they can be. Check out all of the educational products WGI offers to help you reach your full potential!
WGI Basics
Flag Fundamentals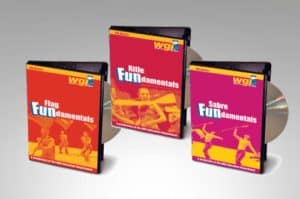 Have fun with flag fundamentals! Train your students with the most current techniques. Class is about to begin with guest clinician Rosie Miller, whose extensive teaching background makes this process your best investment in a bright future for your flag line. Rosie has worked with nationally acclaimed groups for over 20 years including The Pride of Cincinati, The Cavaliers Drum and Bugle Corps, and Aimachi. This 75 minute video is easy to follow, detailed, and guaranteed to set you on the road to success.

Rifle Fundamentals
This 75 minute video brings you everything you need to prepare an impressive and capable rifle line. This comprehensive training program takes the students from the most basic moves and positions through the exercises that build champions. Learn to identify problems, make corrections, and guide your students to success. Guest clinician Andy Toth has over 15 years of experience including performing in the original cast of "Blast!" in London and working with groups such as The Cavaliers Drum and Bugle Corps, Miamisburg Winter Guard, and Pride of Cincinnati.
Sabre Fundamentals
Have fun while learning to spin sabre! You will learn the technique to spin and toss, as well as exercises designed to increase your wrist flexibility for a greater range of opportunities with this piece of equipment. Ultimately, the notion of adding body to your fundamentals is introduced.
---
---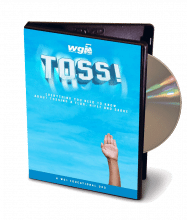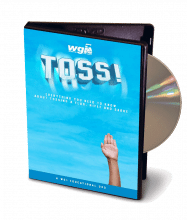 Toss!
Join seven of the top equipment designers and technicians as they teach you everything you want to know about tosses! These expers will cover all 3 pieces of equipment from the basics of the beginning toss to more challenging tosses, tosses while moving, tosses layered on body, and tosses within longer phrases.
Download TOSS!
---
Indoor Percussion Top Secrets
Modules 1-3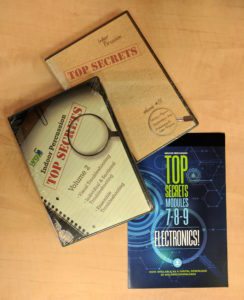 Several of the top designers in the activity walk you through the process of developing a great program, all while keeping the skills and abilities of the ensemble in mind. In 'Storyboarding a Show', four of our activity's top designers take you behind-the-scenes to show you their outlining, storyboarding, and development processes. In Module 3, top designers in our activity share their tips and strategies for selecting great music and expertly orchestrating it for our unique environment.
Modules 4-6
The activity's top designers and evaluators share their key recommendations for taking your ensemble's visual performance to the next level, focusing on individual and sectional troubleshooting. They will also show you how to leverage player development and teaching strategies to have your ensemble playing with the best of the best! Developing your ensemble's signature sound with these proven secrets for balance, timing, editing, and logistics will have your group sounding better than ever!
Modules 7-9
WGI continues its' quest to offer the most recent tips & tricks of the trade. In the newest Top Secrets educational modules, top designers discuss how to successfully incorporate electronics into your indoor show through Amplification, Sampling, and Synthesizers. These technological advances can help take your show to the next level!
Download Indoor Percussion Top Secrets
---
---
Movement Series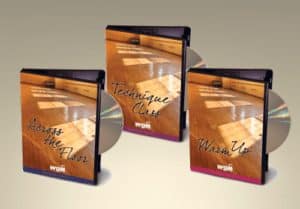 Warm Up
Join Carol Abohatab from the Santa Clara Vanguard as she teaches you everything you need to know about strengthening the core and stretching and lengthening of muscles with dynamic alignment.
Technique Class
Sit in on a standing center class with Carol Abohatab that includes technique for the spine, legs, and feet.
Across the Floor
Join Carol Abohatab, choreographer for the Santa Clara Vanguard World Guard and a modern dance teacher for more than 20 years, as she teaches you everything you need to know about methods of travel, getting in and out of the ground, turns, leaps, and jumps!