From a Lawrence Township Winter Percussion Ensemble Press Release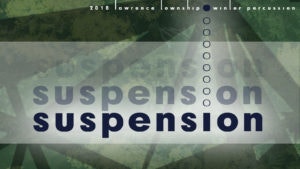 The Lawrence Township Winter Percussion Ensemble, under the direction of Neal Titus, is presenting their 2018 production entitled, 'Suspension', a re-imagining of the Tacoma Narrows tragedy.
Lawrence Township will perform at various IPA (Indiana Percussion Association) shows and WGI shows shown below. Tickets will vary in pricing and will be available the day of each performance at the Box Office of the performance location.
February 17 at Franklin Central High School (IPA Invitational)
March 3 at New Palestine High School (IPA Invitational)
March 10 at Franklin Central High School (WGI Regionals)
March 24 at Avon High School (IPA State Prelims)
April 7 at Hulman Center at Indiana State University (IPA State Finals)
April 14 at Center Grove High School (IPA Preview to Dayton)
April 19-21 at University of Dayton Arena (WGI World Championships)
The 1940 Tacoma Narrows Bridge was a suspension bridge in the state of Washington that dramatically collapsed on November 7, 1940. The road of the bridge twisted and vibrated violently under the 40-mile-per-hour winds on the day of the collapse.
Lawrence Township will be telling the story of man vs. nature and construction vs. deconstruction through Front Ensemble Arranger Craig Loeffler's soundtrack of a unique musical selection. Musical selections include Particles of the Universe by American composers Dan Romer and Behn Zeitlin, Alan and Uboats by French film composer Alexandre Desplat, and more.
Staff members include Ensemble Director/Battery Arranger Neal Titus, Visual Ensemble Director Julie Reid Cole, Drill Designer Andrew Ebert, Visual Technician Cal Lennon, Front Ensemble Directors Jeff Willy and John Kroetz, Battery Director/Battery Arranger Tim Henderson, Choreographer Christine Ghinder, Cymbal Technician Tori Lynne Rito, Front Ensemble and Battery Technician Jesse Mack, Sound Designer Matt Hahn, Sound Technician Zac Felli, and Graphic Designer Molly Favret.