From a Juxtaposition Winterguard Press Release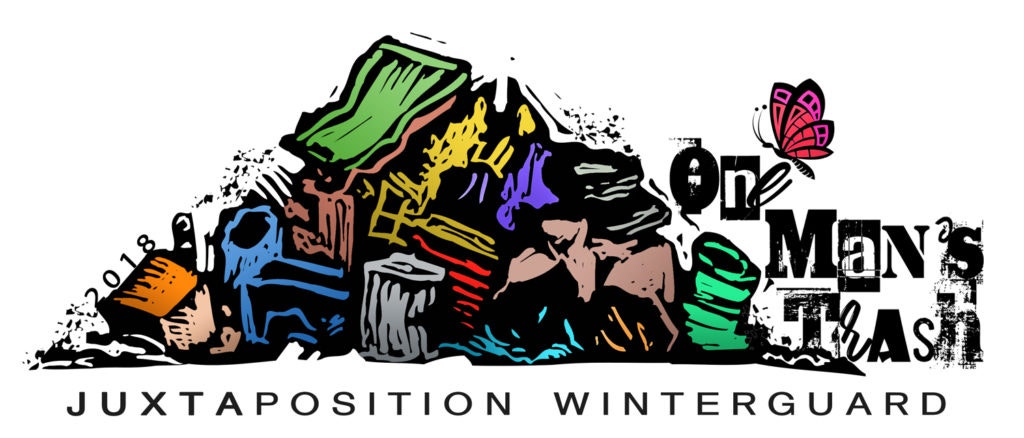 Juxtaposition Winterguard, from Westerville, Ohio, is pleased to announce our 2018 production: "One Man's Trash…"
Juxtaposition is under the executive direction of Stephanie A. Furniss and Erin Culver; our artistic director is Byron Valentine.
Choreographers, technicians and additional support staff for 2018 include: Erin Culver, Brandon Smith, Justin David Sears-Watson, Zach Dye, Sheldon Apo, Blake Dutton, Carla Tomsa, Alex Holland, Greyson Flores, Kayleigh Hind, Christine Ghinder, Tim Coady, Jessica Steuk, Steven MacAlpine, Heather Graham, Tyler Smith, Tiffany Culver, and Dave & Terri Culver.
Soundtrack engineering by Tommy Allen; costuming, floor & flag designs by Byron Valentine and Scott A Winters for FJM — Fred J. Miller Inc.
The 39 members of Juxtaposition World will be performing locally in The Mid East Performance Association, as well as nationally at WGI Regionals in Pittsburgh, PA, and Cincinnati, OH. Our season will culminate at the 2018 WGI World Championships in Dayton, Ohio.
Juxtaposition Winterguard was a 2017 WGI Independent World Class Finalist. We are grateful to begin our 21st season of competition in 2018 and look forward to sharing this production with you, our supporters.
"Just because people throw it out and don't have any use for it, doesn't mean it's garbage."
― Andy Warhol