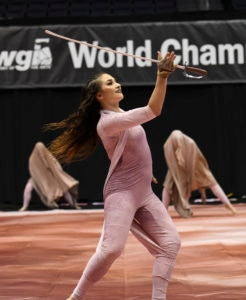 Paramount (1st – 97.000) brought a unique performance to life. The floor was shades of nude which matched their unique uniforms. With resistance stretch bands incorporated into their uniforms, they beautifully utilized them in their choreography. "Describe You" was a fierce and powerful show that left us without words.
Pride of Cincinnati's (2nd – 96.600) "To Bare My Soul" was anything but simple. Their nude uniforms, transparent equipment, and lack of tarp all contributed to the feeling of being exposed. It was a wonderful composition of choreography and work that gave us all the feels.
Performing to selections of Beethoven, "Furious Elise" takes you on a beautiful and fierce adventure. Blessed Sacrament's (3rd – 95.900) uniforms were an intriguing turquoise and gold. They gracefully and powerfully demonstrated the passion of Beethoven.
CGT Dallas (4th – 95.750) brought immense energy to their paisley patterned carpet tarp, with their show titled "Dust and Ashes." Featuring music from the Broadway show, Natasha and Pierre, the costume and design of this show was fun and full of animation.
In a passionate performance by Imbue (5th – 92.250), their beautiful, graceful performance took place on an all white floor and incorporated beautiful shades of blue. In their 10th anniversary show, Imbue featured music by Luca D'Alberto. This beautiful performance from beginning to end had us beyond words.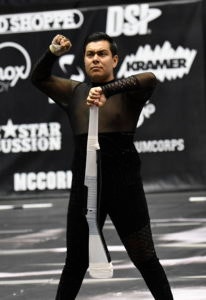 This beautiful story of life and death will move you to your core. Diamante's (6th – 92.150) "Don't Blink" portrays how delicate life can be. A tragic yet beautiful story unfolded on a floor covered by a blooming rose. This performance showed us how precious life can be and how tragic it is to lose someone you love.
UCF Pegasus World's (7th – 91.250) show was performed to narration of a description of the famous painting "Guernica" by Pablo Picasso. With great composition of choreography and movement, this show opened our eyes to the complex and tragic events of the Spanish Civil War. This performance painted a picture itself and brought to light one of the most powerful anti-war paintings in history.
The suspense in Onyx's (8th – 89.150) performance had us on the edge of our seat. Their floor was simple with an all white tarp and one stripe of red vertically down the middle. Performing their show, "A Year From Monday," Onyx executed acrobatics that are out of this world. They showed incredible strength and focus throughout and delivered a power performance.
With their show titled "Judy," Fantasia (9th – 88.300) put on a beautiful tribute to Judy Garland. With narration and song selection from Judy herself, this show reminded us to never give up on our dreams and follow our instincts. Their floor was a simple black and white, and their all black uniform was designed with Judy beautiful scripted up the side in red sparkles. Fantasia produced great movement on the floor and delivers a powerful, beautiful show.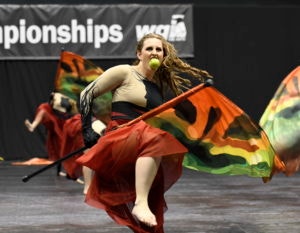 "Apple" is a dark story, full of suspense and mystery. With music titled "Light of the Seven," Etude (10th – 86.800) had us on the edge of our seats. Their floor and costume design reminded us of the dark forest of Snow White, with a purple tarp and red uniforms. They spun with apples in their mouths as their show built in suspense, making it very tempting to take a bite.
With intensity, AMP Winter Guard (11th – 86.100) brought "La Famigla" to life. Featuring music selections from The Godfather and Lorde, this passionate story of love and tragedy unfolded before our eyes. The floor was a beautiful shade of gold with an Italian theme costume. This show had us feeling the passion, love, and tragedy all at the same time.
In their first year as an indoor color guard, Bluecoats Indoor (12th – 84.150) brought back the 80's in their electrifying show, "Soundcheck." Composing their own music and sound system, their show brought and immense energy and colorful story to the floor. It's just a little bit of history repeating.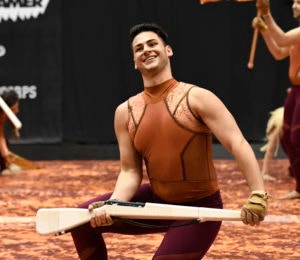 Cypress Independent (13th – 82.150) used unique tent-like props with holes and rips throughout. The performance started out slow and graceful, but soon turned upbeat with high energy and clean work from beginning to end. Their show included music by Olafur Arnalds and U2. "Passengers" took us on a journey to find friendship and love.
Black Gold (14th – 81.600) delivered a smash performance and had us "Chasing Time" for more. Their floor was comprised of colorful golds and blues and had a giant pocket watch on the upper right hand corner. A swinging "hand" was placed on the watch as it rotated, allowing members to stand and spin on it. Black Gold artfully moved across the floor and executed a beautiful, powerful performance.
In their first World Class Finals appearance, Interplay (15th – 80.950) started with a black floor with an American flag showing in the top left and bottom right corners and a jagged edge running down the middle. A blue and red flag solo started together in sync on opposite sites of the floor. The two sides remained separated until they joined together as a graceful and powerful message unfolded. With a music selection of "Silent Night," Interplay executed their show, "From Pieces to Peace."
---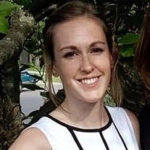 About the Author: Emily Pleasant is studying digital marketing & business management to hopefully one day own her own digital marketing agency. She will graduate from Sinclair Community College in May 2018. Emily graduated from Miamisburg High School in 2009, where she spun with Miamisburg Color Guard for 3 years. She is excited to be back in the world of WGI & excited to share all the experiences this season will bring.