By Michael Reed
2017 WGI Hall of Fame inductee, Jonathan Vanderkolff, has been a driving force in the activity during the past quarter century, and more recently has had one of the most successful decades of any designer in the upper echelons of the marching arts. He is one of a very small group of men whose work has won titles in WGI, Drum Corps International, and Bands of America. With his Broadway accolades, he is truly a unique individual whose influence will be felt long after he decides to retire from show design.
Vanderkolff grew up in Ontario, Canada, and was around pageantry from a young age. As a young lad, he was the mascot for Dutch Boy Cadets Drum Corps. Jon's father, Peter Vanderkolff, founded the Ventures Drum and Bugle Corps, and he toured with them while growing up. As he got older, he marched with the crosstown Kiwanis Kavaliers; then, as a member of the Garfield Cadets, he competed during several of their championship seasons in the 1980s. He majored in music and graduated with an honors degree from the New England Conservatory.
His eye for innovation and detail soon propelled him into the elites in the field of visual design. Vanderkolff designed Star of Indiana's iconic 1993 Barber and Bartok show, which continues to influence drill writers to this day. He has served as Visual Designer for the Bluecoats Drum and Bugle Corps since 2013 and helped the group win their first DCI championship last August. Other notable corps who have marched his drills include the Madison Scouts and Ventures.
His work for Blast! won an Emmy Award for Best Choreography and also garnered a Tony Award for Best Special Theatrical Event. Vanderkolff also designed the Brass Theater, Shockwave, CyberJam, and M.I.X. productions, and has written for some of the top high school programs in the country, including 2013 Bands of America Grand National Champion The Woodlands HS. His work has won international accolades, as he helped design winning programs for Soka Renaissance Vanguard in the Drum Corps Japan circuit.
Within the realm of winter guard, Vanderkolff designed for Emerald Marquis from 1993 through 1999, earning a Gold Medal in 1999. The group never finished outside the top three with one of his shows. His work with Santa Clara Vanguard earned Championships in 2009, 2011, and 2015, and the group has medaled for eight consecutive years. Jon is also known for his entertaining productions with Northview HS in the Scholastic World division.
When asked for his thoughts about becoming a Hall of Fame member, Jon mentioned he is "incredibly humbled and surprised, to be honest. It is hard for me to imagine my name alongside those creative pioneers that I have looked up to for most of my career." Several of Jon's peers and fellow Hall of Fame members have the utmost praise for Vanderkolff, both professionally and personally.
Dale Powers, Founder of Emerald Marquis and Director of Color Guard for WGI, stated "Not only has Jon been a creative force for 25 years, but during this time he was also elected by the Color Guard Advisory Board to serve on the Steering Committee for three consecutive terms. Jon worked to broaden the design and effect captions judging criteria to reward creative and unique programs. Jon is also one of the kindest and compassionate people in the activity today."
Karl Lowe, the creative force behind Fantasia's Gold Medal-winning programs and WGI's Color Guard Education Coordinator, said of Vanderkolff, "We would easily recognize Jon's intellectual approach to design and programming as his stylistic fingerprint on our activity. He has strong knowledge and a healthful respect for our past with an eye towards the possibilities for the future. Jon is also a good example of what I consider the best parts of our activity."
From a judge's point of view, George Oliviero writes "His programs are always carefully crafted with both the music and visual concept in mind. He has also often written original music that he then stages with marvelous visual ideas. His work speaks to everyone in the audience. My mind, however, always starts with Jon, the friend and the family man. To me, his Hall of Fame begins with his family."
Jon indicates the most rewarding aspects of his involvement in the activity are "the energy and inspiration of the hundreds of performers I have taught. The awe and constant motivation I feel by the creative daringness from those I have the privilege to create with. The feeling of excitement from the thousands of fans of our activity. The respect I have for those who have made this activity into what it has become."
With all the groups he designs for, leisure time is at a premium. Jon keeps his focus on what is most important. "Most of my free time is spent loving and being in awe of my two beautiful daughters. They are the most important part of my life and I cherish that more than anything. Any other time I have, I spend composing music." The WGI family congratulates Jon on his induction to the Hall of Fame. Well done, Jon!
---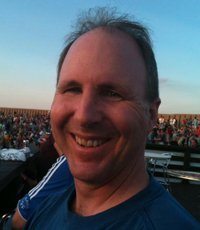 About the Author: Michael Reed provides online and print media content for WGI, Bands of America, and Drum Corps International. 2016 marks his fifteenth year of writing for WGI. He is an active music arranger, composer, and all-around avid pageantry fan. Michael was a member of the Cavaliers Drum and Bugle Corps and holds a bachelor's degree in music composition and music education from Ball State University. He currently works in the health care field and resides in Fishers, Indiana.