By Michael Boo
WGI lost a valued pioneer and relentless contributor to the entire winter guard activity when JC Connor passed away in 2013. While countless friends and colleagues were saddened by his death, all would agree that JC's influence on winter guard lives on through his many accomplishments and his focused energies to foster the activity in regions where it previously had little impact.
In recognition of how JC left winter guard a stronger and more viable activity, his peers recently elected him to the WGI Winter Guard Hall of Fame. He will be inducted posthumously during the WGI World Championships in April.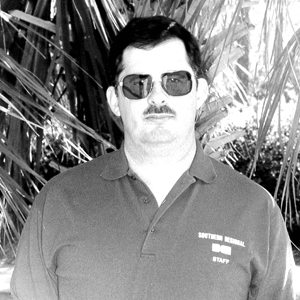 On an executive level, JC served the activity in many capacities. He became WGI's Southern Regional Director in 1983 and held that position for 16 years, overseeing massive growth of winter guards in the southern states. This was largely due to his efforts to create a separate WGI Scholastic division out of the previous "one division fits all" format of WGI's earlier years. The addition of the new division saw the guard activity burst wide open in the southern region.
He directed this newfound growth with great attention to detail, encouraging others to take charge of the rapidly expanding appetite the south had developed for winter guard. To help provide guidance, he co-founded the Gulfcoast Color Guard Circuit and became its longtime Chief Judge.
Under his tutelage, the circuit developed a staggering number of WGI finalist guards, surprising considering how small the activity was just a few years before the circuit's creation. Joe Hooten, longtime band director at the Florida panhandle's Tate HS, proclaims that the Scholastic units in the region "exploded" in numbers under JC's reign.
With energy to spare, he also served WGI as Secretary, Vice-President, and President. He continued his mission of promoting the Scholastic division, becoming, according to Hooten, the "Champion of the Scholastic units."
JC indeed loved seeing the fruits of his labors take off in the south, but he was devoted to the growth of winter guard in all regions of WGI. Noreen Roberts, formerly WGI's President and West Coast Regional Director and current Board Member At-Large, remembers JC encouraging instructors and managements from all regions to "seek out the differences we had geographically, and work to make those differences a learning tool."
WGI Board of Directors At-Large Member Fred Feeney concurs with Roberts' assessment of JC bringing together those from far and wide. In his letter of support to the WGI Hall of Fame Committee, Feeney wrote, "Everyone must remember that in the early days, WGI was made up of a loose knit collection of units from different regions of the country who simply did not trust each other. Regional bias was rampant. JC was a tremendous mediator…his skills held WGI together and kept it on track."
Roberts fondly remembers how JC would use humor to diffuse tense situations, bringing together people of diverse styles and histories to sit with each other at meetings and figure out what was best for the entire activity. In learning more about the approach of guards in other regions, management and instructors brought home the best elements of what everyone else had to offer, lifting up the entire guard environment.
A couple of the phrases Roberts frequently heard from JC's mouth were, "We done ploughed that field already" (to keep everyone from constantly rehashing what was already discussed) and "That dog won't hunt," said to express his opinion that an idea or proposal was not in the best interest of winter guards.
JC had firsthand knowledge of how color guard could shape the lives of its members. He was the father of a guard performer and a band director in Crestview, Florida. Feeney states that although the phrase, "It's for the kids" is often overused, it's most applicable in describing JC's outlook and determination. And since his motives were always "for the kids," JC's work in promoting the guard activity mostly kept him behind the scenes, out of view of the casual observer. Feeney adds, "That is the way he operated."
JC is no longer with us physically, but his decades of dedication to those who walk onto WGI performance spaces means his spirit will never fade as WGI continues to grow and prosper, touching the lives of countless members well into the future.
---
JC, along with Charlie Gumbert and Paul Lampkin, will join 55 distinguished fellow honorees and will be inducted in a ceremony to take place Wednesday, April 15, just prior to the start of the 2015 Color Guard World Championships in Dayton, Ohio. Read more about Lampkin and Gumbert here.