By Daniel Schack
Julie Davila is no stranger to the indoor percussion activity. In fact, her familiarity with it stems from a chronology of teaching and judging that parallels the rise of WGI percussion, through innovation and rule amendments, which has brought the activity to where it is today. In recent years, she has judged some of the most groundbreaking productions to date. Alongside Tom Aungst and Jim Dwyer, WGI welcomes Julie Davila to the Hall of Fame in 2014.
Originally from Missouri, Julie attended college at the renowned University of North Texas, where she competed with the UNT Drumline, Wind Ensemble, Graduate Percussion Ensemble, and Steel Drum Band. She was a member of the Phantom Regiment front ensemble in 1986, winning the PAS mallet individual competition in 1987.
After graduating from UNT, Julie moved to Nashville, taking over the percussion program at John Overton High School, where she remained for ten years. During this time, Julie founded the indoor percussion ensemble in 1991, eventually wining a gold medal in 1996 with the show "Suburban Latin Thug."
Currently, Julie serves on the Percussion Advisory Board, which discusses the philosophical and adjudication side of WGI, making changes to rules as the indoor percussion activity grows and expands. As of recent, Julie has judged Performance Analysis at Independent World Class Finals, getting to witness and adjudicate some of the most intricate, in-depth shows that have been put on the floor.
WGI had the chance to ask Julie about her career and perspective on WGI indoor percussion that has lead to her induction into the Hall of Fame.
What lead you to the adjudication side of WGI? Do you ever wish to design for a competitive WGI ensemble?
I absolutely loved the instructional side of things when developing John Overton [High School]'s program in the 90's and then starting from scratch at Oakland High School. Coming from the University of North Texas and the Dallas metroplex specifically, I wanted to expose the indoor drum line concept to the Nashville area for the purpose of inspiring young percussionists and as a motivational tool to raise the bar musically and technically. Additionally, [I wanted] to give them more active performance opportunities during the concert season.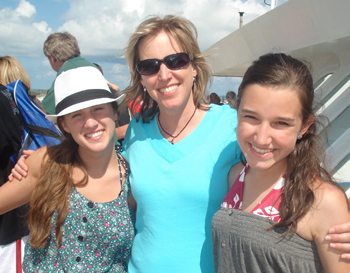 The biggest reason I decided to step away from the teaching side was due to having my two girls. As many directors know, to compete at the highest level, it is an all-encompassing, twenty-four seven commitment. Even when you are not at rehearsals, you spend many, many hours writing, scheduling gym time, painting floors, building props, booking rooms, etc. My girls were starting to develop their own interests and were becoming involved in lots of activities. I wanted to be sure to be there to support them and felt that if I would continue on as the head director, I would have ended up spending more time with my students then with my own kids. You can't ever get those years back.
I decided at that point to take a year off to re-evaluate. Andy Sanders and Mark Thurston found out that I was temporarily stepping away and asked if I was interested in the adjudication side of things. I spent the next year training and practice judging and really enjoyed it. I felt it was a good way for me to continue to be involved in the activity without sacrificing the 20 – 30 hours a week away from my girls in rehearsals.
However, because I come from the activity as a teacher, I hope that today's teachers and designers will trust that when I sit down to judge, I am extremely committed and focused on doing the best job possible. I completely understand the dedication and sacrifices that the students, teachers, and parents have [made] to bring their group to the floor each week.
How has WGI changed since your earlier days with John Overton High School and North Texas?
Some of the most significant changes [in the activity] have been the level of excellence both from a performance and presence standpoint and the technical facility that the students achieve in their training. Not only are the kids playing well, many times they are negotiating extreme movement demands and challenging listening environments. The simultaneous responsibility portion of the activity has definitely evolved over the past 20 years.
[The biggest improvements have been] the overall production of the shows and concepts. This is a broad statement, but this includes everything from costume design, to digital floor design, the crafting of quality electronic production, the journey or story development, and exploration of a variety of timbres, colors, and sonic possibilities in the indoor environment. Everything has really moved forward in those categories.
This activity continues to push the envelope every year. Performances reach new heights, designers continue to craft fresh material and take new risks. It is so thrilling each year to be able to be a part of an activity that is so forward thinking.
Where do you see the indoor percussion activity going in 5 years? 10?
I'm not sure I could give a definitive answer to this question because this activity continues to surprise. Each year at the conclusion of championships, [the Percussion Advisory Board] talks about how it will be so difficult to top that given year's performances, yet it seems that year after year it somehow does. I think the creativity part of the activity will just continue to push boundaries and I think the designers and writers are always trying new things. They are risk takers and I think that because we embrace that mentality, it promotes a healthy culture of continued growth.
Which indoor ensembles do you look forward to seeing every year?
Honestly, I look forward to each season with an open mind. What is so exciting about our activity is that in any given year, any group can show up and blow you away. Like I said previously, so many designers are so creative, that you just really never know who is going to bring what until the season begins. I have found that some shows or groups in the A or Open divisions come up with ideas that are just as inspiring as the World groups. Additionally, seeing the really young groups, the junior high groups or the international groups light up on the floor is really exciting to witness.
What are some of your favorite shows throughout WGI history?
There are way too many phenomenal shows to reference, so I hesitate to try, but a few scholastic shows that stand out throughout the history of the activity would have to be "Life, After, Life" by Northglenn for the emotional connection, several of Father Ryan's shows for the entertainment value, (but specifically the basketball show), Dartmouth's Batman show for the pure level of excellence at that time, and Mission Viejo XII for the cool factor. Tons of shows since then have been incredible. The Independent category has just gotten so crazy good, that there are too many good groups and so many tremendous and creative shows that it would be impossible to narrow it down. I have such a level of respect for the designers and teachers that continue to produce programs at that level.
Where would you like to see the activity go in the next decade?
I really see very few limits on what the designers and performers will be doing in the next decade. Mark Thurston, Caleb Rothe, Chris Hestin, and Jimmy Haskell do an amazing job of leading the activity to keep it fresh, forward thinking, and educationally based. I see the participation continuing to grow, the international presence becoming more active, and the artistry and excellence continue to reach new levels.
Over the past decade, it's been exciting to see such outstanding excellence at the A and Open levels. I see this continuing to be the case as more students of the activity graduate and transition from performer to teacher. With WGI percussion moving to three large venues and selling out to huge crowds, I can't imagine where things will be ten years from now. It would be cool if it would become appealing to the general public with access to some type of televised coverage.
Where do you see yourself within the WGI activity in the next decade?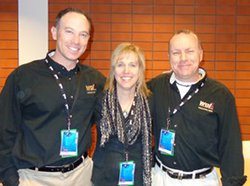 I just hope to continue to be a part of it as an adjudicator, an advisory board member and an overall fan. January to April is my favorite season! Almost every weekend I get to sit in the seat and watch kids give %110. As my friend Scott Johnson always says, "I've got the best seat in the house." I strive to become better at adjudicating, strive to stay current in my craft and hope I can continue to offer helpful feedback and guidance to instructors and performers both nationally and internationally.
The opportunities for WGI to continue to expand in the international arena are definitely beginning to blossom. I've had the privilege of traveling to the Netherlands a few times to adjudicate and participate in master classes for WGI. Considering that when I started in WGI in 1994 there were only nineteen entries, it's pretty remarkable to see participation from different countries and to see performers and instructors hungry to be a part of the activity. I would love to continue to be part of the international outreach whether it be in adjudicating, helping develop educational resources, or judge training.
What is the value of indoor percussion specifically?
As in any organized sport or arts activity, the value is difficult to quantify. I think we all have those times in life that an activity, a coach or teacher, or a life experience really impacted our life and possibly changed or affirmed our course. I have no doubt that WGI offers those types of significant life experiences.
The typical life skills that deserve an obvious mention such as work ethic, teamwork, determination, and perseverance are definitely a major contributing factor, but a few additional things that I can appreciate and recognize within this activity is the constant quest for excellence through a tedious and focused process over time.
It seems that in a culture of instant gratification, that the kids that participate in this activity, who learn how to work at this laborious process, learning to pay attention to the smallest detail, will hopefully have an advantage in any path they choose. Additionally, I think students benefit from experiencing all that goes in to the journey of a collective effort toward a common goal.
Lastly, our percussion community is definitely a unique kind of "family." The friends, colleagues, and mentors that you meet being a part of this activity will yield a network of colleagues, resources, and lifelong friendships. Cheesy to say but the truth is, it's priceless.
Why do you believe you have been nominated for the WGI Hall of Fame?
I'm completely humbled by the nomination and the vote to be inducted in to this prestigious group. I hope that the motivation was a collective look at my 20 years of being involved in the activity from both a director's perspective and the adjudication side. I've enjoyed the process of being involved from the ground level back in 1994 and being a part of discussions in philosophies, designing sheets when changes needed to be made and developing a more concise rule manual
Additionally, between my ten years at John Overton High School and my four years at Oakland High School, I had groups compete and medal in every scholastic division of WGI with a highlight of winning a title in 1996 with John Overton High School's show "Suburban Latin Thug." I'm thrilled to be inducted in to the Hall of Fame with the 2014 class of Jimmy Dwyer and Tom Aungst.
WGI thanks Julie for taking time to speak with us. We congratulate the inductees of 2014!