"I have had the pleasure of knowing Fred Feeney for almost 30 years, all of which Fred has been involved with Winter Guard International. During that time I discovered that Fred is both professional and passionate about the winter guard activity. As a judge, Fred was always professional and represented the organization with integrity. Although we did not always agree, he was respectful and understanding about my feelings and concerns, and never made me feel that he was above me because of the position he held. Fred worked very hard to convey his feelings but always remained open minded." WGI Color Guard Coordinator – Dale Powers
Over the years, Fred Feeney's impact on the marching arts has reached across all aspects of the activity. While many simply know him as a judge, others have witnessed his long journey from humble beginnings in his high school band, to his many accomplishments in local circuits and the administration and growth of WGI.
Like many others, high school band was a gateway that introduced Fred to the drum corps activity, and after attending the American Legion championships in New Orleans in 1974 he was hooked. He joined a local corps and later became a member of the Blue Stars Drum & Bugle Corps from La Crosse, Wisconsin as a brass player. After marching several years he joined the visual staff of the corps. At the same time he also joined a local color guard, first as a visual staff member and later became a marching member.
Fred started training as a color guard judge as soon as he aged out in 1980 and was one of the first judges for the Gulfcoast Color Guard Circuit which was formed that year. He has served as Chief Judge of the Gulfcoast Judges Association, the organization that provides judges to five different circuits across the Southeastern United States, for over 25 years. Fred started judging for Winter Guard International in 1983 and judged his first WGI Championship in 1984.
"When I became Task Force Coordinator I asked Fred to become GE Facilitator, a post he held for three years until he became Task Force Coordinator, a position he held for 15 years. During Fred's tenure WGI experience unprecedented growth. His leadership of the judges guaranteed that the unit's would receive the strongest adjudication possible from the best trained and most ethical people in the activity." WGI Judge – Paul Lampkin
Fred Feeney served as Chief Judge of the Color Guard Division of WGI for 12 years from 1994 to 2006. He currently serves as at large member on the WGI Board of Directors and has been the Chair of the Board's Education Committee.
"I am one of the many WGI Judges who began my judging career under the tutelage of Fred. I learned valuable life skills through WGI and would not be where I am today if not for these experiences. I thank Fred Feeney for recruiting me and bringing me on board. There are hundred of judges and instructors with this same story." WGI Judge – Beverly Brahan
He started working once again with the Blue Stars in 2006 as a program consultant when they returned to World Class competition. He currently serves as the Program Coordinator for the corps. He also has experience as a judge for DCI. He has worked as a show consultant and program designer for marching bands in Mississippi, Alabama and Florida and has judged marching band contests throughout the country.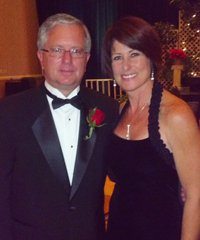 "Fred has spent much of his life promoting the winter color guard circuits, WGI and any other organization that allows young people the opportunity to perform. He promoted a strong education program, set higher standards for conduct and insisted that the WGI adjudicators were the standard for all pageantry associations." WGI Hall of Fame member – Randy Nelson
Fred received his undergraduate degree from the University of Southern Mississippi where he was a member of various performance ensembles including the marching band, concert band, and orchestra. He received a law degree from Mississippi College where he graduated with honors, served as the Managing Editor of the Law Review and was a member of the school's trial competition team. After law school he worked in Washington D.C. for U.S. Senator Thad Cochran and then as a law clerk for a United States District Judge in Jackson, Mississippi. In his life away from pageantry he is a partner in a Gulfport, Mississippi law firm where he has a very active litigation practice handling cases in state and federal court. He is married to Susan Labrecque and has three beautiful and talented daughters.
---
Fred, along with Ed Devlin and Dale Powers, will join 49 distinguished fellow honorees as they are inducted to the WGI Hall of Fame in a ceremony to take place Wednesday, April 10, just prior to the start of the 2013 Color Guard World Championships in Dayton, Ohio.