By Michael Reed
In 1998, Tim Fairbanks brought Centerville High School to their first WGI Percussion World Championships. A few seasons later, he began a long-term collaboration with a new line known as Rhythm X. Fast forward twenty years, seven Gold Medals and many more Silver and Bronze Medals later, and his accomplishments have been rewarded with election to the WGI Hall of Fame.
Renowned composer/arranger and Centerville alumnus Andrew Markworth remembered when Fairbanks took over the program. "When Tim first started working at Centerville, the marching percussion program was more known for being a 'drum set on the field' rather than a competitive rudimental line.
He immediately started getting all the students in lessons and building a program. In their first season, Centerville won the bronze medal in Percussion Scholastic Open. The following year (1999) the program won the Gold Medal with a show that would serve as a standard for the class for many years after."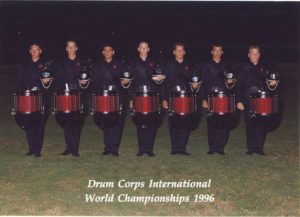 Tim shared how he went from modest beginnings to become the musician he is today. "I grew up in the small town of Battle Creek, Michigan. My high school marching band was a very traditional style group and my first experience of drum corps came when our crosstown rival's pit section leader came up to me at a football game and said 'do you want to try out for a drum corps?', to which I replied 'sure, what's that?'"
Tim auditioned for the Glassmen Drum and Bugle Corps and quickly realized there was much to learn. "Though I was the snare section leader of my high school, I didn't know anything about such novel concepts as 'traditional grip' or 'split bass parts' and I found myself in the Cymbal room."
An offseason of hard work paid off. He was in the snare line the next two summers with Glassmen, and spent his final three DCI years in Phantom Regiment, aging out in 1996 as Center Snare and winning a DCI Championship. He also performed indoors with Spirit of Ontario and Phantom Regiment in the early years of the WGI Percussion activity.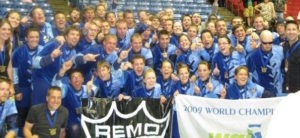 Fairbanks has excelled at all facets of show design. In addition to his indoor percussion accolades, his work with Rhythm X Winds during their three years of existence has created the closest thing to a dynasty in WGI, with two Championships and a Runner-up. His designs have been performed by DCI Finalists Bluecoats and Blue Stars. Overseas, he has designed for Japan's Aimachi, and The Senators and The Company from England.
Fellow WGI Hall of Famer Mike Jackson wrote "He's an ambassador. Tim is frequently traveling abroad, spreading the art form in various ways across our planet. Whether he's on a WGI venture or a creative project with a competitive ensemble, he is affecting change in a positive way."
WGI Percussion Chief Judge Chris Hestin offered glowing praise for Tim. "He has amassed a broad range of perspectives that few others can claim. These perspectives, coupled with his professionalism and affability, have made Tim one of the most positive influences in the activity."
Off the floor, Tim has helped shape the WGI Percussion activity into the art form it is today. He has been on the Advisory Board since 1998 and has been involved with the Steering Committee, Board of Directors, and the Executive Committee, serving two terms as Treasurer. Tim is currently Vice President of the Percussion Division.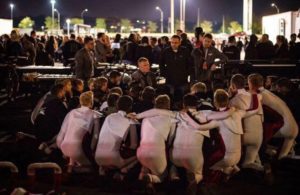 Among those Tim counts as mentors are WGI judges Jeff Prosperie and Lee Beddis, and WGI Director of Winds Wayne Markworth. He didn't have to look far to find another special mentor. "My wife Jodi Fairbanks (Hollis) has always been a mentor of mine on all things WGI and is a wonderful sounding board for any and all of my crazy ideas for shows throughout the years."
Fairbanks reflected on the most rewarding aspect of his years in the activity. "On first glance, the things that come to mind are the special performances ('05 Centerville, '13 Rhythm X, '06 Aimachi, etc.), but the longer I do this, the more I've come to value the friendships that I've made along the way. There's a great sense of camaraderie amongst the directors, designers, judges, and administration that is really rare in any of the pageantry activities."
While this honor is bestowed based on Fairbank's lofty achievements, he is still in his prime as a designer, and fans can look forward to viewing his creations for many seasons to come. Tim's leadership behind the scenes will help provide guidance as the activity enters the next phase of its development.
WGI congratulates Class of 2018 WGI Hall of Fame inductee Tim Fairbanks.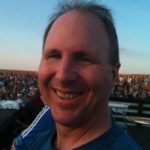 About the Author: Michael Reed provides online and print media content for WGI, Bands of America, and Drum Corps International. 2017 marks his sixteenth year of writing for WGI. He is an active music arranger, composer, and all-around avid pageantry fan. Michael was a member of the Cavaliers Drum and Bugle Corps and holds a bachelor's degree in music composition and music education from Ball State University. He currently works in the health care field and resides in Fishers, Indiana.