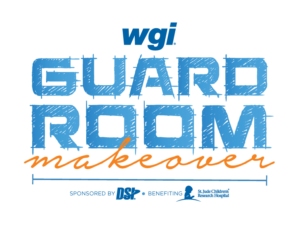 Director's Showcase International (DSI) and WGI are teaming up to offer the 2020 Guard Room Makeover. This year, groups will help raise funds for St. Jude Children's Research Hospital!
Entering is easy! Follow the link below to set up your group's St. Jude fundraising page. Once your group's fundraising page is set up, invite others to donate and share your unique URL/link via social media or email. It's the easiest way to ask family and friends to sponsor your team and donate to St. Jude.
Register Your Group at dshowcase.com/stjude!
Three lucky groups will win:
24 Aluminum Flag Poles
48 Flag Pole Weight Anchors
48 Rubber Pole Caps
24 Poly China Silk Practice Flags
9 Elite Wooden Rifles
All color guard groups participating in a WGI event during the 2020 season are eligible to win. Contest will close at midnight EST on March 31, 2020. The winners will be announced at the WGI Color Guard World Championships in Dayton on April 4 th. GOOD LUCK!
View the official contest rules HERE.