This Giving Tuesday, WGI is looking for all the different ways that you can have a direct impact on the indoor marching arts community with your contributions. It is easier than ever to give back to WGI. Whether through donating to our annual Invest in Indoor campaign, contributing to the WGI Scholarship Fund, or simply giving your free time, WGI has an outlet to help YOU give back.
Since its inception, the WGI Scholarship Program has provided more than $875,000 to young performers around the globe. Take a look at how donations like yours helped 2023 scholarship winner, Nikki Newell, pursue her passion for music outside of the performance floor!
Nikki Newell started her journey with the marching arts her freshmen year of high school when she started performing with the marching band. In her sophomore year, she joined the indoor winds and percussion groups at her high school. For the 2021, 2022, and 2023 seasons, Nikki performed with both Lake Hamilton Indoor Winds and Lake Hamilton Indoor Percussion. Both groups competed in WGI. 
Nikki says she was inspired to join the indoor winds and percussion groups at her high school because she had heard upperclassmen speak so highly about the groups and WGI. Her directors also encouraged her to join the teams and, Nikki says, they have truly made her a better musician. 
Although she loves performing, Nikki explains that her favorite part of being a member of these teams has been the connections that she's made over the years. She says, "I gained so many friends and a multitude of mentors while performing with these groups. They have helped me grow and develop both as a musician and as a person." One of her favorite memories is, of course, the orange slices at WGI World Championships each year.
Nikki says, "WGI has had a huge impact on my life which wouldn't be possible without the WGI scholarship I was awarded. This scholarship allowed me to attend college and to start my future career in music education. The marching arts inspired my dream to teach kids music and help them find something in life that brings them joy, just like I did through music and marching."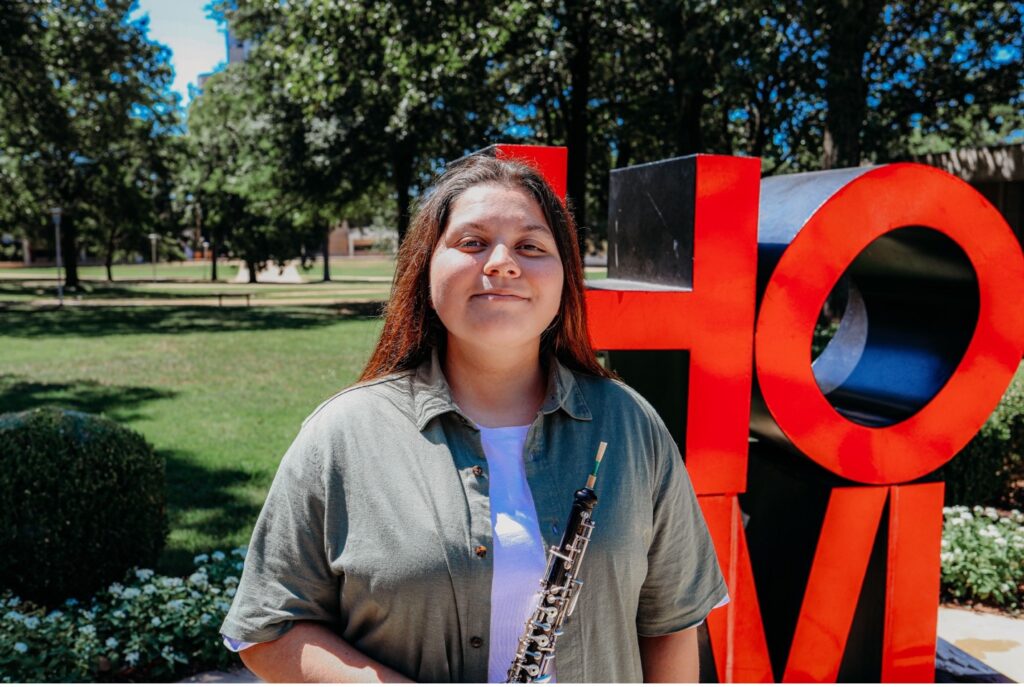 Now at Arkansas State University, Nikki has begun her degree in music education. She hopes to continue performing while in college and is excited to continue to grow as a musician and as a performer.
Nikki says, "I want to thank all the faculty and staff at Lake Hamilton High School in the music department for inspiring me to continue making music and helping me throughout high school.
I also want to thank Sara Field and Janna Lane for writing my amazing recommendation letters, and my mom for helping me throughout my music career thus far and for supporting me no matter what. Also, GO RED WOLVES!"
Please consider donating to the WGI Scholarship fund and helping countless other young performers achieve their dreams.