By Michael Reed
In Part I of our look at college guard members, these students shared thoughts on balancing academics and guard. In Part II, they will discuss rehearsal schedules, future guard plans, and their favorite aspects of the university guard experience.
There is no "one size fits all" approach to how a collegiate guard program is set up. For example, one variable is when the guard rehearses. Some guards only meet on weekends, while others practice several evenings a week. The primary factor is when rehearsal space is available, and what works best for the staff and students.
Jessie Trejo of the University of Houston, who we met in Part I, mentioned, "We have to get school done on Friday early. Our rehearsal runs from 7 to 11. Next day it's 10 to 10, and then Sunday it's 10 to 6." The University of South Florida has a similar schedule, according to member Ashley Reinke. "We rehearse Friday, Saturday, and Sunday. Friday is usually 6 to 10, and then Saturday and Sunday is usually 10 to 6."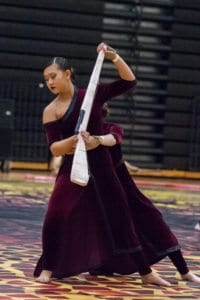 At Missouri State University, according National Avenue Junior Child and Family Development major Lynsey McKnight, "We practice twice a week for four hours and a sectional on Wednesdays, which is an hour." The group also has a Friday run through. Penn State Eclipse rehearses Monday and Wednesday evenings from 9 to midnight according to Guard President, Michelle MacKinnon, a Senior Math and Economics double major.
Some groups find a middle ground. According to Junior Telecommunications and Film major Lena Paradiso of the University of Alabama Alta Marea, "We rehearse on Wednesdays, Fridays, and Saturdays before a competition." Even groups that practice during the week will likely rehearse during weekends without a show scheduled.
With so many years invested, a number of performers want to give back to the activity by instructing. Clemson University's Hannah Barrett is on both sides of the fence as performer and instructor. "I actually got to teach two winter guards for the first time this season, so I really enjoyed it and that's definitely something that I want to keep doing as well as trying to find somewhere else to perform after I graduate."
Junior Design and Illustration major Andie Frein of National Avenue wants to help those who helped her. "I would like to try and teach. I would at least like to try and offer to help at my former high school, sort of give back to the program I started from." San Diego State University Aztec Winter Guard Junior Business major Joanna Alex succinctly summed up whether she plans to remain involved after graduation, stating, "Oh yeah, definitely. I'm stuck in it for life!"
What are these student's favorite parts of being in their school's guard? For Alex, "I just love the pride that we have in our school. It's great because we get to do campus performances, and we get asked to do things around our town, and you can see all of the kids get excited when the color guard is there. It just feels great to be a part of this community."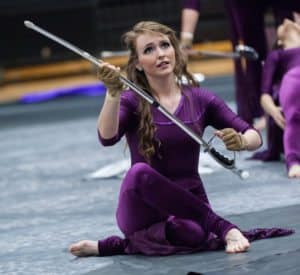 University of Central Missouri's Kristina Eichhorst enjoys the allure of a cheering audience. "I love performing and being able to show what I can do in front of a whole crowd and especially in front of my dad because he's been there through it all." Teammate Alexie Loy, a Junior Music Education major, stated "I think the friendships, because you can make friendships for a lifetime."
The sense of family was the most common element the performers mentioned as the favorite part of their college guard experience. Sophomore Psychology major Marissa Kepple of the University of Houston shared, "I am grateful that I have been able to form a family with these people. I didn't have anyone when I came to Houston, so I'm thankful to have made friends with 22 people that I'll get to hopefully spin with next year, too."
Likewise, Paradiso also mentioned about her Alta Marea teammates, "We are a big family. I would not want to spin with anyone else. They are my sisters and I love them tremendously. I've been so close with all of them. I can tell you a memory from every single one of them and it makes me almost tear up every time."
There is every reason to believe that more colleges will develop competitive guard programs, giving even more students the opportunity to perform and bond with their guard families. To a person, all the performers interviewed had strong positive feelings about their guard. With these hardworking, talented leaders honing their skills, our country is surely in good hands for future generations.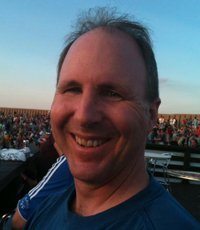 About the Author: Michael Reed provides online and print media content for WGI, Bands of America, and Drum Corps International. 2017 marks his sixteenth year of writing for WGI. He is an active music arranger, composer, and all-around avid pageantry fan. Michael was a member of the Cavaliers Drum and Bugle Corps and holds a bachelor's degree in music composition and music education from Ball State University. He currently works in the health care field and resides in Fishers, Indiana.