From a Fusion Winter Guard Press Release
New York, NY & Clifton, NJ – November 1, 2022 – Today, Fusion Winter Guard is proud to announce its selection to perform in the 2022 Macy's Thanksgiving Day Parade®. This will mark Fusion's first Parade appearance. Fusion Winter Guard's 40 performers will join the Parade to the call of "Let's Have a Parade," as the world-famous holiday kickoff returns to the streets of New York City for its 96th annual celebration.
"We are thrilled to experience this once-in-a-lifetime performance for our 40-member team who represent nearly a decade of Fusion Winter Guard performers," says Fusion's Executive Director, Rob Watson. "On this very special day, we're honored to elevate the winter guard activity as we bring the joys of the holiday to more than 55 million viewers in America's largest parade – the Macy's Thanksgiving Day Parade®."
You can follow Fusion's magical journey to the Macy's Thanksgiving Day Parade® on Facebook® and Instagram®: @fusionwinterguard with behind the scenes photos and video footage of rehearsals.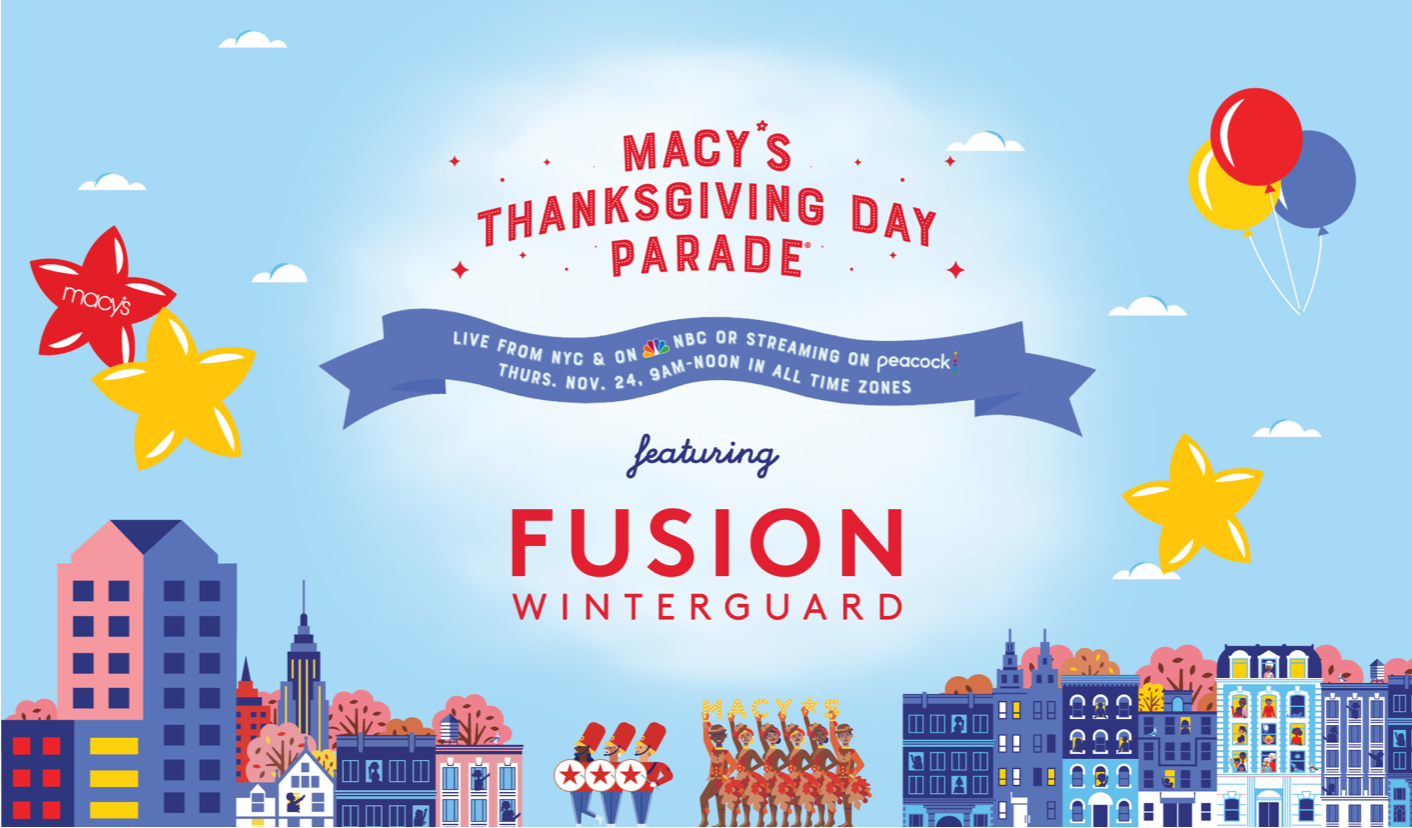 The 96th Annual Macy's Thanksgiving Day Parade will air nationwide in the U.S. on NBC and stream on Peacock, on Thursday, November 24, 2022, from 9am-12noon; in all time zones. For more information, visit macys.com/parade. To follow and participate in the excitement, check out @macys on various social platforms and follow #MacysParade.
About the Macy's Thanksgiving Day Parade:
The Macy's Thanksgiving Day Parade is a national icon that has grown into a world-famous holiday event. For more than 95 years, the Macy's Thanksgiving Day Parade has marked the official start of the holiday season. Growing in size and scale, the Parade features Macy's signature giant character balloons, fabulous floats, incredible marching bands, celebrities, clowns, dance and performance groups, and the one and only Santa Claus, spreading holiday cheer. For more information on the Macy's Parade, please visit www.macys.com/parade.
About Fusion Winter Guard:
Fusion Winter Guard is a 30-year youth organization dedicated to enriching lives of its membership and communities through performance and art. The Fusion organization auditions its new team of performers each year and represents the best caliber of talent around the world. In 2022, Fusion Winter Guard set a new record for the organization by placing in the coveted Top 10 at the Winter Guard International World Championships. This marks Fusion's inaugural year at the Macy's Thanksgiving Day parade and honors the decades of performers that allow them to appear on Herald Square. Visit Fusion's website at www.fusionwg.org.