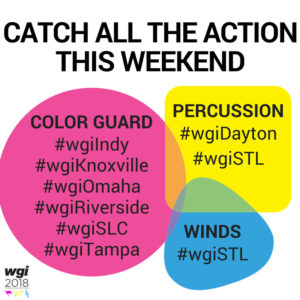 We have a great weekend of events lined up with all three divisions in competition. Don't miss any of the excitement!
Watch these hashtags on social media for all of the highlights:
#wgiDayton
#wgiIndy
#wgiKnoxville
#wgiOmaha
#wgiRiverside
#wgiSLC
#wgiSTL
#wgiTampa
Share your experience using these hashtags in all your posts! You could be featured on wgi.org next week!