By Nick Pourcho
Walled Lake Central HS indoor drumline is from Walled Lake Michigan. Although based at Walled Lake Central HS, the ensemble has a handful of members from Walled Lake Western and Walled Lake Northern HS as well. Locally, they are known as Walled Lake Percussion.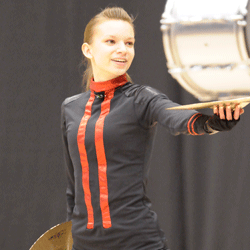 WLP will be entering its 10th season of competition this coming year. The group has grown not only in performance level, but also in size. Starting with 21 members in its first season, the ensemble now consistently has around 60 members every year. Because of the size, the group split in to 2 ensembles (PSA and PSW) in 2009, making WLP one of the only programs in the nation that has more then one indoor drumline that compete locally and nationally.
WLP competes in the Michigan Color Guard Circuit (Michigan circuit) along with WGI. Locally, WLP has won multiple state championships with the World line and the A-line has been in the top of its class since its existence. Nationally, WLP was the gold medal winner in 2006 in the Percussion Independent A Class, the Bronze medal winner in 2007 in the Percussion Independent Open Class, and has been a finalist in PSW since 2009. WLP also won the fan favorite award in PSW in 2012.
WLP's growth and success over the years has come from a number of reasons: incredible support from the local band directors and band programs, the school administration, the parents, a great staff, etc… However, the main reason for its growth is that the group is first taught how to be better people and then secondly taught how to be better musicians. There is a 30 minute lecture at the beginning of every practice throughout the season where the members learn many traits on how to be a better person, a better leader, self-sufficient, and how to work synergistically with others.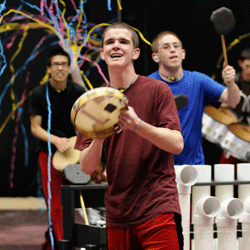 They learn other things like: how to follow positive principles, how to have a purpose, how to act and not be acted upon, how to use their imagination to set goals, how to find the positive in everything, how to be confident, how to work as a team, and finally how to be a leader.
The motto of WLP is "Be The Example." This is the motto for the members, the staff, and the parents. It is the umbrella theme for everything we do. We strive to be the best example of any one thing that we do, inside and outside of rehearsal. Each group has their own Purpose Statement (reason for doing something) that they make up every year that encompasses the values they want with WLP. Each groups Purpose Statement (including the staff) is different, but because they all fall under the same umbrella theme, we are always heading in the same direction.
WLP looks forward to many more years of success not only on the floor, but more importantly off the floor. WLP's staff includes Nick Pourcho (director and front ensemble arranger), Aaron Barrientos (battery caption head and battery arranger), Blake Daughtrey (visual caption head and A-line visual designer), Andy Ebert (World line visual designer), Oliver Rodriguez (front ensemble teacher), Doug Young (battery teacher), and Johnny Dwyer (battery teacher). For more info on Walled Lake Percussion, please visit the website: wlcbands.com.