The University of Alabama has a long history of success in intercollegiate sports, including 20 national championships. Most recently, the Crimson Tide football team won the 2011 BCS Championship and in 2012 the women's gymnastics, softball, and golf teams were all NCAA national champions. In seeking to enlarge the great tradition of athletic achievement at The University of Alabama, Alta Marea Winter Guard was formed in 2005. Alta Marea, translated from Italian meaning, "high tide," began performing in the 2006 winter season. During its first year of competition, Alta Marea was a WGI World Championships finalist in Independent A. Alta Marea was a WGI World Championships finalist in 2007 in Independent A and in 2008, 2011, and 2012 in Independent Open.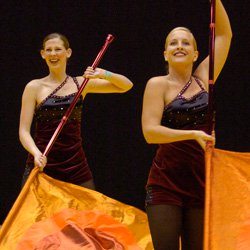 The winter guard program is an extension of The University of Alabama marching band program known as the "Million Dollar Band." In order to audition and compete, all Alta Marea members must first successfully participate in the" Million Dollar Band" color guard. The 420-member "Million Dollar Band" performs at all Crimson Tide home football games and the entire band or a smaller version of it, our pep band, travels to all out-of-state games. Additionally, the "Million Dollar Band" travels to all Crimson Tide post-season games, which might include the SEC Championship game and a bowl game depending on the football team's performance during the regular season. During fall 2012, the "Million Dollar Band" celebrated its centennial having begun as a student led organization in 1912. As part of the centennial celebration the "Million Dollar Band" traveled to Italy in May and performed in parades and standstill concerts throughout the country.
At The University of Alabama, winter guard is a class and all Alta Marea members are University students. They all face the challenge of balancing guard rehearsals and performances with attending class, preparing assignments, taking exams, and various other academic responsibilities. Alta Marea members represent a wide variety of academic majors and degree programs at the University of Alabama.
Steve Simpson is the color guard director as well as assistant director of the "Million Dollar Band." Choreographers are Brandy Keeton, an English teacher at Brookwood Middle School in Tuscaloosa, and Adam Dalton, a graduate teaching assistant and Doctor of Musical Arts in Conducting candidate at The University of Alabama. Randy Nelson is the program designer. Dr. Ken Ozzello is the Director of Bands and Mr. Randall Coleman is the Associate Director of Bands.