Born in Chicago suburb Romeoville IL in 2007 Is Pioneer Indoor. Affectionately known as "Pio", this ensemble has had some great success in building one of Chicagolands best competitive percussion ensembles. Pioneer Indoor was originally Americanos Indoor percussion in 2006 and then changed to Pioneer Indoor in 2007 stemming from the World Class drum corps from Milwaukee WI. Pioneer Drum and Bugle corps. The ensemble has provided an educational experience for College, high school, and even sometimes middle school students from Chicago,Indiana, and Wisconsin. Pioneer Indoor has accomplished winning many WGI regionals and has Won PIA World Champions in 2007 and 2008. Pio made the leap to open class in 2009 and began the next journey for success. Missing finals by only a few tenths for 3 years in PIO, the ensemble has the pleasure of taking 8th place in PIO finals in 2012.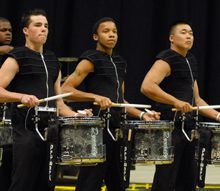 In pursuit of developing a next level ensemble, Don Click from the infamous Music City Mystique and Bryan Harmsen of Visaudio were put in place to help Pioneer Indoor reach the next level of being an open class competitive ensemble. The staff at Pio has a total of 50+ years of drum corps and or indoor experience, many are participating in professional sports drum lines such as the Chicago Bears Drumline and Chicago Bulls Stampede Drumline and educators in all different subjects. The Home of Pioneer Indoor is Romeoville HS, where ensemble Director Adam Hill is Assistant band director. A large part of the ensembles success comes from a consistent rehearsal area and support of the surrounding area.
Pioneer Indoor is preparing a great production for 2013 entitled TOXICITY. This story is ultimately described as an addiction of Toxic chemical with an unforeseen ending, both members and staff are very excited to share the production. The 2013 ensemble is well on its way to having another successful season in WGI and completing its 7th season. Pio takes pride in creating a deeper level of percussion in Chicago and hopes to continue the education and success for very long time.