Nil magnum nisi bonum. There can be no greatness, without goodness.
It's stitched right onto the back of the member jacket collar, so that when moving together as a group, it's always staring fellow cast members right in the face, reminding them of what's really important.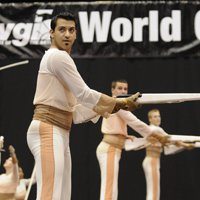 Cypress Independent was born, like most independent groups, out of the dreams of passionate performers looking for a place to call home. Truth be told, it can all be traced back to a happy accident and good ol' fashioned district sisterhood, not to mention a little latina persistence.
When one high school group lost the funding needed to travel to the WGI Regionals in Texas, another offered to share their buses for the season. Two staffs found themselves together for many hours of long bus rides. "When Stephanie Chavez began the conversation with 'So when are you going to start an Independent World group in Houston?' I figured I was in trouble," recalls Director Tim Newburn. "Anyone who has ever met her knows exactly how charismatic Stephanie can be, on and off the floor!"
But what impressed Newburn the most were the conversations that followed with potential cast members. These were not the normal dreams of talented twentysomethings. These young people were looking for "a stable, professional environment", "to provide strong role models to our local high school guards", "to create a community of mutual respect" and "to learn how to teach, not just to twirl." From its earliest beginnings, Cypress was about so much more than competitive success. "I still have the notepad with all these phrases scratched down," Newburn remembers. "They went on to become our Mission Statement, but I was so overwhelmed by their genuine spirit and maturity that I knew I had to do this. And trust me, they've taught me as much, if not more, than I have any of them."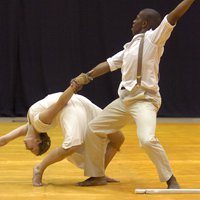 In an effort to train the teachers of tomorrow, the staff, all of whom work pro bono, has tried to balance art and education. They feel it has had immeasurable benefits. In making sure the members were learning a wider range of techniques to pass on to their own students, the performance group became more accurate on the floor. In spending time discussing image and professionalism, a young guard quickly had an identity. In trying to instill the power of preparation and the importance of every detail in planning, the cast matured into world-class problem-solvers. All this focus on developing teachers helped with facilities as well. In the first few years, Cypress was known as the Instructor Guard since most of the Colorguard Directors in the district were cast members. This approach to Continuing Education helped principals to open their doors.
Cypress Independent has been a WGI IW Finalist since its inception in 2010, presenting programs that focus on blending head and heart. "Go Forth" was a fitting inaugural production, based on the Walt Whitman poem, "O Pioneer!". In 2011, CI presented "There's No Place Like It," examining the many meanings of Home, as they built their own. The third outing for this Houston group brought audiences a challenging look at moving on and never being able to go back with 2012's "Ex Post Facto".
For 2013, Cypress has assembled it's largest cast to date with 10 women and 20 gentlemen, who will help bring to life this winter's program, "Soon, I Will Come Knocking". The staff includes Kelly Simon, Krystle Breden, William Martin, Tom Harrington, Chad Berkstresser, Louis Hellinger, Eric Babula, Juan Artavia, Tim Pierce, Tommy Keenum and yes, Stephanie Chavez.