By Michael Reed
They say consistency is one of the keys for sustained success in any endeavor. For example, the Blue Devils Drum and Bugle Corps have won more DCI titles than anybody in large part because they have kept their high-quality staff members for years. WGI mainstay Father Ryan High School has achieved success following that same model. The trio of Schletzers (Derek, Dustin, and Jeff) and arranger Dave England has been together since 1997.
With that wealth of experience, the guys have an uncanny ability to anticipate what each other is thinking. England joked that when one of them has an idea, they know what objections the others may have and how to counter them. He mentioned the staff usually gets together one weekend during the summer to plan the program for the following winter.
Father Ryan competed in the very first WGI Percussion Championships in 1993. They have progressed from Scholastic Open to Scholastic World class, and delved into the Independent ranks for a season, taking the Silver Medal in Independent Open in 2009. Their winter guard has been successful at a Regional level, and this year the wind players get their chance as the group is competing in the Winds Scholastic World Class division at Championships.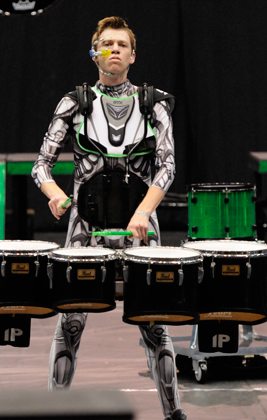 In some ways, this has been one of their more challenging seasons. The weekend of March 7, the drum line was scheduled to perform at the Spartanburg Regional and the Winds were entered in the Atlanta Regional, but a week of snow plus a half inch of ice on top made it unsafe to travel. The school's administration decided safety was paramount and kept the kids home that weekend.
Altogether, England estimated the kids lost a couple weeks of rehearsal. They had a week off for Spring Break, and did not rehearse during Thursday and Friday of Easter week, which also happened to be the weekend before Finals. When asked how he felt heading into Championships, England's answer was "Nervous." He then expanded on the thought: "We feel good about the progress the kids have made. They've made huge strides in a short amount of time."
The percussion ensemble had one performance this season, in exhibition at the Southern Association for the Performing Arts Championships. Their WGI Prelim show was the first time all year they had a chance to see how they stack up against their peers.
Father Ryan is known for their highly creative, side-splittingly funny programs. Who could forget such classics as the circus show, the mullet show, and the basketball and football productions? They have reinvented themselves in recent years. The innovation is still there, but the comedy has given way to technology in their quest to be original.
The 2015 production, "Half Man- Half Amazing" features a gimmick that is likely to be copied by others in upcoming seasons. Father Ryan utilizes six drums on stands that appear to be marched by ghosts. Midway through the program, a snare drum on a stand rolls from the pit onto the floor, and before long there are six of them, seamlessly incorporating into the drill forms.
Actually, there are no ghosts involved. England explained there are six radio controlled cars with stands and drums mounted on top. They are controlled by six of their Winds members sitting behind the pit. England cautioned that it took a lot of work to get the "drums on wheels" to have the effect they were seeking, and credited drill designer Shane Gwaltney and Dustin Schletzer with tweaking the visuals to allow the idea to work.
Despite not having a competition under their belts until Thursday morning's prelims, the Father Ryan line solidly qualified for World Class Semi-Finals in their quest to perform in the big show on Saturday night. With ensembles in all three of WGI's performing divisions and a stable creative team, it's a safe bet we will be thrilled by the unique shows coming out of Nashville, TN for years to come.