Many performers head to camp this weekend as drum corps season is upon us! WGI fans can expect to see some familiar faces on the field at DCI events this summer. Here are the groups to watch!
Bluecoats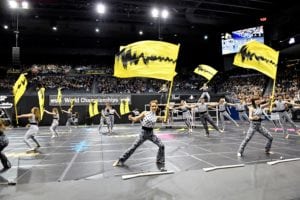 WGI's Bluecoats Indoor's color guard brought life to the party in their first season competing. The Bluecoats drum corps was founded in 1972 as an outreach program of the Canton, Ohio Police Boys' Club. The corps' name was chosen in tribute to the city's retired police officers. Making its competitive debut in 1974, fans traditionally welcome the corps to the field with a signature cheer of "Bloo!" The corps has finished in eighth place or better since 2001, winning their very first DCI World Championship title in 2016.
First 2018 DCI performance: Thursday, June 21 in Detroit, MI
Blue Devils
WGI's RCC counterpart, Blue Devils, was founded in 1970 from a drum and bell corps. The Blue Devils hold the record for the most Drum Corps International World Championship titles. The corps has won a total of 17 times, most recently in 2015, and has not placed lower than fourth in the last 20 years. BD Performing Arts organization sponsors The Blue Devils and a variety of performing arts ensembles including two Open Class drum corps.
First 2018 DCI performance: Friday, June 22 in Clovis, CA
Blue Knights
A four-time WGI Percussion World Champion, Denver's Blue Knights was founded in 1958 by former vaudeville comedians and musicians, Fred and Faye Taylor. Recognized for innovation in visual design and contemporary programing, the corps has been a Drum Corps International World Championship finalist more than 20 times. Operating under Ascend Performing Arts, the organization also sponsors other ensembles including an award-winning indoor percussion ensemble and the first-ever NFL drum line, the Stampede.
First 2018 DCI performance: Friday, June 22 in Clovis, CA
The Cavaliers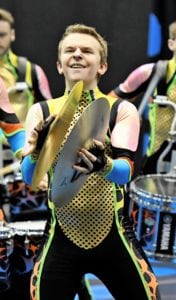 Affiliated with two WGI groups, Cavaliers Indoor Percussion and Chromium Winds, The Cavaliers were founded in 1948 as Boy Scout Troop 111 Drum and Bugle Corps. Long nicknamed the "Green Machine," the all-male corps' trademark geometric drill routines and aggressive color guard work make them instantly identifiable. The Cavaliers have won seven DCI World Championship titles since 1992, most recently in 2006.
First 2018 DCI performance: Thursday, June 21 in Detroit, MI
Crossmen
Crossmen Winds had a great season with WGI. Watch their DCI-affiliated group, Crossmen, this season as they rock the field. Crossmen first took the field in 1975 as a successful merger between two smaller suburban Philadelphia corps, the Keystone Regiment and the 507 Hornets. As an east coast organization since its founding, the corps moved its operations cross-country to San Antonio in 2006. Crossmen has been a Drum Corps International World Championship finalist over 25 times.
First 2018 DCI performance: Saturday, June 23 in Akron, OH
Golden Empire
Representing California's San Joaquin Valley, Golden Empire was founded to give youth the opportunity to further their skills in brass, percussion and visual performance. The drum corps is an extension of the Bakersfield College Drumline program and took the field for the first time in 2014 as part of Drum Corps International's Open Class.
First 2018 DCI performance: Friday, June 29 in Oceanside, CA
Guardians
Operated under the same nonprofit organization as WGI's 5Points Percussion, DCI Open Class corps Guardians, was founded in 2013 to participate as part of Drum Corps International's SoundSport performance initiative. Guardians made its debut as part of DCI's Open Class division in 2014. The corps prides itself on offering an affordable and positive drum corps experience to youth throughout central Texas. 2016 marked the very first time the corps competed outside of the Lone Star State, including an inaugural trip to the DCI World Championships in August.
First 2018 DCI performance: Tuesday, July 10 in Valdosta, GA
Madison Scouts Drum & Bugle Corps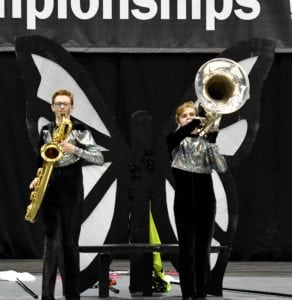 Fleurish Winds had a great inaugural season with WGI. Their DCI counterpart, Madison Scouts, was founded in 1938. "Proud, Loud and Pleasing the Crowd"—a mantra of the corps—the Scouts are known for their entertainment-focused programs that consistently bring audiences to their feet. They are a founding member of Drum Corps International and have been twice crowned as DCI World Champions (1975, 1988).
First 2018 DCI performance: Saturday, June 23 in Whitewater, WI
Oregon Crusaders
OC Indoor's parent organization, Oregon Crusaders, was originally founded in the 1970s. The Portland-based Oregon Crusaders are two-time Drum Corps International World Champions, in 2004 (Division III) and in 2012 (Open Class). OC is proud to represent the highest quality in "Performance Art" for Pacific Northwest music students and for audiences across the country.
First 2018 DCI performance: Friday, July 6 in Vancouver, WA
Pioneer
WGI's Pioneer Indoor shares an association with Pioneer Drum and Bugle Corps. Founded in 1961, Pioneer hails from Milwaukee, Wisconsin with a long and established history in Drum Corps International competition. The corps was a World Championship winner in its class in 1991, 1994 and 1995 before joining DCI's World Class division in 1997. Truly a corps with no borders, Pioneer annually hosts members from a number of foreign countries among its ranks.
First 2018 DCI performance: Saturday, June 23 in Whitewater, WI
River City Rhythm
Before it was a DCI Open Class drum corps, Anoka, Minnesota's River City Rhythm got its start as a percussion ensemble. RCR is a four-time "Fan-Favorite" award winner in WGI's Independent Open division. In 2015, RCR expanded into a drum and bugle corps, taking the field as part of the DCI Tour, making Open Class Finals.
First 2018 DCI performance: Sunday, July 1 in La Crosse, WI
Shadow
Shadow Indoor Percussion is the WGI performance arm of DCI Open Class corps Shadow. Shadow is an organization with a genesis all the way back in 1972. Starting as the Oregon High School Summer Marching Band, the group performed as part of the Mid-America Competing Band Directors Association. As that competitive circuit grew smaller over many years, staff members saw participation in the annual DCI Tour as a way to keep students involved throughout the summer while continuing the rich history of the organization. 2016 marked the group's first season as an Open Class drum corps.
First 2018 DCI performance: Thursday, July 5 in Wausau, WI