While most of WGI was gearing up for Percussion World Championships, some talented musicians created beautiful music with the 8th – 12th grade band students from Dayton Public Schools.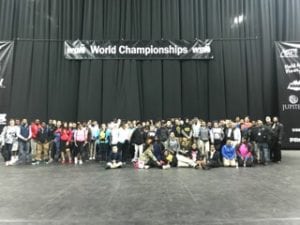 Yamaha Corporation of America and WGI partnered with DPS to further develop the skills of band students in the Dayton Public Schools. Referred to as the DPS Big Gig, this inaugural event took place at Wright Brothers Middle School from 9:00 AM to 1:00 PM on April 17-18. Students also had the opportunity to attend WGI Percussion Prelims on April 19.
One student, a senior saxophone player, spoke about how unbelievably inspired he felt and proceeded to talk about the Fibonacci sequence and what he saw in music and it's power to heal.
"I had some great conversations with some of your students during and after Wednesday's events and they were so excited and inspired by it all. It gave me a great platform from which to simply talk about bringing that spirit to their schools to develop the band "culture." My students and I have had some great conversations about opportunity and they loved being a part of helping to inspire and create opportunity," stated Scott V. Gasaway, a band director for Dayton Public Schools
Another Dayton Band Director said, "This was a great opportunity and the students definitely enjoyed the experience."
Yamaha sponsored renowned percussion artist and educator, Lamar Burkhalter, WGI Director of Winds, Wayne Markworth hosted the events. Not only were there workshops for DPS instrumental music students, but a professional development event for DPS music educators kicked off the DPS Big Gig on April 17.
Lamar Burkhalter, reflected, "It was a pleasure to meet you all and I am very impressed with your commitment to your programs, your students and music education as a whole."
This collaboration with Dayton Public Schools, Music Education Consultants, Inc., Yamaha Corporation of America and WGI Sport of the Arts is another link to DPS advancing instrumental music opportunities throughout the district.