From a Dayton Public Schools Press Release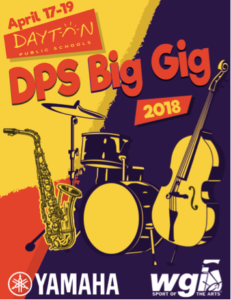 Indoor percussion comes to the Greater Miami Valley the week of April 16th, when WGI Sport of the Arts (WGI), headquartered in Dayton, brings its beat. The ensembles keep company with some amazing talent and all will create beautiful music with the 8th – 12th grade band students from Dayton Public Schools.
Yamaha Corporation of America and WGI are partnering with DPS because of public school music veteran, Marcia Neel whose pro bono services are her way of giving back to the local community. The former Kettering (Ohio) resident and Fairmont West High School alumna is president of Music Education Consultants, Inc., and serves as Senior Director of Education with Yamaha. She has created collaborations that will further develop the skills of band students in the Dayton Public Schools during the WGI Percussion World Championships
April 16th – 22nd.
Yamaha is sponsoring renowned percussion artist and educator, Lamar Burkhalter, that same week and WGI is sponsoring their esteemed Director of Winds, Wayne Markworth. Not only will they provide workshops for DPS instrumental music students, but Neel has also arranged a professional development event for DPS music educators on Tuesday, April 17th. As WGI calls Dayton home, executive director, Ron Nankervis couldn't be happier about this new partnership with DPS. "This partnership is a priority with our organization and we are thrilled about becoming involved." WGI is providing DPS Instrumental Music students with complimentary access to its annual international competition which begins on Thursday, April 19th.
Referred to as the DPS Big Gig, this inaugural event will take place at Wright Brothers Middle School, 1361 Huffman Ave., 45403, from 9:00 AM to 1:00 PM, Tuesday, April 17th and Wednesday, April 18th with students attending WGI preliminary competition on Thursday, April 19th.
This collaboration with Dayton Public Schools, Music Education Consultants, Inc., Yamaha Corporation of America and WGI Sport of the Arts is another link to DPS advancing instrumental music opportunities throughout the district. For further information, contact Alex Price, Director of Bands at Belmont High School,
at 937.542.6460.