If you tuned in to the Super Bowl Halftime Show, you very likely saw former and current members of Cypress Independent join Lady Gaga on stage. The guard prepared tirelessly for the last 3 weeks for their debut on the big screen.
"We first got word of the project a little less than a month before Game Day. Since confidentiality was such a big part of the project, the first communications were very vague and we had to go with the information given to us," said Christopher Tyer, founding member and long-time staff member of Cypress Independent and choreographic assistant for this project. The preparation for this project was nothing short of intense. Constant communication was a necessity and allowed the group to be as prepared as possible.
To get started, Tim Newburn, Director of Cypress Independent, asked each member of the choreography team to prepare a few phrases and post videos of them to a private Facebook group. From there, cast members watched the videos and learned the phrases. The variety of choreography provided multiple ideas and styles, which helped the group cater to Lady Gaga and her creative team's vision. At the time, it was not clear which song the group would be performing during, so they created phrases for a number of their favorite Lady Gaga songs. At the first day of rehearsal, the group pieced together the phrases the cast had learned to fit into "Just Dance." Without the preparedness of the entire cast and their commitment to learning choreography from video beforehand, this project would have been impossible!
"Tim is amazing at providing excellent creative direction, while not limiting the creative process, which was extremely beneficial in putting this project together," stated Chris Cook, current member of the Cypress IW choreographic team and on-site choreographic assistant for this project. The needs of Lady Gaga's creative team were ever-changing and the group had to adapt quickly to meet those needs. "Tim was great at mediating the goals of Cypress with the needs of the show and giving the Cypress choreography team direction in how to accomplish both." This collaboration allowed everyone involved to really enjoy being part of such a high-profile project.
Tyer reflected, "Rehearsal for this project was unlike anything I have ever experienced before. Every day felt like a drum corps rehearsal day in fast forward."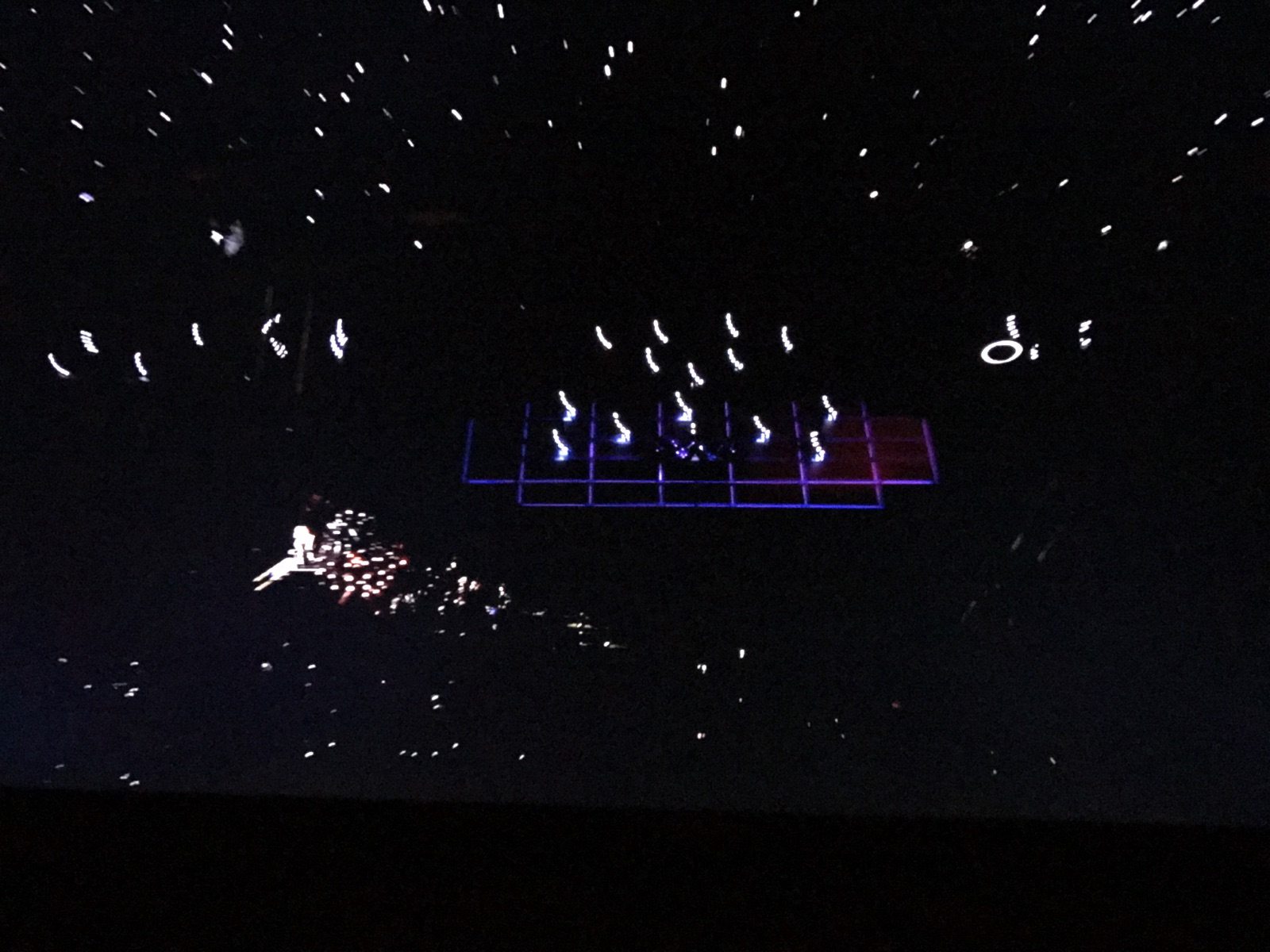 Each night, the creative team reviewed rehearsal footage and made notes for changes. Every morning, the changes were implemented as quickly as possible to make sure the creative team could see whether the changes worked or not. The creative team had to "get it right" as quickly as possible so the cast could have time to clean and make it look great. As dress rehearsals began, Tyer explained, "there were times when we would do full runs and once we finished our part of the show, we would get production notes and changes while Lady Gaga finished the rest of the run through. Then, we would immediately reset and do another rep where we had to perform the changes that we had just learned. Having 30 performers be able to make changes on the fly like that really amazed me."
The cast consisted of 30 members across 8 seasons of Cypress Independent. Representatives from each season of Cypress Independent were present, and even some of the older members who had been away from the organization for a while participated. One former member, Maurice Wright, noted, "The mesh of old and new happened so easily and beautifully you'd think we'd been marching together for years." Another cast member described it as magical.
"The goal of this project was, first and foremost, to service the vision of Lady Gaga and her creative team, but we also wanted to make sure that color guard was represented in a way that made it look cool and interesting. We wanted the color guard community to be proud of what we had done, all while entertaining the millions of people watching the program who are not involved in the activity," explained Cook.
All those involved agree that this project was exciting, face-paced, and absolutely surreal. It challenged those involved to think outside the color guard box. Camera angles are not something color guard performers are trained to think about; filling an entire arena or stadium with energy is. On this project, the cast had to train themselves to look directly at the camera for some moments and just run out of the way for others instead of making color guard transitions.
Several cast members stated that being a part of this project has been one of the most challenging and inspiring events of their life. Fast-paced rehearsals and tweaks on-the-fly stretched the performers beyond what they thought possible. "This project has been nothing but truly great moments, hard work, sweat, and memories that will definitely last a lifetime," said Wright. "This opportunity has been such a blessing for us, and we're beyond excited to not only make our comrades in the activity proud, but also show the world who we are as a organization and what our activity is all about."
From the Cypress Independent alumni involved in this project: A big thank you to Lady Gaga, her team, Mark Evans, and Touchdown Productions for being so kind and giving us this opportunity. Thank you to Tim Newburn and the Cypress organization for allowing numerous alumni to take part in this unforgettable project.