By Dan Schack
With the difficulty of creating a new form of design with fresh uncharted instrumentation for the Indoor Winds stage, some ensembles rose to the top. Florida International University was one of them. Competing in the Independent Open Class Winds Division, FIU Indoor Winds presentation "Curse of the Ninth" utilized recognizable themes and imagery from beloved composer Ludwig van Beethoven to display a dramatic and memorable performance. The show features a grand piano in the middle of the floor played by a central character who of course is Beethoven. This Beethoven character propels the narrative, often times conducting the ensemble from the front or accompanying them from the center stage. This character was truly the line that connected the elements of the performance from beginning to end. It was in Justin Swearinger that FIU found this character, and he seemed perfectly suited for the job.
Justin took some time away from his busy schedule to tell us about his experiences as a central character in this standard-setting show.
Are you a music major in school? In what field/instrument? If not, what are your current endeavors?
I received my B.A. in Music, with an emphasis in Percussion Performance from the University of Alabama in Huntsville. Originally, I was actually a double-major – caught between the worlds of music and aerospace engineering. Eventually music won.
Do you have any formal conducting training?
I am currently finishing up a Master's in Instrumental Conducting at Florida International University (FIU). As an undergrad, I took a few conducting classes and subbed around town. But now it's a large part of what I think about.
How did you prepare for your character in the 2015 FIU production "Curse of the Ninth?" What was your musical preparation?
From my undergrad and personal experiences with music, I already knew a lot about Beethoven. For instance, I had to know every Beethoven Symphony and their characteristics for a test in my beginning conducting class. I did some reading to refresh, but most of the knowledge was already there.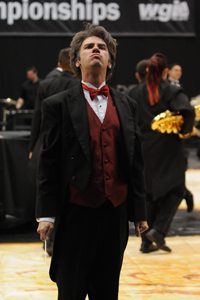 I remember having discussions with Alejandro Guardia, Jr. (Director of FIU Winds), when FIU Indoor Winds was not much more than a possibility. We talked about our favorite parts of symphonies, our favorite piano sonatas, and it was through these discussions that the second part of the show (Movement 2 of Beethoven's 7th Symphony) came into being. Beethoven is universal. He was a very human composer, and his output is known to almost every culture. So there exists this base of knowledge.
Was playing piano in this ensemble different than others you have played in? How were your responsibilities different?
Yes! I am pretty young, but I've had my fair share of professional music gigs. Listening in this setting was completely different. Our sense of pulse and unity was exponentially more difficult to maintain than say a normal orchestra or wind ensemble. It's one thing to have the power of winds around you, ones that we're used to seeing on the field… but to cage that in an indoor space. There's a reason that early music has very distinctive indoor and outdoor instruments.
What did you learn about music and music history through the season?
It wasn't so much what did I learn but rather what did I already know that I could put into context. Beethoven's art was the most important thing to him. Again, Beethoven was very human. He was one of the first "rockstar" composers. Most composers and musicians until his time only lived to serve. They were really seen as second-class citizens. A noble person within or outside of the church would request music and a musician would have to provide. And that musician would provide for little pay – really, they would be sure they could eat and provide for their family. But they would have to use the backdoors. Simply give the music and get out.
Beethoven was different. He walked in through the front door. Nothing was more important to him than the Muse. He was fully dedicated to his craft, and people loved him for it. It's why his music has such a unique flavor. It's one thing to be a master of your craft, but to have that actually hold meaning! Like most of the greats, Beethoven was very forward-looking, ahead of his time really. Traces of modern-day jazz/Boogie-Woogie can be found in his later works.
Beethoven never settled. He was always trying to break the mold. And you can see this in his symphonies – each one pushes the boundaries of music of that time. This thing, idea/concept/existence, of the 'Curse of the 9th' is important to define. Everything about the genre of the symphony changed because of Beethoven. Future composers bowed down to Beethoven. They knew they couldn't compare to him. They wouldn't even want to be considered in the same league as him – the same sport or stadium.
Did the character role lead to any larger leadership roles within the ensemble?
During this time, I was the Front Ensemble Tech for FIU Indoor Percussion, a graduate teaching assistant at FIU, and was involved in the show design for the Winds.
I think the most important thing was that the show centered around Beethoven… and I was Beethoven. Now, most of the time I was around the ensemble, I was overworked and sleep deprived. But that didn't matter. I always tried to give my all and bring myself into the idea of Beethoven. It got to the point that the director would stress to the ensemble that on show days I was the maestro and would only respond to my proper title.
In the end, I really just represented Beethoven as best as I could. I'd like to think that helped people find meaning in what they did.
Are you marching indoor winds again? Where?
Unfortunately, no. I would love to play a "character" again, or rather a theme to a show. In my youth I had dreams of auditioning for the Colts and SCV, which performing in WGI Winds rekindled. But at this point finishing my Master's and figuring out my own next step far outweigh another season.
Where do you see yourself in 5-10 years? Will you be playing/teaching music professionally? If not, what can you see yourself doing?
I'd like to think that I'll be cultivating my own ensemble. Choosing repertoire, educating, and leading the next generation into whatever music is and is becoming. What a responsibility, though! To be in charge of the musical and overall well-being of human-beings. Not something to take lightly. Life is what you make of it, and it's something that we're all in danger of taking too seriously. Music is the beauty and understanding of life that I can only hope to one day comprehend, and that is why I try to dedicate myself to it fully each and every day. If I'm still following that in ten years… I don't think I could wish for anything more.
Be sure to catch FIU Winds and other Winds ensembles as they return for their second season at some of the upcoming 2016 WGI Regionals and at the Winds World Championships.
Watch more shows on the WGI Zone!
---
About the Author: Dan Schack is an active designer and educator in DCI, WGI, and BOA. He currently works for competitive ensembles including the Crossmen Drum and Bugle Corps, Cadets Winter Percussion, Rhythm X and several other scholastic percussion ensembles in the Dayton, Ohio area. He holds a degree in English and Women's Studies from the University ofConnecticut and is a customer service representative at Fred J. Miller, Inc. Dan has been a contributing freelance writer for Winter Guard International since 2012.