The Hollywood Reporter recently posted a review about David Byrne's Contemporary Color documentary which premiered at the Tribeca Film Festival in April. Check it out below or read it here!
---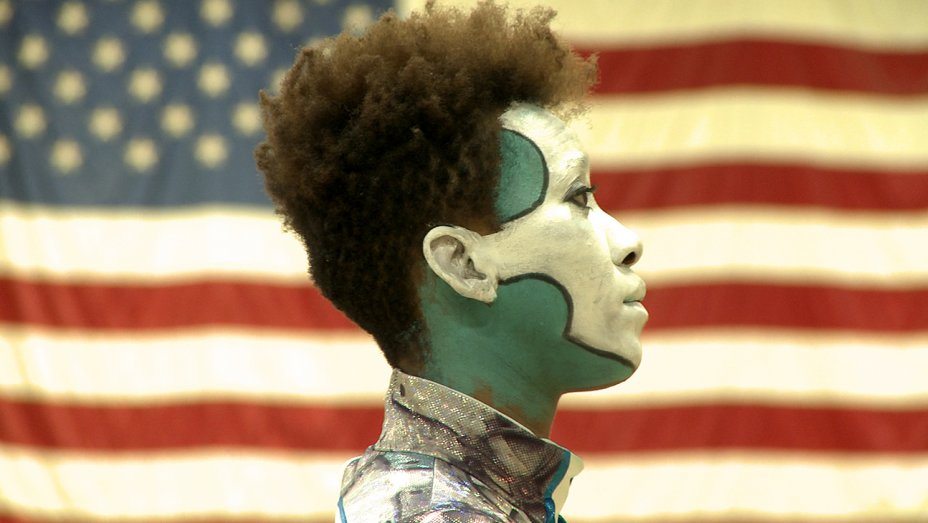 David Byrne masterminds a meeting of pop musicians and high-school color guards.
Hats off to the filmmaker bold enough to tackle Contemporary Color, last summer's hybrid event in which pop artists performed on a stage while teams of high-schoolers mounted arena-filling spectacles in front of them. Balancing the need to capture a star's charisma and to do justice to large-scale choreography is a daunting enough task, maybe it requires not one director but two. Sibling documentarians Turner and Bill Ross, whose profile has risen steadily from their small-town portrait 45365 through last year's much-lauded Western, find a pleasing middle-ground inContemporary Color. Though perhaps not offering enough wide-angle sequences to please devotees of the color guard art form who don't know their St. Vincents from their Nelly Furtadoes, it will play well at fests with a more general audience, and makes a beautiful point of entry into a discipline many urbanites have never encountered.
This odd and ambitious event, staged in New York and Toronto, was the brainchild of David Byrne, a stranger to neither surprising collaborations nor ambitious concert films. Having stumbled across color guard — in which squads twirl flags and wooden rifles in routines accompanied by prerecorded music (or, in football season, a marching band) — and found it fascinating, he recruited ten artists to write songs they'd perform live alongside some of North America's most talented troupes.
Musically, most of these songs would likely end up as B-sides to their composers' stronger tunes. (For those artists still releasing singles, that is.) But they work well as accompaniment for routines that were created independently, honed for months and tested in competitions. One of the most effective soundtracks, as it happens, is largely the work of a non-musician: Working with composer Nico Muhly, This American Life's Ira Glass diced-and-spliced interviews with the Alter Ego troupe to take the audience into their heads as they execute moves that only lookeffortless.
That sequence is sure to bring some lumps to throats of moviegoers. And if something is lost in the transition from live spectacle to film — in person, there was pleasure in figuring out which performer's thoughts we were hearing at any given moment; here, the camera tells us — an intimacy is gained in compensation.
Throughout the film, a talent-rich gang of cinematographers (many doc-makers in their own right, like Approaching the Elephant's Amanda Rose Wilder and Beetle Queen Conquers Tokyo's Jessica Oreck) favor that intimacy over the big picture. They watch as a rifle twirls up into an empty frame without pulling back to watch it leave and return to its master's hands, for instance. This may annoy those who, in a musical or a kung-fu movie, need to see bodies from head to toe in order to believe in the action. But it serves the Ross brothers (and Bill Ross, as editor), who assemble sequences heavy on fluid, stylish atmosphere if not on "wow!" moments.
St. Vincent's performance with a team called Field of View is a prime example, full of superimpositions balancing dancers' torsos, rippling flags, and the singer herself. During this number, the brothers don't cut away as they often do, lurking backstage to see youngsters preparing for or decompressing from their time in the spotlight. Or to follow Byrne, nervous but happy, as he marvels that everything is working so well.