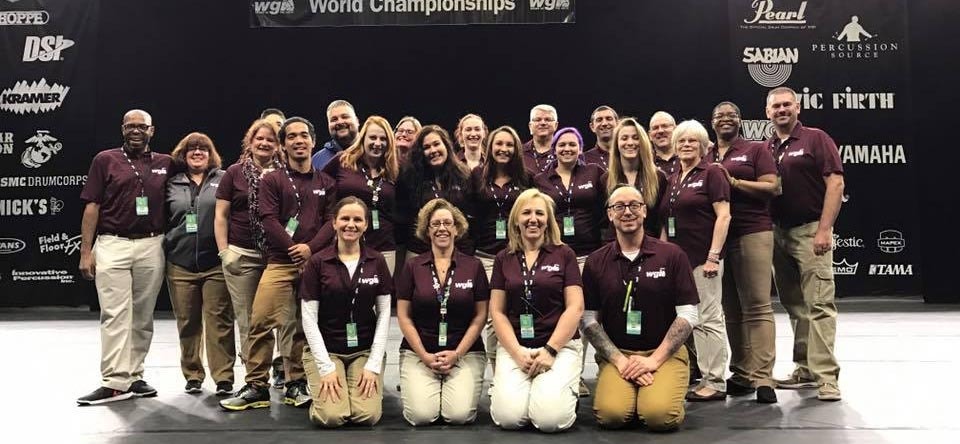 Volunteers are essential for providing the experience that members, staff and fans expect from WGI.  Please read the following information and if you are interested in volunteering, complete the form at the bottom of the page to tell us more!
WGI PROVIDES:
Shared-occupancy hotel accommodations at the Dayton Marriott
Meals during event times at arenas
Credentials that allow you entrance to all venues (week specific)
Shuttle transportation from/to airport and hotel, and from hotel to each venue
Discounts on WGI merchandise
Free parking
Commemorative program book
Some, but not all, positions put you near or with a view of unit performances or warm up sites
Special WGI event attire
Opportunity to join the WGI Scholarship Committee
REQUIREMENTS:
World Championships volunteers must be available Wednesday through Saturday OR Thursday through Saturday. DO NOT make travel arrangements until you receive assignment dates from the WGI office.
All volunteers must attend the Volunteer Meeting at 7:00 pm on the Tuesday or Wednesday prior to their first shift at the Dayton Marriott
All volunteers must be at least 18 years of age.  Volunteers under the age of 18 must be accompanied by a parent or chaperone who is also volunteering. For more info contact WGI's Staffing Coordinator – Julie Noble at volunteer@wgi.org.
If your desire is to be with your group or to watch your kid(s) perform, then please, be with your group instead of volunteering.  We will not have the means to guarantee specific "time-off" ahead of time to see performances.
INTERESTED IN VOLUNTEERING?  Complete the WGI Volunteer Interest Form below.
Once completed, you will receive additional information and next steps via email.  We will let you know in December if you have been selected as an official World Championships volunteer.  Please be certain that your email address listed on the Volunteer Interest Form is current and accurate to ensure you receive all communications.
Returning volunteers DO need to complete the Volunteer Interest For each year.
QUESTIONS: Contact WGI's Staffing Coordinator – Julie Noble at volunteer@wgi.org.
DEADLINE: The deadline to submit a Volunteer Interest Form for the current season is February 1!