By Jenny Lyons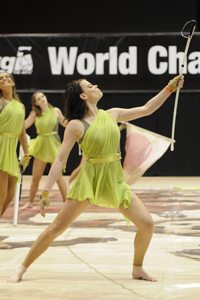 Every year Winter Guard International welcomes color guards from all over the world to grace the floor of the Dayton Arena, and this year is no exception. This winter, WGI eagerly anticipates the return of two of its color guard international members: The Pride of the Netherlands, who will be making their first WGI appearance since 2014, and Mayflower, of the United Kingdom, who will be making their first since 2013. While all WGI performers share a universal passion for the activity, the journey to Dayton for European performers looks quite different than that of their American counterparts.
At its core, winter guard is the same for both American and European members. Winter guard camps begin in September or October and take place over the weekend, usually in a school gym, or in a designated training hall, such as The Pride Hall, which has been in the organization for two decades. Many members are local, but others must travel in from their respective homes. Many commute via train and house with local members, where it can be a "tight squeeze" according to the members. Whether it is via train, plane, car, or bus, performers from all around the world can attest to the familiarity of traveling near or far away from home and squeezing in with their winter guard family for a weekend of rehearsal. At camps, the members work on technique and work closely with their choreographers as they carefully craft this year's show. In these ways, winter guard is essentially the same. However, beyond the winter guard floor, there are some stark differences in the European color guard world.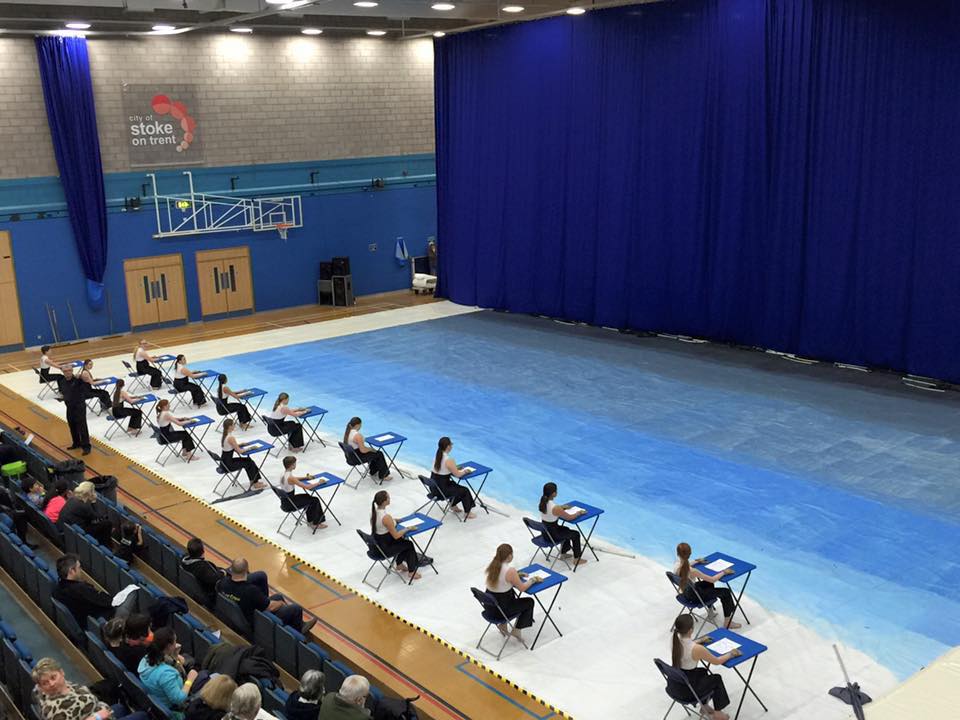 Every performer's journey to Dayton must first start with the most basic step: finding color guard. In Europe, this first step often happens quite early. Both Mayflower and the Pride boast a carefully built network of feeder programs, where the next generation of WGI performers start spinning as early as age three. The Mayflower family consists of the Mayflower World guard, Cadets, Juniors,and A Guard. Similarly, the Pride is home to The Pride Minis, Pre-Cadets, Cadets, Junior, A Guard, and Open Guard. Members can begin their color guard careers as very young as 5, and progress through the organization as the staff sees fit. Some members literally grow up within the organization.
Jessica Brown of Mayflower is one such member. She has been with the organization since age 10 and has now been performing with Mayflower for just over fifteen years. She has been in the witht he organization since 2006 and captain for the past five seasons. Jessica's journey with Mayflower began when she was just in primary school. She remembers being intrigued by the marching band that rehearsed after school. When she eventually watched a rehearsal, she was handed a trumpet. When she found that she was not so keen on the instrument, they introduced her to color guard. "And that's where it all started!" Jessica says. Similarly, Lucy Conway, a peer of Jessica's at Mayflower, joined the organization at the Junior level. She moved her way up over the next four years, serving as captain in the Junior class. Lucy remembers being in the younger groups and looking up to the performers in the upper guards. "It's a very proud feeling knowing I have worked my way up to be a role model for the younger generation," Lucy says.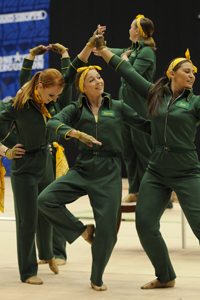 Michelle Hollander of The Pride joined the organization when she was just six years old. She remembers members of The Pride visiting her elementary school PE class and showing the students some tricks and basics. She says that she was the only one in her class that got excited about the visit and decided to join. As a current high school senior, this will be her eleventh season with the group, and she says, "I have still not had enough of it!"
Schools in Europe do not offer color guard as a cocurricular or extracurricular activity in the way that it is commonly offered in the states. Guard is available only through independent organizations, much like a club sport. "Winter Guard isn't well-known in the UK, so our feeder program is essential to the success and longevity of the organization," Mayflower Show Coordinator Robert Da Costa says. While color guard in America often feels like an unknown gem of an activity, arguably, most Americans have heard of color guard in some capacity, even if they do not know the full extent of it. In Europe, however, color guard is almost unheard of. "I would say 9 out of 10 of the Netherlands' inhabitants don't even know what winter guard is," Michelle estimates. "This must sound weird, but The Pride is the biggest winter guard community in Europe." Similarly, Mayflower captain Jessica says that winter guard is a rarity in England, "It's almost unheard of unless you're in the organization."
As such, one of the biggest challenges European guards face is finding new membership. The Pride of the Netherlands Director, Robby Overvliet says, "We know that if we want to be internationally competitive, we are going to have to teach the kids from a young age ourselves." Both programs have built a tight-knit and highly successful network of feeder programs. Mayflower boasts about 70 members across their four units and, The Pride takes care of roughly 100 members over six groups.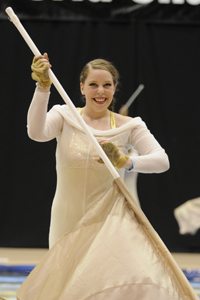 To become the well-oiled machines that they are today, both Mayflower and The Pride have gone through their fair share of building and history-making. Mayflower began as an all-girl marching band in 1973. They went on to become one of the most successful drum corps in the UK during the 70's and 80's and had a hand in founding the UK's first winter guard circuit in 1980. Though the corps folded in 1995, Mayflower reemerged as a winter guard in 1997 and has since become the most illustrious guard in the UK, having been crowned British champs eleven times, as well as one of the most celebrated guards in Europe. Mayflower made its first voyage to WGI Championships in 1998 and has returned on six other occasions, during three of which they made IW Finals. The Mayflower color guard is under the direction of Barry Davis, prior to 2008 there have been three other directors. Michael Shapiro will be choreographing and designing his sixteenth season with the group, 2016 will mark Mayflower's eighth appearance at WGI.
The Pride of the Netherlands, once known as the Orange Cadets, have been competing since 1983. They are under the direction of Robby Overvliet, who has been the director since the early 2000's. Within their circuit, The Pride is the reigning champion, and has been for an impressive fifteen-year streak. Since their first trip to Dayton in 2005, the Pride has been to WGI Championships five times. Having worked with an impressive lineup of choreographers and instructors such as Kate Jablonski, Adam Sage, David Crook, Adam Dalton, Erick Bacon, Trevor Davis, and Michael McNulty, this group has been an Open Class Finalist on several occasions, most recently being in 2014 with their show entitled, "The World You Live(d) In." This will be The Pride's sixth appearance at WGI Championships.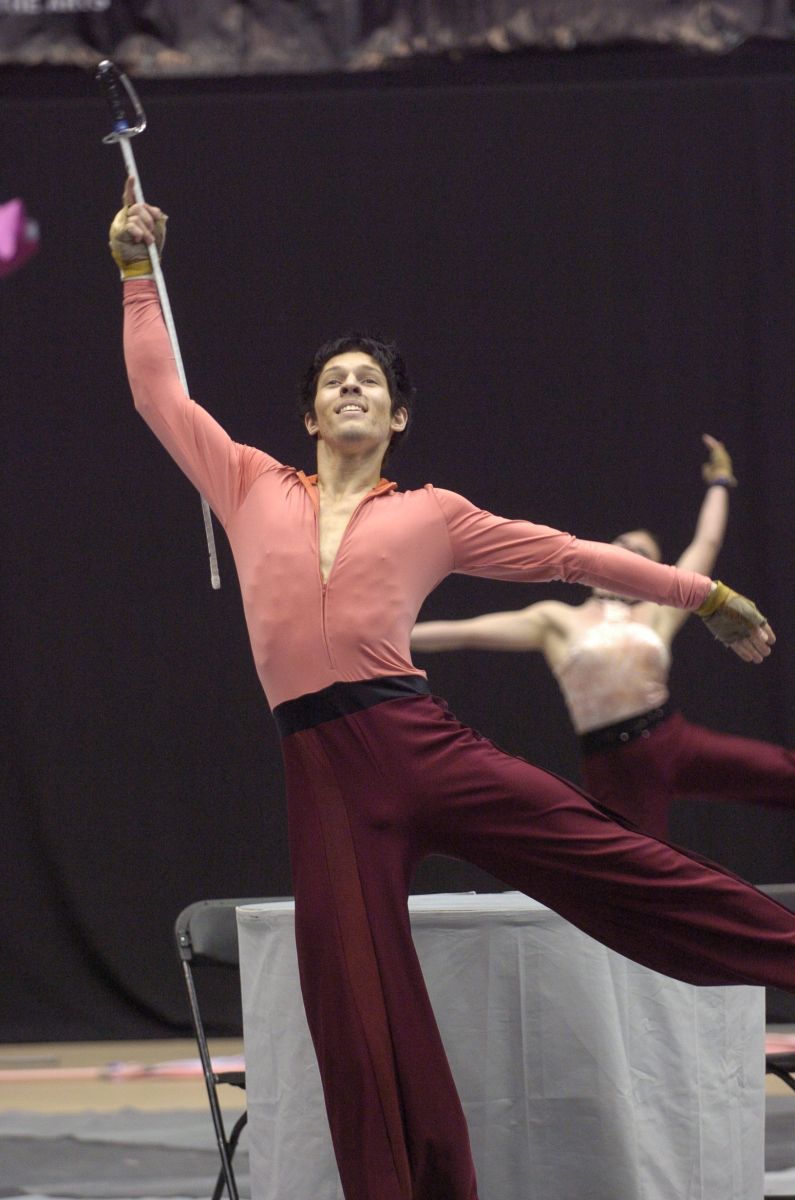 Through the years both guards have carved out a name for themselves in the local circuits. Every year, both Mayflower and the Pride of the Netherlands compete at local shows around their respective countries. They also journey to larger regionals in France, Ireland, the Netherlands, or England, an experience to which both groups look forward. UK Finals take place about a week before WGI Finals. "It's always a fun exciting experience to compete against other countries, and to watch and appreciate what each group brings to the table," Lucy Conway says of UK Finals.
Once local competition wraps up, the guards set their sights on the Dayton Arena. Travelling to Dayton comes with its own unique set of challenges for international color guards. International flights for the solitary traveller can be expensive, but international flights for an entire winter guard is monumentally so. As such, both European groups and their other international peers travel to Dayton only once every few years. In addition to flight costs, international guards must take care of a slew of logistics en route to Dayton. Each performer, staff member, and volunteer must make sure that their Visas are up to date. Some opt for travel and health insurances because the American health system is so different from their own. Flights must be booked well in advance to avoid sky-high prices.
"You really need to be creative to make things feasible," Robby Overvliet shares. Transporting the floor became so costly for The Pride that the guard resorted to cutting it into small pieces, stowing it away in their luggage, and taping the fragments together once in Dayton. Similarly, Robert Da Costa of Mayflower recalls having "staff and support crew scouring thrift stores" to purchase the infamous furniture they used for their 2013 "Home Sweet Home" show, after being unable to travel with the original pieces. These international guards face a host of unique challenges, but "we manage to overcome every obstacle that comes our way," Lucy Conway says.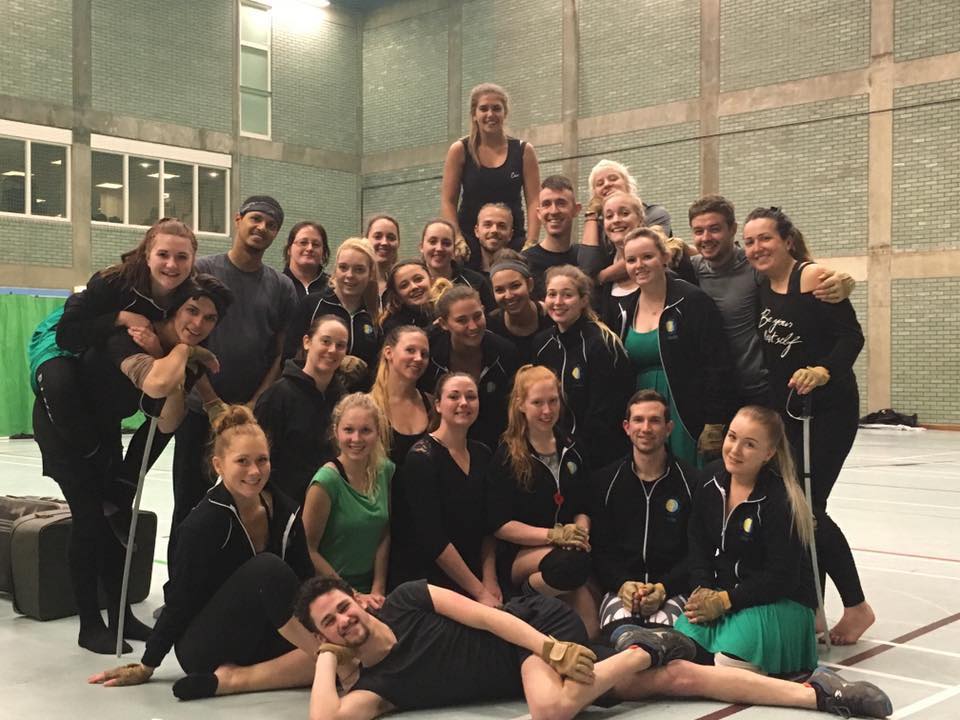 These are the challenges that make the trip to WGI so rewarding. Robert Da Costa recalls one of their most problematic trips, during which the airlines lost their flags, an injury occurred right before prelims, and parts had to be reworked on the bus to the arena, as one of his best memories with the organization of which he's been a part of for the past twenty years. After all of the fiascos of that year, he says, "One of the best and most memorable experiences of my time with Mayflower was telling the guard we had made history by being the first European guard to make WGI World Finals."
This year, both organizations are excited to continue to make history and share their passion on the WGI Championships floor in Dayton Ohio. "We just love performing to such a big audience and sharing this activity with people who love it as much as we do," Jessica Brown says. Robert Da Costa simply hopes that his members have the best experience they can and that audiences come along for the ride, as does Robby Overvliet. "It is a real pleasure for our color guard to share with the audience in Dayton, the pride we have in our arts," he says.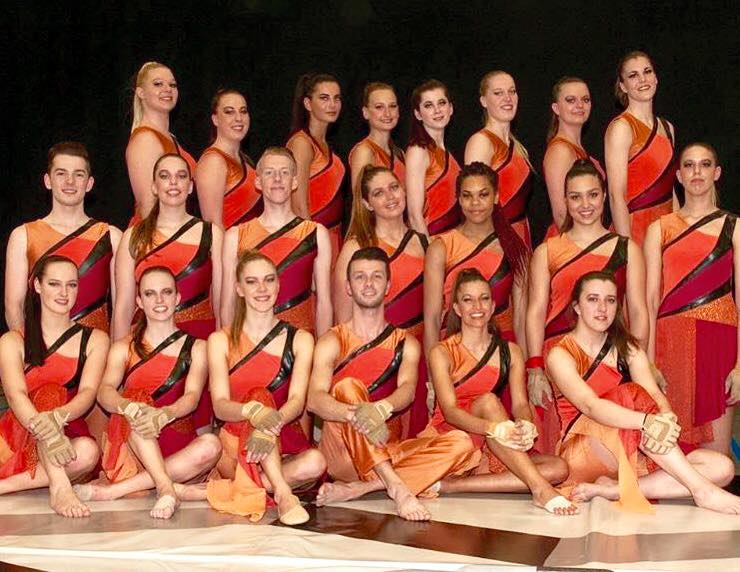 Just as so many performers can attest– European, American, or otherwise– color guard has a tremendous impact upon the performers of these groups and the audiences who watch them. "I wouldn't be the person I am today without it," Lucy Conway says. Despite differences in culture, language, location, and travels, winter guard is a universal experience and passion that performers share around the world. WGI looks forward to watching The Pride of the Netherlands and Mayflower share their journeys with us in Dayton this winter.
---
About the Author: Jenny Lyons is a freelance writer and graduate of the Literary Journalism program at the University of California, Irvine. She is particularly enamored with nonfiction writing, archival research and reporting, as well as editing. She is a recent alumna of WGI, having performed with the Santa Clara Vanguard Winter Guard from 2013 to 2015. Jenny has also marched with several drum corps including Pacific Crest, The Academy, and the Santa Clara Vanguard. When she is not writing, Jenny can be found continuing her passion for color guard through teaching.