By Hannah Corson
Many who are involved in winter guard are born to be performers, but AJ Rodriguez takes performing to another level. While being an active member of an independent world organization, AJ spends most of his time perfecting another craft: Opera and Theatrical Singing.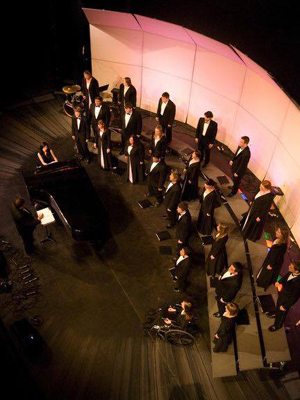 The Gilroy, CA native currently resides in San Jose where he attends West Valley College and studies Music Education and Vocal Performance. Beginning next fall, he will continue his education at San Jose State University. Before attending college, AJ was a student at Gilroy High School where he began his color guard career in 2008. After spending four years with his high school marching band, AJ auditioned and was casted in the Santa Clara Vanguard Winter Guard's 2012 program "John Henry: A Story For Our Time." AJ continued to march with Santa Clara Vanguard in 2014 and 2015, and was named captain for the 2016 season.
In addition to participating in his high school band, AJ also sang in his school choir. Singing in choir showed AJ that pursuing a career in choral musiceducation was the right path. However, he never thought that opera would become such a large part of his life. Once he began college, AJ noticed that the curriculum included the study of classical vocal singing. "I didn't really like it when I started in the fall of 2013, but as soon as I was given a piece called 'Un Aura Amoroza' by the one and only Mozart, I completely fell in love with the whole world that is operatic singing," says AJ. Although he has turned his focus to classical and choral music, AJ enjoys singing other styles like jazz and baroque.
While seeking a career in the performing arts is risky, AJ is sure to spend at least 45 minutes each day in a private practice room. This time does not include any ensemble rehearsals or at home studies. While a portion of his time is dedicated to practice, AJ also spends a great deal of time performing. Over the course of an academic year, AJ sings in several solo concerts, 4-5 choral concerts, and various choir festivals and conferences.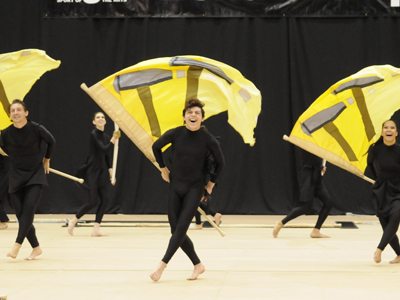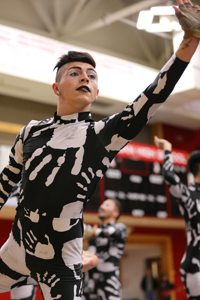 Although studying classical singing is time consuming, AJ enjoys refining his technique. Much like a dancer, a singer must rely on his or her technique to sound beautiful. While his singing may seem effortless, AJ confronts many
challenges to create the best sound possible. He states, "Singing truly on my breath is the most challenging aspect of my career, as it is for many singers." This breath comes from the core and must be sustained through each note for a powerful and controlled sound. Although the use of breath is a challenge for AJ, he believes that the physical feeling he gets in his core while singing is his favorite part of the craft. The core engagement he feels is verysimilar to that of which he feels when he dances.
While classical singing and color guard seem to be much different, each activity is surprisingly similar to the other. The breath control and stamina required to sing opera is also needed to dance for the duration of a winter guard program. Additionally, each activity requires many hours of practice. AJ believes that color guard prepared him for the rigorous practice regimen required for his vocal studies. The singer says, "I practice not just to make perfect, but to make it permanent in my body! I applied that to my vocal career and it's helped me to understand that I, as a human, am not meant to be perfect, but incredibly consistent through whatever I'm doing."
---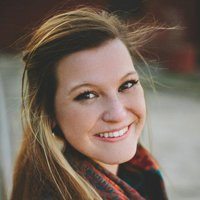 About the Author: Hannah Corson is a marketing student at the University of Mississippi. Prior to moving to Oxford, to attend college, Hannah lived in Madison, MS where she began her color guard journey with the Madison Central High School Marching Band in 2009. Through the band program, she was able to compete with the school's Sapphire Winter Guard for three seasons. After high school, Hannah participated in DCI with the Music City Drum and Bugle Corps and more recently with the Bluecoats. Her 2015 winter season was spent as a charter member of Conversion Independent Winter Guard. Following graduation, Hannah hopes to pursue a career in social media marketing and continue to participate in WGI.