By Hannah Corson
As Sarah Kraman locks a harness around her waist and straps on a rope that has been attached to a 60-foot cliff, she looks around to take in her surroundings. She analyzes the granite features of the cliff and carves the pathways she must take to make the climb. Eventually, Sarah begins her journey upward and runs into a few challenges along the way. She accesses the problem quickly because her energy might soon run out. As she takes a deep breath in, Sarah decides to make a reach for that available rock crevice that seems so far away. She makes the grab and soon reaches the top with a smile on her face and a sense of accomplishment.
These are the types of challenges Sarah faces every week as she engages in one of her favorite hobbies, rock climbing.
Sarah is also a senior neuroscience and behavioral biology student at Emory University and has also been involved in the color guard activity for eight years. Before moving to Atlanta, Georgia, Sarah lived just north of Dallas in Plano, Texas and joined her high school marching band and winter guard her freshman year.
Her interest in color guard continued to grow as she began marching drum corps in 2013 with Crossmen and soon after the Bluecoats Drum and Bugle Corps. Sarah has also been involved with Paramount Winter Guard since 2014 and will be marching with them again this upcoming season.
Despite a schedule full of school and rehearsals, Sarah always manages to find extra time to rock climb.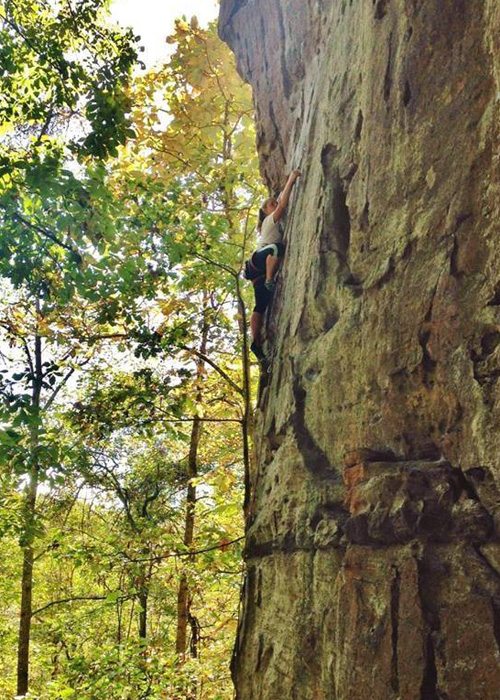 Sarah has always loved spending time outdoors due to her family's frequent hiking and camping trips as a kid. She mentions, "I had tried climbing a few times in my life before I really got involved in it, but I didn't really start to immerse myself in climbing and the broad culture that goes along with it until my sophomore year of college."
Her initial exposure to outdoor activities led Sarah to join the outdoors club as she attended school at Emory. This club introduced her to other students with similar interests who invited her to climb at a local indoor climbing facility. It didn't take long before Sarah purchased her own equipment and gym membership to enjoy her new hobby whenever she pleased. Now you can find Sarah on the rock wall brushing up on her skills two to three times a week.
Although rock climbing and color guard are two very different activities, Sarah believes that each hobby has taught her something that is applicable to the other. Climbing has provided opportunities to practice coming out of her comfort zone. Each time she climbs, she attempts to take a different path up the rock wall that may be more challenging.
Sarah mentions that she sometimes surprises herself by her capabilities. This transfers to her color guard career by helping her to build the confidence needed to try new things without fearing failure. At the same time, color guard has taught her the importance of breath in her spinning and movement, which is easily applied to her performance on the rocks.
When asked about her favorite aspect of climbing she said, "My favorite thing about climbing is the environment. I'm able to push myself and try new things without any other stress. It's a good balance to the rest of my life, and it's a great bonding experience for my friends and me."
---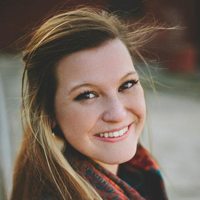 About the Author: Hannah Corson is a marketing student at the University of Mississippi. Prior to moving to Oxford, to attend college, Hannah lived in Madison, MS where she began her color guard journey with the Madison Central High School Marching Band in 2009. Through the band program, she was able to compete with the school's Sapphire Winter Guard for three seasons. After high school, Hannah participated in DCI with the Music City Drum and Bugle Corps and more recently with the Bluecoats. Her 2015 winter season was spent as a charter member of Conversion Independent Winter Guard. Following graduation, Hannah hopes to pursue a career in social media marketing and continue to participate in WGI.