From a Carroll High School Winterguard Press Release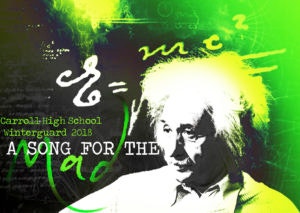 The Carroll High School Winterguard (Dayton, OH) is pleased to announce our 2018 program: A Song for the Mad.
Carroll High School is under the executive direction of Jonathan Gillman. Our 2018 design team includes Byron Valentine (concept, artistic direction, and costuming), Ryan Aubin (floor design), Tommy Allen (soundtrack design), and Frank Delarosa (drill/staging).
Choreographers, technicians, and additional support staff for 2018 include: Jonathan Gillman, Kaveney and Gavin Aldridge, Madeline Boone, Bri Shawhan, Baron Creutz, and Ja'Malh Wallace.
The 22 members of Carroll High School will be performing locally in the Mid East Performance Association in the Scholastic A Class, as well as nationally at WGI regionals in Pittsburgh, PA and Cincinnati, OH. Our season will culminate at the 2018 WGI World Championships in Dayton, Ohio.
"Everybody's a mad scientist, and life is their lab. We're all trying to experiment to find a way to live, to solve problems, to fend off madness and chaos." – David Cronenberg