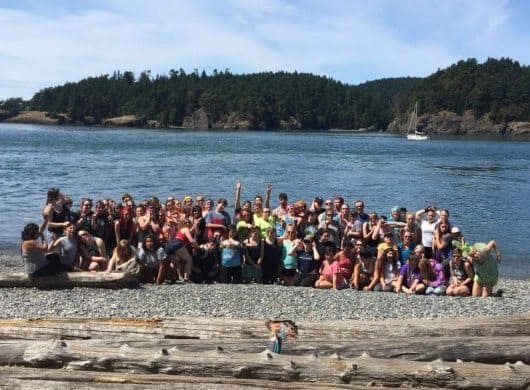 From a Camp Rhapsody Press Release
Camp Rhapsody is celebrating its 10 year anniversary!
Camp Rhapsody is an opportunity, held in the Pacific Northwest, for middle school and high school students from all over to learn from a wide selection of color guard instructors in the region and bring home a competitive edge to their fall band programs.
Our main goal is to provide every student with an outdoor summer camp experience that is focused on the color guard activity. Through intensive technique & choreography classes in dance, flag, rifle, sabre, marching and theatrics, Camp Rhapsody is able to give students the tools they need for success in their high school programs. The cost for camp includes: housing, food, instruction & take home items. Of course nothing would be summer camp without hiking, cabins, campfires and skits, so that is all on the agenda too!
Camp Rhapsody is hosted by Rhapsody Winterguard from Seattle, WA. Camp Staff features some of the leading instructors and choreographers in the Pacific Northwest; current Rhapsody Winterguard faculty, plus a few featured clinicians! Camp counselors are members of the casts of Rhapsody Winterguard. Campers will learn from both the best instructors and active performers!
Camp Rhapsody also hosts a Boot Camp experience for those wishing to march in the upcoming season, it gives recently graduated students the chance to spin at a new level with current Rhapsody staff and members. All while still joining in on the fun camp activities.
General Information:
When: July 16 – July 20
Where: Cornet Bay Retreat Center in Oak Harbor, WA.
Cost: $375 (group rates and Boot Camp pricing available)
Ages 12-18
Boot Camp 18+
For more information and to register visit: www.camprhapsody.org