This weekend hosts the largest number of events for the 2018 WGI season. With 12 Regionals, you're sure to catch some of the excitement on social media!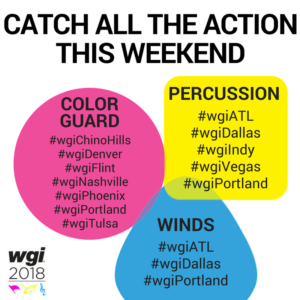 Watch these hashtags for all of the highlights:
#wgiATL
#wgiChinoHills
#wgiDallas
#wgiDenver
#wgiFlint
#wgiIndy
#wgiVegas
#wgiNashville
#wgiPhoenix
#wgiPortland
#wgiTulsa
Are you attending one of these events?
Share your experience using these hashtags in all your posts! You could be featured on wgi.org next week!