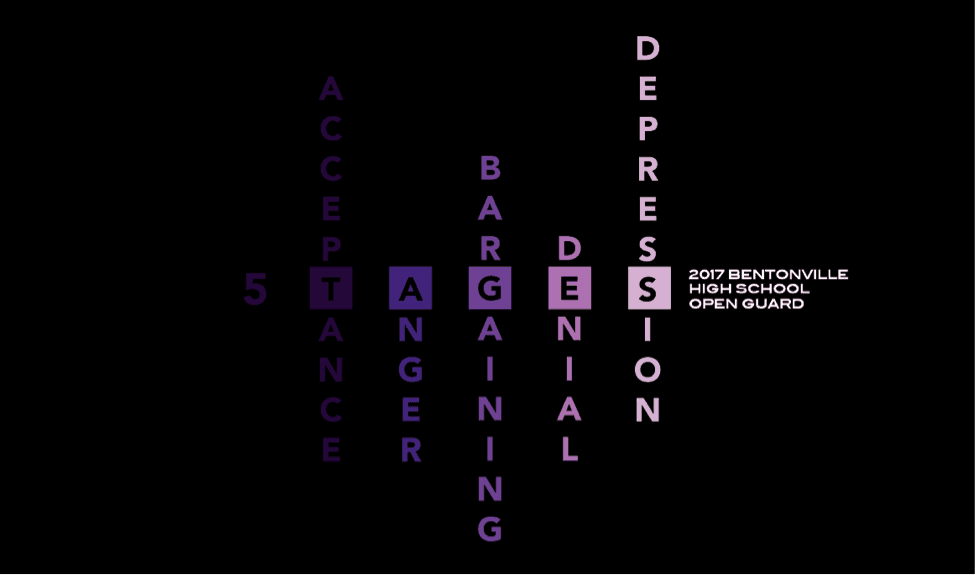 From a Bentonville High School Open Guard Press Release
The members of Bentonville High School Open are proud to present their 2017 production: "5tages".
There isn't a single person alive that hasn't experienced some form of grief. From losing the security of a mother's womb, to that first heartbreak in high school, to the loss of a parent or the loss of a child. Everyone takes that gut-wrenching journey through the five stages of grief. Some individuals sail through all five stages while others may skip one or two. Some people take them in order while others take a winding path that circles back or worse, some may get stuck in one stage and never escape. Bentonville High School invites you to experience our journey through the five stages of grief as the 18 members try to find their own path towards acceptance.
Bentonville High School Open is under the direction of Brian Dutton with assistance from Austin Nelson, Kayla Birmingham, Hunter McDaniel, Casey Hoffman, and Duane Williams. The staff would like to thank Jason Littleton and Tiffany Jones at Winter Guard Tarps and Autumn Pappan at Black & Pink Designs for their help with our set and costumes this season.
Bentonville High School Open will perform locally as part of the Mid-Continent Color Guard Association and nationally at the WGI Tulsa Regional, WGI Springfield Regional, WGI Southwestern Power Regional, and will conclude their season at the WGI World Championships in Dayton, OH this April.