By Michael Reed
WGI World Championships is a huge event involving thousands of performers, multiple venues and two weekends. In order to make the event a smashing success, it takes the combined efforts of a dedicated team of people behind the scenes. We invite you to take a moment and learn a bit about some of our crew that help make everything run smoothly in our peek…
You could say Elmhurst, IL's Pam Cabanski married into the marching arts. Her first behind the scenes involvement with the world of pageantry came when her spouse, a Cavalier alumnus, suggested she go on the road with the corps. She remembered, "In 1995 he said 'go for a week, you'll have fun.' I ended up dong five weeks total on tour. I worked with them in different capacities until just a couple years ago."
During her time with the Green Machine, she became friends with WGI Championship Staff Coordinator Mark Ackerson. He saw how Cabanski's talents could be an asset. "In 2006 Mark asked if I would come and help with Championships. I ran copies, put packets together, and did pretty much anything that needed to be done. I have an office background."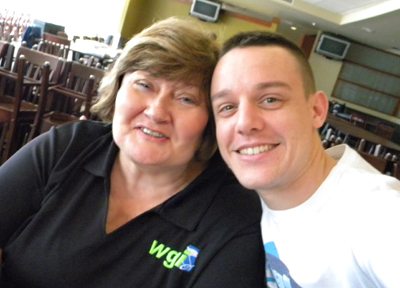 Pam soon assumed another important duty: Feeding the small army of Staff, Judges, and Volunteers who descend on Dayton each April. She explained, "I started assisting with catering and ordering food for different locations. I gave myself the title of 'Catering Coordinator.'" An Associate's Degree in Hospitality Administration provided the formal training, and her attention to detail and work ethic has made her an indispensable part of the Championship crew.
When asked to describe what goes into feeding over 3,000 meals to the WGI team at multiple venues over the course of two weeks, she stated "It entails choosing menus for each meal at each location. How many staff and judges are there? Is it a double panel or single panel? Estimating the number of meals needed as close as possible while making sure everyone gets fed is probably the biggest challenge."
The expanding Championship entry list forced the organization to utilize additional venues, each with their own caterers. When WGI began holding Championship preliminary rounds at the Cintas Center in Cincinnati, Cabanski attended the Regional held in March to prepare for the Championship event the following month. "I went to the Regional because I wanted to view the location and talk with the catering managers. I did same thing this year with Millet Hall (in Oxford, OH, where Percussion prelim and semi-final rounds were held). It's easier to plan when you know what you're planning for."
When asked what she enjoys most about her job, she thought for a moment and said "I like the challenge of making everybody happy. Keeping everybody happy with food choices is a challenge. It feels good when people compliment me on the menu." She chuckled a bit, and added "a killer dessert helps everyone feel better."
Cabanski enjoys spending time with her grandson when away from the activity. She also has plans to do some traveling. "My husband is retired. We're looking forward to a trip to the West Coast. It's a bucket list trip to hit places we've never seen before, or have only seen from the parking lot from a drum corps bus."
What keeps her coming back to Championships every spring? "I really enjoy the people we work with. They are good people. We have a lot of laughs and we all work very hard. My philosophy is if you're going to work that hard you've got to have some fun, and I enjoy a good laugh!"
Learn more about becoming a WGI World Championships volunteer here!