By Michael Reed
WGI World Championships is a huge event involving thousands of performers, multiple venues and two weekends. In order to make the event a smashing success, it takes the combined efforts of a dedicated team of people behind the scenes. We invite you to take a moment and learn a bit about some of our crew that help make everything run smoothly in our peek…
2014 marks Dean Decker's tenth anniversary as a WGI Championship Volunteer. Like many of our staff, his first involvement with the activity came through his daughter's high school marching band in Colorado. She also participated in the school's winter guard, and afterward marched with independent guard Incognito. He helped make props and pull tarps for his daughter's guards.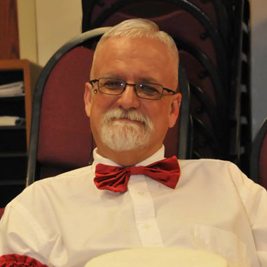 After his daughter's performing days were over, she judged for the Rocky Mountain Color Guard Association. Decker also became heavily involved with the organization, eventually serving as President for four years. He continues to be involved locally as the Contest Administrator for the Denver Color Guard Regional.
He explained how he got involved with WGI: "In 2004 I was asked to help at San Diego, and worked at the Sports Arena for the Percussion Championships. I worked the parking lot. It rained and I got soaked to the bone." Decker worked his way up from monitoring the parking lot to handling the entrance curtain. He became an Assistant Site Manager, and having proven himself, became a Site Manager. He had kind words for veteran WGI Administrator Jim Strong, who was his mentor. "I owe a lot to Jim. He's a very smart guy who knows the activity."
What exactly does a Site Manager do? Lots. In the performance area, Decker has to make sure the tarp is pulled out and taped. The front sideline and side hash marks have to be marked. He ensures the sound system is set up and banners get hung properly. Signage for spectators must be posted. Behind the scenes, a Site Manager's job entails creating an event flow with smooth transitions from warm-up to the competition floor to the photography area.
He explained "when they come to check in, our team works under the premise that some of these units may not have a chance to perform again. It can be overwhelming for units that have never been here before. What happens in front of the curtain is magical, showing the sport of the arts. What happens behind the curtain, people don't need to see that."
When asked about his most memorable moments as a WGI Volunteer, he vividly remembered working the curtain during prelims one year. "The show was built around a tree prop. There was a moment when a girl threw a solo toss on top of the tree, and dropped. She went behind the tree prop and I could see her crying. I was by the exit curtain and saw she was broken when she went off the floor. I told her 'I've seen you catch that. You will get another chance'. She came back the next day, and I winked at her. She nailed it and gave me a hug after the show. Her mom came over and said 'Thanks for encouraging her.' I saw her mom a couple years ago. She told me her daughter still remembers me."
When asked how he spends free time, Decker mentioned he likes being a grandpa. He has three grandchildren and a fourth is on the way very soon. He also talked about his favorite hobby. "I like fly fishing. With regular fishing, you throw it out there and wait for the fish. With fly fishing, it's about the poetry of the whip of the line, and the way the line folds out to the water if you have a good cast. You may not catch any fish that day, but you're out there in nature, just enjoying it. It's not so much about catching fish, it's the preparation."